RUSSIA WANTS TO CONTROL NATURAL RESOURCES OF UKRAINE TO SPEED UP RUSSIAN ECONOMY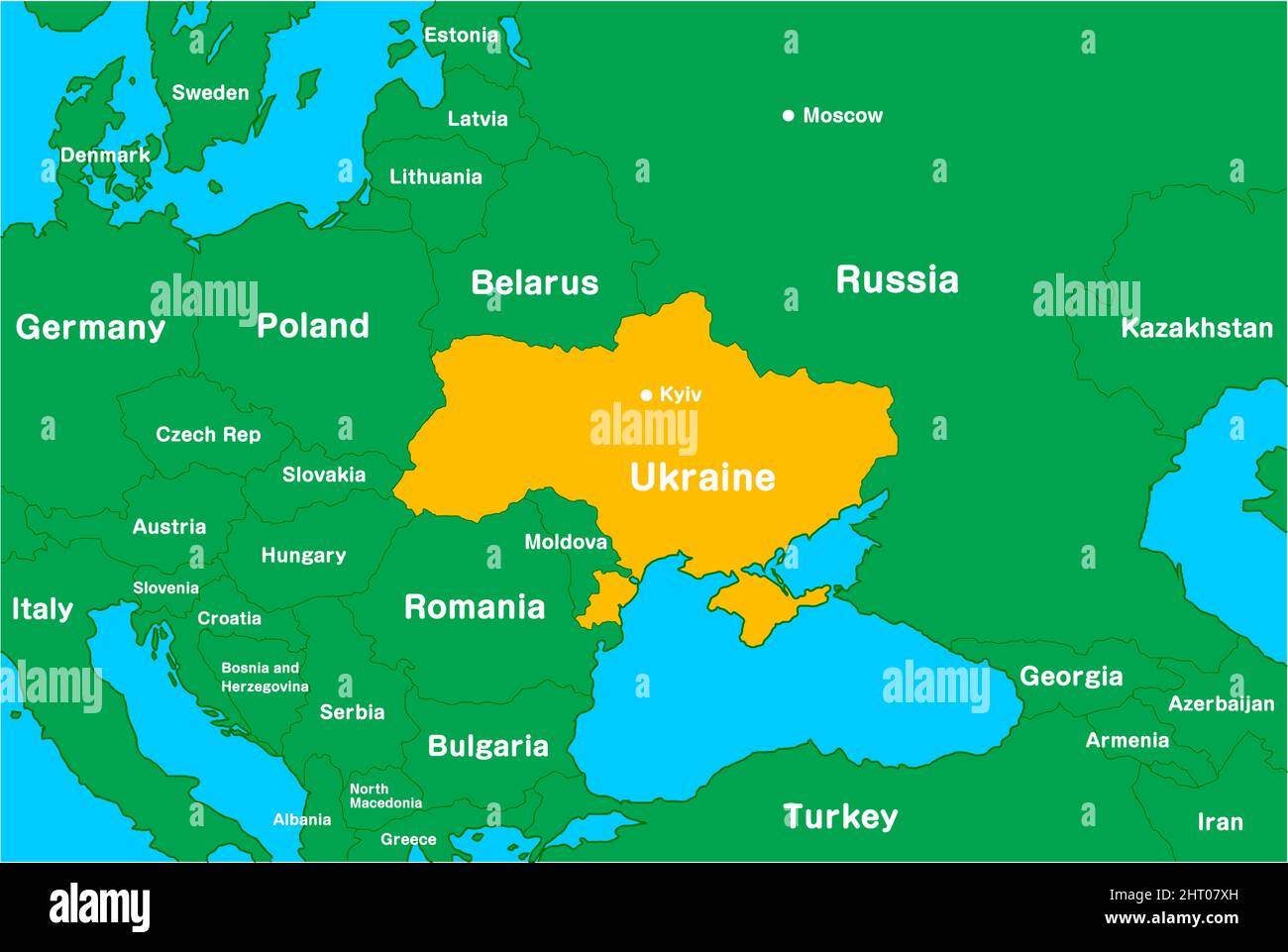 (pic) Kyiv and Ukraine (yellow color) Map shows other EU countries that surround Ukraine. To South East of Ukraine is Black sea (shown here in blue color.)  Russia is at North East of Ukraine. Image is courtesy, www.alamy.com
Russia does not want Ukraine to merge with European Union (EU) or join NATO military powers for the following reasons:-
Ukraine is one of the leading countries of the world with a wide range of minerals.

Ukraine with only 0.4% of planet earth's surface area, (and with only 0.8% of the world's population) has about 5% of the world's mineral resources!

–
More than 20,000 tons of deposits of 200 different minerals have been discovered in Ukraine.
–
Of these, 7,807 deposits of 94 types of minerals are of great industrial importance that can boost Russian economy.

Mineral reserves include: Iron, Manganese, Titanium, Gypsum, Zirconium, Phosphorus, Calcium, natural-Sulfur and Potassium-salts.

–
Ukraine also has Oil, Natural gas and Coal reserves.
Coal reserves can meet the needs of industial and energy needs of Ukraine in the next 200-500 years.

Coal takes a leading place in the fuel and energy balance of Ukraine.

Of hydrocarbon fossil fuel resources of Ukraine, coal is about 95%, Oil and Gas are 2.5% each.
The total coal reserves of Ukraine can be retrieved within a depth of 1,500 meters. Such easily mined Coal amounts to about 117 billion tons!

The main reserves of coal are concentrated in the Donetsk and Lviv-Volyn basins.
More than 30% of the reserves in these basins are coking-coal used in blast furnaces while making steel.
 
The discovered reserves of industrial categories of Donbass coal are 57 billion tons.

With an annual production of 100 million tons, these reserves will last for 570 years!

In Lugansk region, rest of (yet to be mined) Coal is believed to be burried under the earth.

Ukraine has natural streams & mineral water springs too; can be tapped by the bottle-water industry of modern world.
–
So Russia does not want either European Union (EU) countries or NATO power countries to tap all this wealth that formerly belonged to the old USSR region.
Thewriterfriends.com is an experiment to bring the creative people together on one platform. It is a free platform for creativity. While there are hundreds, perhaps thousands of platforms that provide space for expression around the world, the feeling of being a part of fraternity is often lacking. If you have a creative urge, then this is the right place for you. You are welcome here to be one of us.
(pic) Map of Deccan region showing Mysore kingdom in 1792 (Art) Battle of Malavalli (March 1799) Seringapatam;  Seize of Tipu Tultan Fort by George Harris (British East India Company)   Hyder Ali                     Tipu Sultan  The 4th battle of Mysore kingdom commanded by Tipu Sultan against…
Read More