https://www.facebook.com/photo.php?fbid=3466296806763257&set=p.3466296806763257&type=3
(pic-1) at link above. An  image of Vizag Beach with INS KURSURA, a submarine-museum, at left and TU aircraft museum, at right along the beach Road. Picture above is a download from facebook.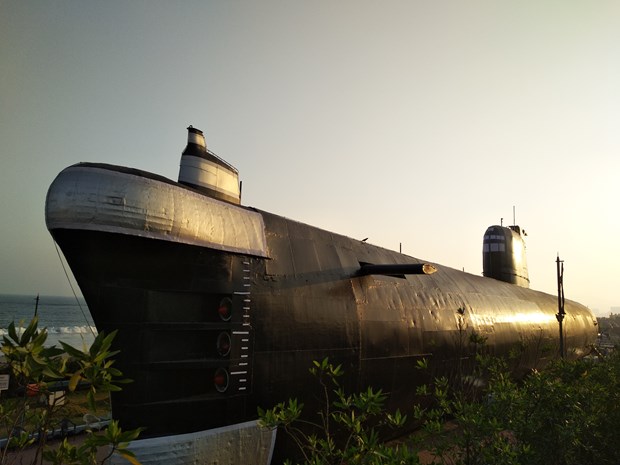 (pic-2) INS KURSURA submarine museum on beach side of R.K.Puram beach Road. It is an excellent musuem, worth visiting.
I  visited the museums on either side of RK Beach road.
One can get excellent breeze just walking down the RK Beach Road.
I visited the Kailasagiri park at hilltop too on this trip.
Kailasagiri is a hilltop tourist spot in the city of Vishakapatnam in the Indian state of Andhra Pradesh. The park was developed by the Vishakapatnam Metropolitan Region Development Authority (VMRDA) and comprises of 380 acres of land covered with flora and tropical trees. The hill, at 173 metres (568 ft), overlooks the city of Vishakhapatnam.
The Government of Andhra Pradesh awarded Kailasagiri as its "Best Tourist Spot" in 2003. On average, around three hundred thousand Indian and foreign tourists visit the park every year. To protect the environment, VMRDA has declared the hill a plastic-free zone.          
(pic-3) Shiva-Parvati statue at  hilltop Kailashagiri park overlooking R.K.Beach
(pic-4) Entrance Arch at Kailashagiri park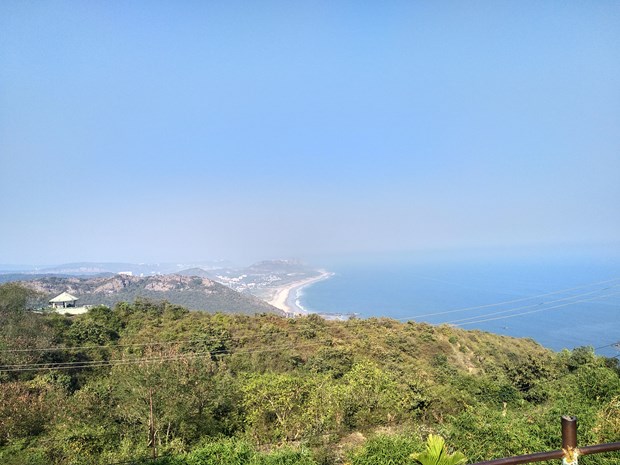 (pic-5) A view of Vizag beach from Kailashgiri park.
(pic-6) Aqua water-park at Vishakapatnam. Children and adults enjoy water slides here and the pool.
Click at right for video of R.K.Beach on a Sunday>     https://youtu.be/u5CZ9_KA35E
Cable car connects to the top of the hill, the first of its kind in Andhra Pradesh. One can also come down from Kailasagiri to the beach location by road; there is also a train connecting these locations for those who are afraid of cable car rides.
I and my wife had a relaxed day at Vishakapatnam (Vizag) visiting Kailasagiri, the R K Beach at Vizag and some of the museums worth visiting on the R K Beach.
Posting some pictures I took at Kailasagiri park, the INS KURSURA submarine museum, TU (Russia) Aircraft museum at R K Beach (Ramakrishna Beach).

By the way, there are entry fees to visit the museums and to ride either the cable car or train from Kailasagiri to beach location. Money well spent though if the aim is to spend a relaxed day at Vishakapatnam (Vizag.)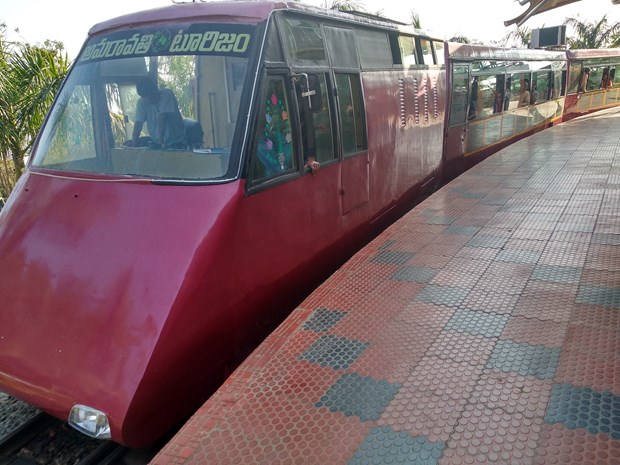 (pic-6) cable car and train available to visit Kailashgiri park from beach road.
Visit my writeup at sulekha.com for more pictures at hyperlink below:-
http://creative.sulekha.com/kailasagiri-park-and-vizag-beach-road-relaxed-tourist-spots-at-vishakapatnam-andhra_636294_blog?fbclid=IwAR1rmqtzv9sfI7cLouBY473nl3HibiR06t6VfEUnywpD9iMOJ52gP8YBw1o
Thewriterfriends.com is an experiment to bring the creative people together on one platform. It is a free platform for creativity. While there are hundreds, perhaps thousands of platforms that provide space for expression around the world, the feeling of being a part of fraternity is often lacking. If you have a creative urge, then this is the right place for you. You are welcome here to be one of us.
Growing up for us was tough- Part 1 Was it really tough? I can't contradict myself at the beginning of an article. Even the most seasoned politicians can't do it, but I am not a politician anyway. Am I a confused writer or a little bit of alcohol has befuddled me? Without being judgmental…
Read More