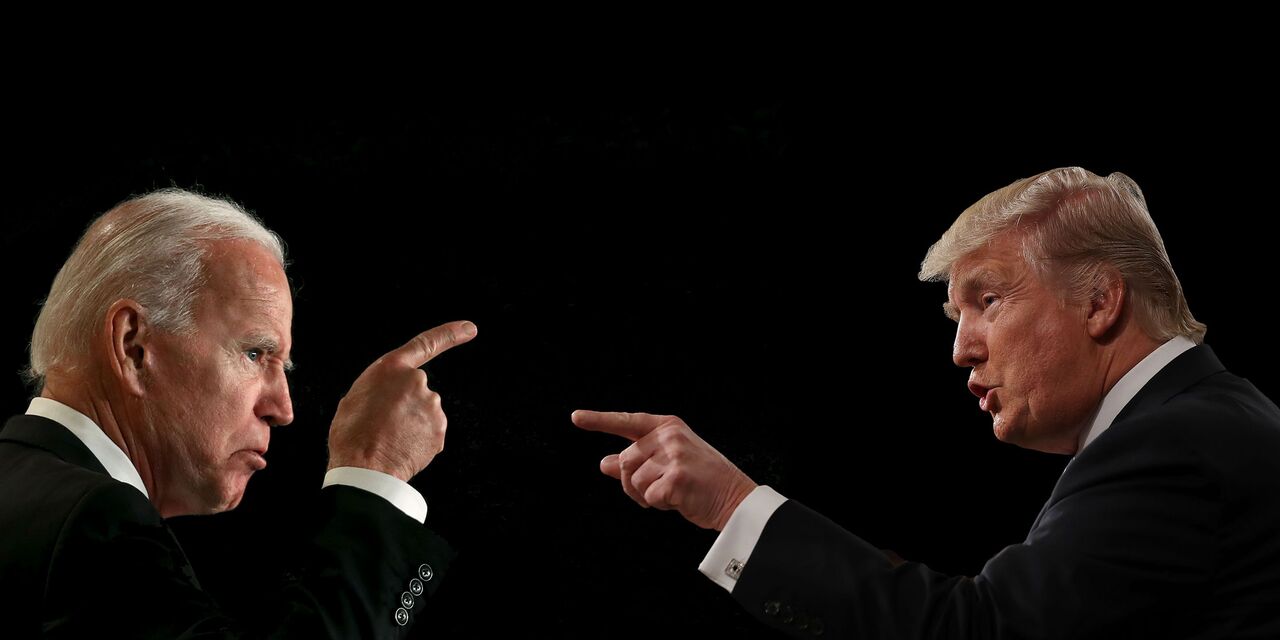 Following the tradition of the past couple of election cycles, there will be three presidential debates and one between the vice presidential nominees.
All the debates will be 90 minutes in length, and will run from 9 p.m.-10:30 p.m. ET without commercial breaks. Details concerning the sensitive question of having live audience members — and how social distancing rules will be carried out — are still being worked out amid the pandemic.
Name calling and washing dirty linen can be expected in all debates!
Joe Biden has been called 'Beijing Joe', 'Sleepy Joe', Lock Ness Monster of the swamps!
Donald Trump has been called 'Racist' and 'Most Negligent President' (for not controlling Corona virus in America).
A Radio Jockey was fired for calling Kamala Harris 'Colored'
First presidential debate: Sept. 29 in Cleveland
The first presidential debate between Trump and former Vice President Biden will be hosted by Case Western Reserve University and the Cleveland Clinic, in Cleveland, Ohio.
In 2004, the school was the site of the vice presidential showdown between then-Vice President Dick Cheney and Democratic vice presidential nominee Sen. John Edwards. The Cleveland Clinic is serving as the CPD's health security adviser for all four debates this autumn.
Notre Dame University in South Bend, Ind., was the original host for the first debate but withdrew in July due to health concerns over holding a large in-person gathering amid the coronavirus pandemic.
Vice presidential debate: Oct. 7 in Salt Lake City
The vice presidential debate between Vice President Pence and Sen. Kamala Harris of California will be held at the University of Utah in Salt Lake City, Utah.
Second presidential debate: Oct. 15 in Miami
The second presidential debate will be held at the Adrienne Arsht Center for the Performing Arts in Miami, Fla. The University of Michigan – which was the original host of the second debate – withdrew in June due to health concerns amid the pandemic.
Third presidential debate: Oct. 22 in Nashville
The third presidential debate will be held at Belmont University in Nashville, Tenn. The school was the site of a presidential debate in 2008 between then-Sens. Barack Obama of Illinois and John McCain of Arizona.
LOOKING AT PRIMARY ELECTIONS,  PRE-POLL  PARTY  STRENGHTS  ARE  AS  FOLLOWS:-
REPUBLICAN PARTY: Arizona, Colorado, Idaho, Indiana, Kansas,  Louisiana, Missoori, Mississippi, Montana, North Dekota, Oklahoma, S-Carolina, Tennessee, Utah, W-Virginia
DEMOCRATIC PARTY: California, Connecticut, Delaware, Florida, Hawaii, Maine, Maryland, Massachusetts, Michigan, Minnesota, Nevada, New Jersey, New Mexico, New Hampshire, New York, Pennsylvanaia, Virginia, Washington, Wisconsin
STATES TOO CLOSE TO CALL AFTER PRIMARY ELECTIONS: Arkansas, Georgia, Iowa, Ohio, N-Carolina, Texas
NATIONAL  PROJECTION: DEMOCRATIC PARTY ( 49%) REPUBLICAN PARTY (41% )  UN-DECIDED (10%)
---
10% Un-Decided can swing one way or other after the Presidential debates and the VP Debate. As of now, Democrats are strong.
————————————————————————————————————————————————————————————–
STATE WISE PRE POLL PICTURE
Visit link below to see how the two parties, Republican Party (Red color charts) Vs Democratic Party (Blue Color charts) are shaping up State by State
Presidential and Vice Presidential debates can swing the prospects of the party candidates by election time Nov.3, 2020.
https://www.270towin.com/2020-polls-biden-trump/
Thewriterfriends.com is an experiment to bring the creative people together on one platform. It is a free platform for creativity. While there are hundreds, perhaps thousands of platforms that provide space for expression around the world, the feeling of being a part of fraternity is often lacking. If you have a creative urge, then this is the right place for you. You are welcome here to be one of us.
(pic) Image download from Net is for representational purposes only. Karnataka State (ruled by BJP party) is one of very few States in India to pass 'Anti-Cow-slaughter Bill' in the 'State Assembly' on grounds that 'Cow slaughter' is against Constitution of India.  Opposition parties have argued in the 'State Assembly' that in the name of…
Read More