The Caterpillar Over The Lips….
No…I am not having /experiencing a writer's block. It is just not that I have nothing else to write about.
I thought I will post a blog  on "Moustaches".
This happened a couple of years back. It all started with my niece asking me to write a page on my brother-in-law, her father. She requested quite a few friends and relatives too and wanted to bind everything and present him a book on his 80th Birthday.
I obliged. It was a great success ( not my writing of course ), the mission I mean,  as many volunteered to do so.
He is lovely person and who could resist the temptation ?
I wrote a small  skit on my first encounter with him.
He was coming to Bride-See my beautiful sister . The year was 1963 and as usual my parents were excited since he was from Bombay. My elder sister had been married off and I was in my first year in the college and my brother was in his tenth Standard.
Grandma was there and she volunteered to make bondas. She could make perfect circular ones without "tails" …as we called them. When  my mother ( or I for that matter, even now ) made bondas, there were always small bumps or long tails of the "dipper dough " that popped up. However much we tried to emulate my late grandmother, it would never work. The bonda will have a small quiff at one place at least.
Amma made some delicious mysore pak ( she was very good at it).
The  house was spruced up by father and he saw to it that everything was spic and span. My aunt was a regular in all these "bride seeing ceremonies" and had landed with my uncle. She was good at sitting on a side and narrating interesting incidents while my mother and grandmother toiled ! I should not complain. But she  took charge of dressing my sister ( beauticians arriving from parlors were unheard of those days ).My sister looks beautiful even without make up and she looked fabulous that day. My brother and I were tasting the bondas and Mysorepaks and looking out to see whether the car had arrived.
Yes, father had sent our car to bring the boy ( future BIL ). his mother , his aunt and uncle.
The car arrived and my brother dashed out along with my father to welcome the team .
I was looking out of the bedroom window as we had not got any photographs of the boy. I could not get a good view, as he was blocked by others and I decided to wait.
Then my brother came into the room and announced
" He is having a moustache".
My aunt, sister and I looked aghast. We froze, in fact.
No one in our family had "donned " a moustache so far.
My father had wanted to grow one as a student when he was studying in the Engineering college  Madras ( my grandparents were staying in Ernakulam at that time ) and was reprimanded by my grandpa as soon as he came home  in a jutka ( horse carriage ) from the Railway Station with a "caterpillar above his lips " and he had to shave it off immediately and have a bath.
Of course, the sons those days were " Saakshaath ( real)   Ramachandra moorthies " who obeyed their Dasarathas ( fathers ) implicitly.
Since then even my uncles did not have the guts to grow one .
And so…..this "growth " was something new and we ( my brother and I ) were wondering whether the groom will be rejected.
But No !!
He looked very handsome ( My aunt commented "He looks like a Hindi Film Hero" )
The whole family was relaxed and asked my sister to play the Veena and sing and he sang too ( I still wonder why he selected the sad song "Yaadh na aaye beethe dinong ka). He sang very well. They had come from Bombay and the rest is history.
Later on , after my mother in law's death, the Mani-in-my-name grew a beard and moustache and it did suit him well and he retained  the growth for more than a month and all of a sudden he shaved off the beard . Okay..by then it was a "salt&pepper one !
My youngest son and I were in the house with him ( the elder was pursuing his Engineering at BITS PILANI) and we were shocked to see his visage.
My son said
"Appa…the moustache has to go! You look like some one who has come to loot the bank instead of a respectable banker ! Gosh! You look like a crook! The beard was too good."
I agreed though I was not so vocal as he was . Of course in my heart of heart I could see the truth in every word our son had  uttered.
So…off went the moustache.
But personally I do feel that this vegetation does suit some faces. Many look good with this lush vegetation…like RajaRam Mohan Rai, Raja Raja Chozhan, Clark Gable, Anthony Quinn, almost all the Malayalam actors…the list is long. For that matter, most of the Malayalis sport  moustaches:)
My brother grew one while he was studying in Jipmer Pondy and my father had nothing to say against it.
"It is his face. Let him do what he wants." My father was always very accommodating.
My kids though, never grew them.
I remember how Jeeves objected to Bertie Wooster growing a moustache ( I think , in the book Jeeves and the Feudal Spirit ) and Bertie would not remove it ..he  had even said " No one edits a Wooster Face." Ha h ha ha !!
I have a small toothpick holder crafted out of  'paper mache' …held by a nice roly-poly chef with a "curling upward " moustache. He looks cute. This was brought by our son's friend  from Sydney. The toothpicks are unused and he stands there in the dining room crockery case made of glass. He must be some twenty years old.
I shall wrap up  my blog on this note.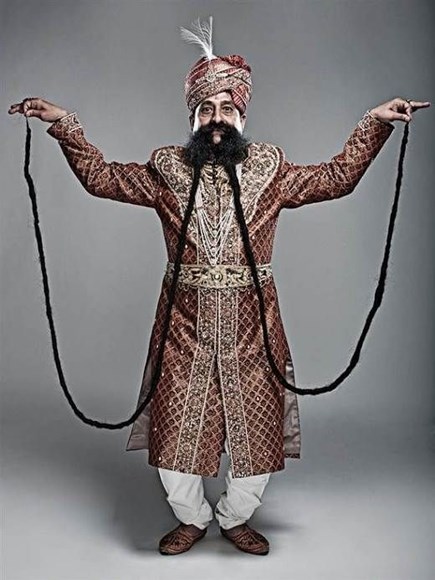 Thewriterfriends.com is an experiment to bring the creative people together on one platform. It is a free platform for creativity. While there are hundreds, perhaps thousands of platforms that provide space for expression around the world, the feeling of being a part of fraternity is often lacking. If you have a creative urge, then this is the right place for you. You are welcome here to be one of us.
लेखक: राजगुरू द. आगरकर अनुवाद: आ. चारुमति रामदास सवाल   पूछे   जा   रहे   थे ।   दत्त   जो   मुँह   में   आए   वो   कह   रहा   था ।   शुरू   में उसे अच्छा  लगा ।  मगर  बाद  में  यह  सब  बर्दाश्त  के  बाहर  होने  लगा ।  पूरे  साढ़े चार  घण्टे – सुबह साढ़े  आठ  बजे  से  दोपहर  के  एक …
Read More