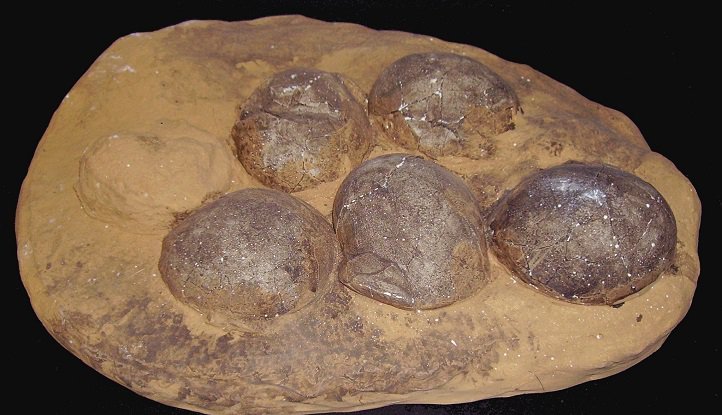 (pics) from Wikipedia… Fossilized Dinosaur Egg from
                                                                                       Dhar-Mandla belt of Madhya Pradesh
Dinosaur eggs estimated to be worth close to Rs 1 crore each are being sold for as little as Rs 500 in Madhya Pradesh's fossil-rich Dhar-Mandla belt.
There is a (Archeology Dept) 'notified site' for fossilized Dinosaur Eggs dating back to the Cretaceous period of 145 to 66 million years at 'Padya' in Dhar District of Madya Pradesh (MP) in India.
It covers some 89 hectares and has been lying unprotected since 2007, making it a fertile hunting ground for egg smugglers.
These are of immense value to paleontologists but it appears this ancient nesting ground for Dinosaurs of the Cretaceous period is neither fenced nor guarded. Sources say that all it takes is some haggling and coaxing from smugglers who mostly come from Maharashtra, Gujarat and Rajasthan to target gullible tribals still living in the area. Media reporters from JABALPUR/INDORE say that such ancient fossils from India are being sold for as little as Rs 500 in Madhya Pradesh's fossil-rich Dhar-Mandla belt.
In the international market, say experts, they fetch close to Rs 1 crore (each.) So rampant has the smuggling of the eggs become that a nervous Madhya Pradesh government has set afoot plans to introduce the 'Fossils Preservation Act' that might come in handy to prevent the dubious trade.
The draft of the law, says a senior forest official, has already been sent to the law department for whetting. 'Law needed to prevent fossil smuggling' Explaining the modus operandi of the illegal trade of dinosaur eggs in MP's Padlya, MP forest minister Sartaj Singh said, "There is no count of how many dinosaur eggs have been removed.
There really is need for a law as we don't yet have legal provisions to check this roaring business. And the fact that the government is helpless in curbing these activities has only emboldened this nexus. But with the impending passage of the Act, we can prohibit possession and sale of fossils." The Act, as of now, envisages a transit pass for "movement of fossil", which, the minister thinks, will be a deterrent to law-breakers.
It also calls for the wildlife warden to monitor and supervise known sites of dinosaur eggs, all the while keeping the forest department in the loop. Former deputy-DG of the Geological Survey of India, Dr Arun Sonakia, says Gujarat has done a far better job with conservation of dinosaur remains.
"We (Madhya Pradesh) do not have the resources and therefore there has hardly been any effort on the part of the state government to look after these precious bits of history," he says, adding, "But it's time we did.
The cost of one such egg in the international market could go up to around Rs 1 crore, and these smugglers are making a killing."
http://timesofindia.indiatimes.com/india/Worth-Rs-1-crore-dinosaur-eggs-sell-for-Rs-500-in-MPs-fossil-rich-belts/articleshow/18311424.cms
Thewriterfriends.com is an experiment to bring the creative people together on one platform. It is a free platform for creativity. While there are hundreds, perhaps thousands of platforms that provide space for expression around the world, the feeling of being a part of fraternity is often lacking. If you have a creative urge, then this is the right place for you. You are welcome here to be one of us.
In between those morning tunes and songs I used to wake up. Sometimes I would hear mother's voice calling me. Kakaaaaaaa, ve Navneeeet- that's how she used to call me. I don't remember hearing my pet name Bhola from her. She used to be in the kitchen and the aroma of preparations for the…
Read More