After coming back from China, I had to get a lot of woodwork done in my house as during our stay away from home for nearly three years, the termites had had a field day. Besides, what was removed, the way these carpenters work in India, I am left with huge pile of good, reusable and new boards, panels and cut pieces, which I have stacked at the open space at the first floor. With the Engineer part of me having not yet called it a day, I plan to put some of it to good use.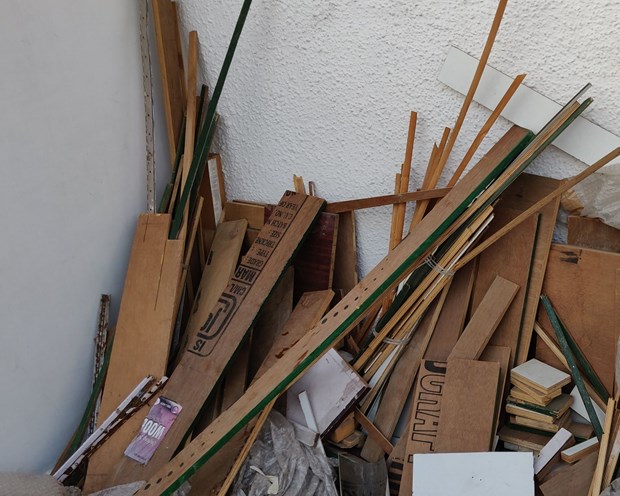 Left over wasted wood
Giving physical shape to my ideas is in my mind and in preparation for that, I have spent a substantial amount of money for buying the power tools as I consider it below my status to work with basic carpentry tools.
The professional carpenters after having made a big hole in my pocket have left besides the wood I mentioned above, the whole lot of bonding material, nails, screws and even laminating sheets, for letting my plans wander to the lusty extremes of imagination without the need of spending an extra penny or making frequent trips to the market for getting one thing or other.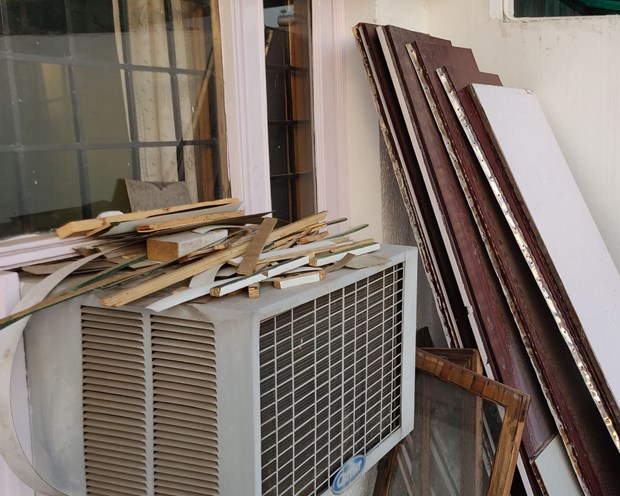 Removed/ Salvaged wood
It's nearly four month since they left, but I haven't yet used more than a few splinters. It was the chilly winter that was thwarting me then and it's the hot summer that is deterring me now, but just when I look over the parapet, there's my neighbour, perhaps fifteen years elder to me, working everyday with tools and wood, giving shape to his ideas, steadfast, focused and obsessed, day after day rain or sunshine.
I would blame him for awakening in me the desire of making things with left over and salvaged wood. Once lit up, it quickly went out of control, like a conflagration. Fuelled by the dreams of seeing myself being felicitated at functions held to honour of me by the Chandigarh Administration, it raged in my heart unabated. It robbed me of sleep, hunger and thirst. It was almost like the prospect of becoming a PM in a Rahul here and a Tejasvi there. You may say, there is nothing in the name or there's a lot in it, depends what you want to see. But such lofty ideas keeping coming in the head in this mortal frame of a "writer- engineer" whose life is a classic example of dichotomy. I knew, I will not be able to rest until I put my thoughts to tangible shapes. I reached for all the information I could gather about the subject of giving shapes to dreams with wasted wood on the internet. I started surfing it like a jihadi looking for material and know-how for assembling an explosive wearable jacket complete with a triggering device.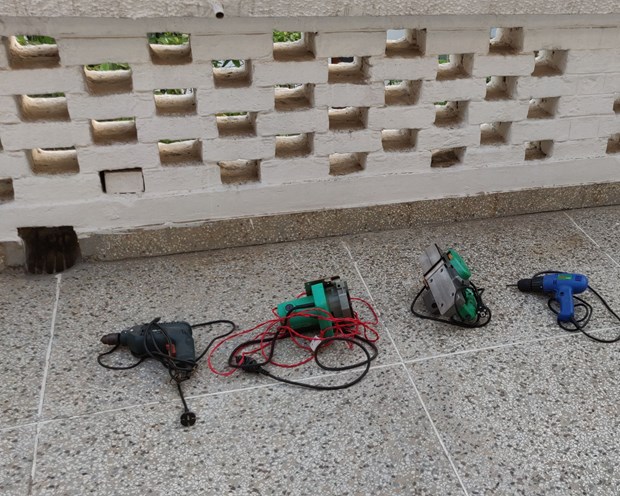 Tools lined up on the floor
Warming sunshine of waning winter was too inviting on my first-floor terrace, where I had all the wood stacked up. The "Do it Yourself videos on Youtube of Carpenters dressed up in impressive gears, like hunters out on a kill, working smartly with ultramodern tools in the workshops boasting of every imaginable gadget ever invented, gave me an unputdownable craving and I ordered quite a few of the high end tools online, spacing their delivery intelligently lest Sulekhika should get the wind of my plans and she may take wind out of my sails or worse, put cold water on them, extinguishing them for good.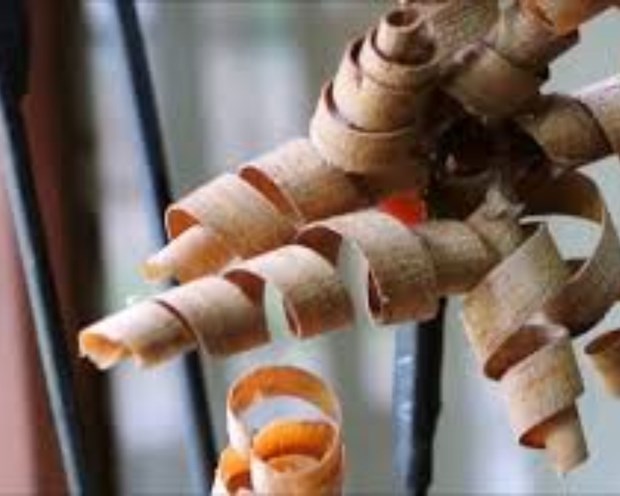 waste wood artwork…Photo from Internet
Such was the impact of those Youtube videos on me that, I even dreamed of putting a canopy for having a 24X7 "All-weather" workshop in the verandah. Agreed, the tools I ordered were expensive and certainly costing more than the scrap I wanted to reuse, had the potential to fetch me even if I could convince a buyer to buy the end product(s), I had imagined I could make. I have had a taste of the avarice of the stingy people who inhabit this planet for guiding me. Ten years after I published my first book, what to speak of someone who showed any inclination to buy it, because there is none, nobody has ever shown willingness to take it, even when I offer it for free. All the copies of the first lot are lying dumped in the room in the attic whose story, I will relate some other day.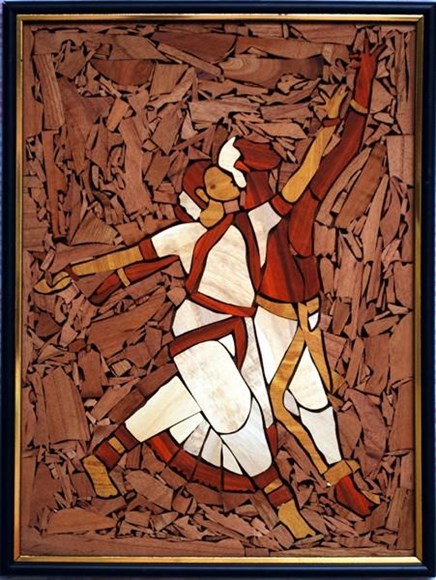 Artwork with waste wood…Photo from Internet
My brain immediately spurned such doubts, when they tried to creep in the marquee of prospects, like the one set up for an impromptu conference with the Press. It was a bold move. Like RG not only facing the volley of questions from seasoned journalists, but answering to. There was no room for a shoe throwers. "Shut up, It Said. Can't you see the difference, Man? You can't compare a book written in Hindi verse with imaginative work done with wasted wood, adorning the walls of your house today and possibly 'The National Art Gallery' or a museum tomorrow. The proverbial sky, if there is one and seventh if there are as many, is the limit, you understand?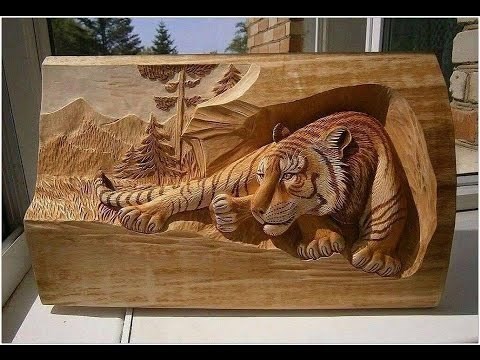 Carving on wood..Photo from Internet
Do you know, the price of a painting of a set of ugly horses by Hussain, or an artwork created by Satish Gujral in charred wood? What to say of scrap, if you become famous you can sell even crap with your signature and a border around it. And If nothing works then you can put a matchstick to all this stuff and create some grotesque shapes and give funny names to them.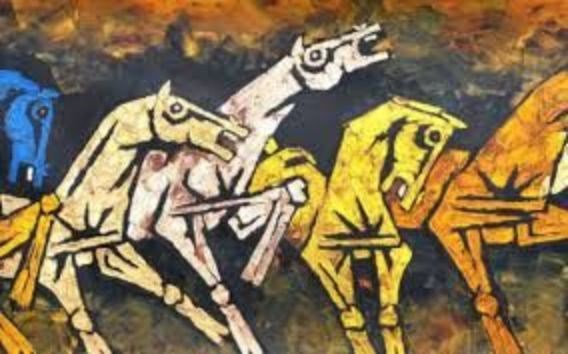 Horses by M.F. Hussain ( Photo from Internet)
Name is what sells things, and if you have it then even the stains on your bed pillow will be seen as a great work of art. Once you are famous you can bring out a book after book like Charles Hamilton, even if you can't write a sentence without a grammatical or a spelling mistake. People have done it before, and people have made millions for themselves, besides keeping the bread and jam on the tables of their ghost writers. You don't even need their services because the ghost of some writer is already there in you." Such a forceful chastisement hadn't come to me from within though, I was inured to hearing, cacophony resembling this and getting delivered in the shrilly voice of Smart Sulekhika, but all that disturbing noise had always come to me from without.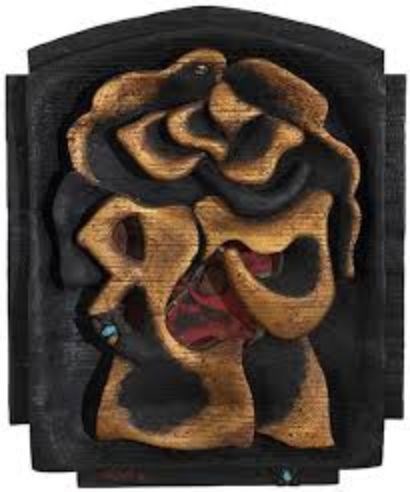 Charred wood work by Satish Gujral ( Photo from Internet)
God has His own ways of dealing with us. If creativity comes naturally to some, procrastination is the disposition of many more. As if drenching the raw material for my dreams and misshapen outcomes wasn't enough to shake me off my unusual urge, heavy downpours and the summer sun has put a spanner in my work. God had expressly asked Lord Indra to check the possible loss of a good writer to the overcrowded world of technicians and artists, vying for recognition. This year the unprecedented rains in winter and unseasonal showers which keep coming even in this late April, have been soaking my unfinished projects and the unused wood to a "Beyond Utility" state. Now the passion has not only faded but has got literally washed out.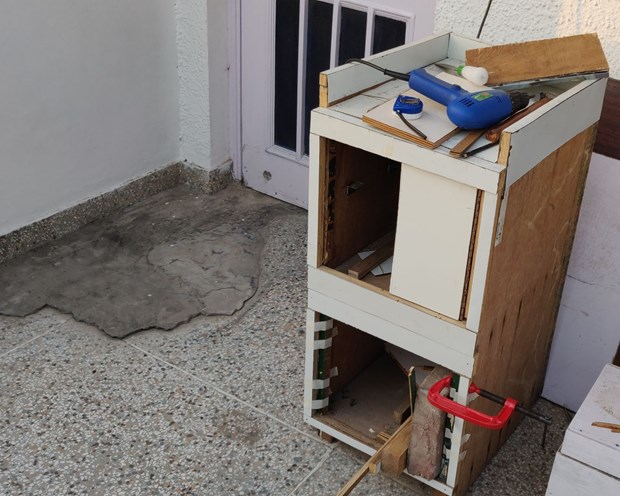 My unfinished work…begging for completion
Now it seems to me that putting a stop to the lofty ideas of the Engineer in me and letting the thoughts of the writer play with the words will please my soul better and control the waste of money on which none, even daring Sulekhika, has the right to question without inviting fearsome retaliation, in check. It may not bring me the accolades, I thought my experimenting with wood would, but see the word play is already filling my own heart with pleasure and at the end of the day, this is what that really matters. I don't know if the Nobel Prize winners or the Olympian Gold Medallists, the world leaders or all those who reach the pinnacle of glory in the fields of their choice or what destiny puts them in, are happier than those who do what they like to do, but I can say with conviction that like me, those who do what pleases them are certainly happy.
The medals, trophies and shields don't give a lasting happiness and they sit gathering dust on the shelves. What good are the acres of estates if you can take a step and of what use are the millions stacked in the banks if you can't digest a morsel? The maintenance of huge properties acquired during hay days becomes a nuisance and taking care of the wealth becomes a headache. The wealth of a good health and the riches of loving people around you is all that one can wish for and no material investment is required for either.
I haven't read Shakespeare, so I won't compare his work with Tulsidas's Ram Charit Manas, but I doubt if someone without extreme devotion to Lord Rama could have done better. It's not to justify what I do or to garner sympathy for my mediocre ability to write, but I do realize that I lack that strong, passionate, feeling but, I enjoy writing. Unlike Rahul, I am not there because, there's nothing else that I can do worse, but I can't compare myself with the dedication of Modi either, because I don't have that.
Tulsidas, my mind said, just on being shamed once by his wife for following her to her parental home and that too when they were newly married, left home and created an Epic and you after having been chastised for nearly forty years by Smart Sulekhika can't even write a good blog. Agreed, no matter how much she yells, you can't have an earful, because you are aurally challenged but well, you can't use it as an excuse. You can put on a hearing aid, for getting the full content and force of her speech, if you want to, but the fact is that you don't want it. What for are those expensive gadgets sitting on the shelves? Every now and then you go for a newer, more expensive ones on the pretext that the one you are using is not good enough and Smart Sulekhika doesn't say anything, hoping against hope that one day, will dawn when you will get all of what she says and all what she implies, although she knows that it is as useless as what they say in Hindi- Bhains ke aagey been bajana bekar hai ( It's useless to play a windpipe before a buffalo ..is the nearest translation of it), but still she hopes…And I vigorously shake my head. Tulsidas fully agrees with me and he says somewhere that it is impossible to understand what is in the heart of a woman, but it will be difficult to find that Chaupayee for now. My mind has started talking to me again. Another blog I think is coming.. Ah Yes, The Bees Attack my Raw material. That's what I was going to write about when I deviated from the main text of writing about my days in China…because the thought of the Chinese working like bees, brought all this stuff out of me to start with….So,you see? The brain is right. Another blog is due.
Thewriterfriends.com is an experiment to bring the creative people together on one platform. It is a free platform for creativity. While there are hundreds, perhaps thousands of platforms that provide space for expression around the world, the feeling of being a part of fraternity is often lacking. If you have a creative urge, then this is the right place for you. You are welcome here to be one of us.
लेखिका: वेरा पनोवा अनुवाद: आ. चारुमति रामदास वास्का के मामा से पहचान होने के परिणाम   कालीनिन और दाल्न्याया रास्तों के बीच ख़ुफ़िया संबंध बन रहे हैं. चर्चाएँ हो रही हैं. शूरिक यहाँ-वहाँ जाता है, भागदौड़ करता है और सिर्योझा को ख़बर देता है. ख़यालों में डूबा, अपने साँवले, माँसल पैरों से वह उतावलेपन से…
Read More