For tourists like us, Kashmir is 'paradise on earth'. There are enchanting tourist spots to visit in winter (beginning of a calendar year for Kashmir) through fall season, ending in November/December. February can be too icy and cold. Tourist season begins again in spring through summer to enjoy pleasant sun & shine in the company of more tourists who visit then.
For those who like skiing at Gulmarg winter time (January-February) is best. Government of India has built rope-way with gondolas to carry skiers to the top of ski slopes in Gulmarg. One can also go up Gulmarg slopes riding a pony. However one must be cautious as there are restricted and barricaded areas (at a few places in the vicinity of ski-slopes,) where Indian Army is stationed permanently; tourists are not allowed near such restricted areas.
For those who like to get away from the heat and dust of Central India (hot summer season in northern India,) April to June is good time to visit Kashmir.
For those who like to get away from moderate to heavy rains on the plains, particularly along the coastal regions of southern India, August through December is a good time to visit Kashmir.
Autumn season is a good time to visit Kashmir too if you want to view colorful Maple, Sal and Burch trees. One can also see apple picking (plucking) in apple groves of Kashmir and one can also enjoy the pleasant breeze on Dal Lake.
Visiting Kashmir during spring through summer is like a beautiful dream come true. This is the time when all the flowers are in full bloom making the valley, a paradise on earth. Tulips rule the roost while cherry, peach and pear  brim with flowers, after shedding all leaves.
I recall visiting Kashmir in April of 2004. My wife and my two sons accompanied me on that memorable trip… we were visiting from New Jersey, USA then.
The tulip festival of Srinagar is truly one of its kind events and one needs to witness this at least once in their lifetime! Celebrating the blooming season of the gorgeous tulip flowers, the Tulip Festival in Kashmir is an add-on to the already naturally blessed Srinagar. It is an annual festival, famous worldwide with people coming here in large numbers to witness the breathtaking sight. It usually happens from 1st (or 1st week) of April for 5 weeks through May, first week.
We had rented a boat house on Dal Lake for our short stay of 4-days in Kashmir. My older son (first son, no more now,)  enjoyed 'waterboard riding' on Dal Lake (I have posted two of his pics from my archives.) One must stand still tied to a waterboard with rubber tubing… the board is dragged on the lake by a motor boat; one can do "look mom,  no hands" tricks too! (pictures posted.)
My younger son,  loved the boat rides on the lake and also Kashmiri delicacies cooked by our caretaker (cook & boat owner too…)  who came to our boat every morning to cook food for the four us in the nice kitchen equipped with an LPG gas stove.
We enjoyed boating on Dal lake, we trekked up Shankaracharya hill (it was permitted in 2004; I understand the hill trekking tracks are closed now for security reasons.)
We also visited a heavily guarded Lakshminaryan Temple in Jammu region to sing in chorus the famous Sanskrit ballad: "Om Jai Jagadeesh Hare… … " with a small group of Kashmiri pandits who were at the temple singing bhajans on the day we visited, during morning-puja-time. We got sweet mix of dry fruits & nuts as 'prashad' during our visit. There was heavy security outside the temple. We had to show our ID cards to enter temple.
We also visited Shamilar Gardens where we posed for pictures; my wife got Kashmiri attire to ware for a couple of photos snapped by a local photographer! (picture in blog.)
We had a great time boating over the Dal Lake, Boat house owners generally stay on smaller boats at the back of larger 'boat-houses' that tourists rent for staying-in, day and night. Most boat houses for rent have well furnished 2 to 3 bedrooms, a small kitchen with a gas stove, a porch to sit and enjoy the cool breeze on the lake. Every morning the boat owner/care-taker, comes in his  small boat to take you to various spots on the lake. There were floating shops to visit on large boats anchored on the lake. If you are staying in a boat house on Dal Lake… your cook (he is often your boat house owner) prepares your breakfasts, lunches and dinners inside the boat you rent. One can develop taste for Kashmiri Kahwah (green tea) and Kashmiri food delicacies.
On most days on the boat it had to be 'Modur Pulav' for the vegans in my family when confined to the boat house. 'Modhur Pulav' is the name given to sweetened Kashmiri rice prepared using cinnamon, a little saffron, milk, ghee, sugar, cashew nuts, almonds, green cardamom among several other ingredients. This dish is sweet, flavoured and healthy with saffron as the main spice which gives it beautiful colour and taste. And this saffron is also grown in Kashmir itself. The distinctive taste of this pulav is unlike anything you have  tasted before. Just taste once and you will be left craving for more.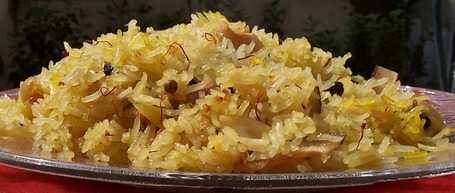 (photo is a download from the net)
One can buy good saffron to take home (at par with Spanish Saffron one can buy in US,) sweaters, salwar-kameez material with exotic designs, cashmere kaftans, shawls and rugs all hand woven by local craftsmen and women. Floating Shops on boats are more expensive (… they have more varieties, better choices on floating shops…) compared with shops on land close to the Dal lake (many of them run by Kashmir tourism department.)
During our April 2004 trip… the rope-way was still under construction. We went up Gulmarg slopes riding ponies. There was only 2 to 5 inch of snow then; not enough for skiing. We were told then that January to February is better season for skiing in Gulmarg.
I am posting here some  pictures that I could salvage from our 2004 photo album. I have lost many good pictures taken by our first son during that trip. He had snapped the most beautiful Kashmir landscapes: Dal lake, the apple orchards, the tulips, blue lilies and rose buds… sorry… I can't find those photos now in my archives.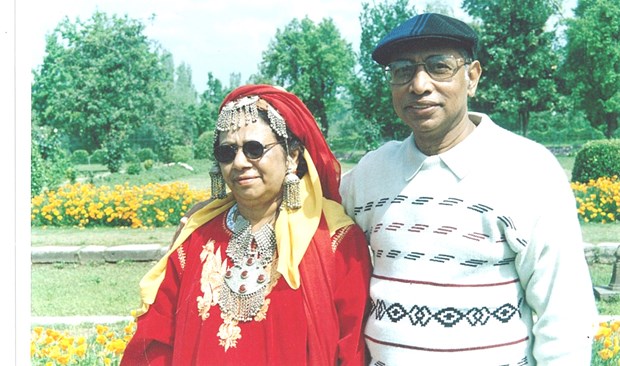 (pic) At Shalimar Gardens (Mohana and Suresh)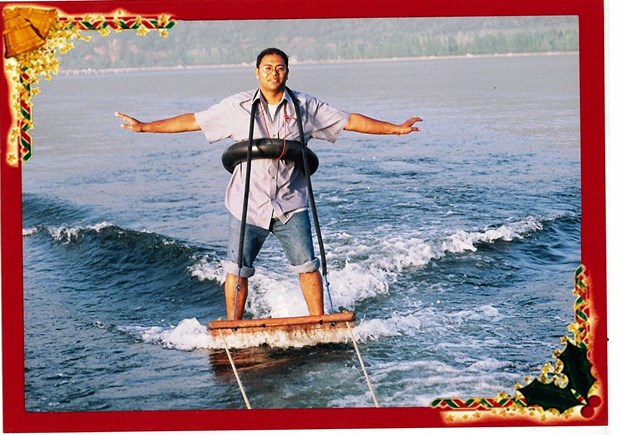 (pic) In memory… Ajay, my first son, riding water-ski-boards pulled by a motor boat on Dal Lake.
"Look Mom… No Hands(!)"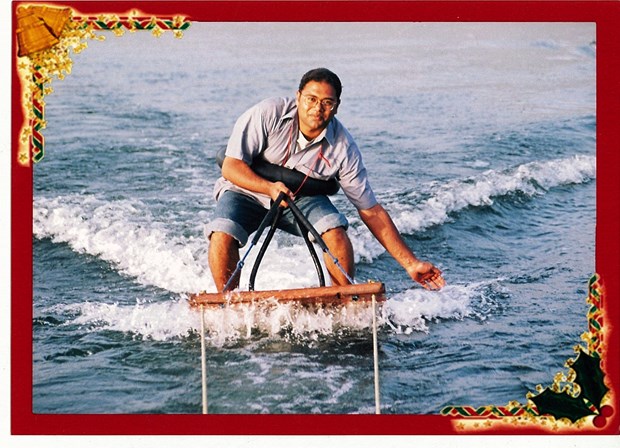 Tulip Festival of Srinagar (pictures from the net) (above and below)
=========================================================================================================
Views/Pictures… from the Net-
Dal Lake Views, Srinagar: https://www.google.com/search?q=Dal+lake+views&newwindow=1&rlz=1C1GIWA_enIN646IN646&tbm=isch&source=iu&ictx=1&fir=NLGZYx7ejqA8rM%253A%252CafjF5Jc55TPfFM%252C_&vet=1&usg=AI4_-kTpN4zqnsnBg-mDXq7ldGFERgctIg&sa=X&ved=2ahUKEwip_6uRxo_iAhXae30KHYpFCnkQ9QEwAHoECAcQBA#imgrc=
Flower Gardens (Kashmir): https://www.google.com/search?newwindow=1&rlz=1C1GIWA_enIN646IN646&q=flowers+kashmir+pic&tbm=isch&source=univ&sa=X&ved=2ahUKEwjPpoTyxI_iAhXMqI8KHQ1yCH8Q7Al6BAgIEA0&biw=1182&bih=
Photo of an Apple tree (photo is a download from the net)
(photo is a download from the net)
More@ https://www.bing.com/images/search?q=apple+orchards+kashmir+pic&qpvt=apple+orchards+kashmir+pic&form=IGRE&first=1&scenario=ImageBasicHover
=========================================================================================================
Disclaimer: A version of this blog has been previously published by the author @creative.sulekha.com/blogs
Thewriterfriends.com is an experiment to bring the creative people together on one platform. It is a free platform for creativity. While there are hundreds, perhaps thousands of platforms that provide space for expression around the world, the feeling of being a part of fraternity is often lacking. If you have a creative urge, then this is the right place for you. You are welcome here to be one of us.
"I'm Raju, and one day I'll be the king." Laxmi heard her brother as he bent his head and stepped into the hut. Sitting down, he opened the packet carefully as if it were a treasure. As she gaped at the contents, Raju declared," here is rice and chicken curry. A special treat for my…
Read More