During my active working years at AT&T in USA I have made trips to Japan, Singapore, Thailand, Malaysia to attend tech-seminars, to present a tech-paper, or two, at technology conferences and to attend to customer support.
One of the memorable trips that my wife and I made during those years was to Bangkok Thailand in the year 1994 after a visit to Japan for one day (only) and Singapore for 4 days. The trip to Japan and Singapore were official trips. Trip to Thailand was a holiday trip after a busy and hurried official trips to Japan and Singapore.
Bangkok, capital of Thailand, was going through a massive real estate boom, there were more hotels to stay than tourists visiting Bangkok! We did some shopping but the best part was the hotel and sight seeing deal we got because of the US passports we carried!
Thailand government tourism department salesmen had virtually camped at the Bangkok airport to greet International travelers with foreign passports (UK, Australia, Germany, France and USA in particular,) to give great discounts on hotel stays at a Thai Government owned 'Baiyoke sky hotel' that had just been commissioned (we were told) in the heart of Bangkok city.
(pic-1) Baiyoke Sky Scraper ( this is a recent picture from the net… advertising BMW cars made in Thailand.)
Upon landing at Bangkok airport from Singapore on December-6 of 1994 by 'Thai Airlines' we were greeted by Thai tourism scouts. By the way, 'Thai Airlines' is one of the best operated air service in the region. Although we had not pre-ordered vegan food, the charming hostesses in their colorful dresses, cooked up vegan food for us in mid-air and served our meal in style.
Thai Tourism scouts met us at Bangkok Airport and briefed us on discounted hotel accommodation at the Baiyoke skyrise Building, a central skyrise in Bangakok. The Thai government owned/supervised hotel rooms, operated under well planned  public private partnership model, were on 40th to 44th floors at the skyrise, a magnificent sight in Bangkok. The building houses many Corporate Businesses.
We were given one double room at Baiyoke hotel (operated by Thai Government) for 3-days at a bargain rate of $40/day with Air Conditioned comfort. Compare this to Tokyo hotel rooms I have stayed at $250/day (before my Singapore trip, in the 90s.)
In USA one cannot get the type of double room accommodation we got in Bangkok for anything less than $90/day (of those days; today it would at least be $120 to $200/day in busy metropolitan cities.)
Accommodations we got at Baiyoke Skyrise were very decent; came with a free chauffeur driven Mercedes car with a guide (for one day only,) that would take us to most tourist spots (morning to night!) How about that?
On day one of our stay, we could see most of touristy places like… Golden Buddah(s), the 44 meter long reclining Buddha located at Wat Pho and another one in sitting posture. We visited Rama-I Temple, 2 Pagodas and quite a bit of the Bangkok market square. Our guide suggested a visit to the massage parlors that attract westerners (especially, the single tourists!  I/we did not go inside those massage parlors run by Thai women (and men.)
The air conditioned Mercedes ride was very comfortable since the outside temperature was like 35 C even in December month.
Posting some pictures… digitized  from analog format… from an old photo album preserved for 24 years! Sorry for the faded images posted; I had a Kodak 110 model, small film roll, camera then. These pictures have rested in an old family album at our home, dating back to December 1994!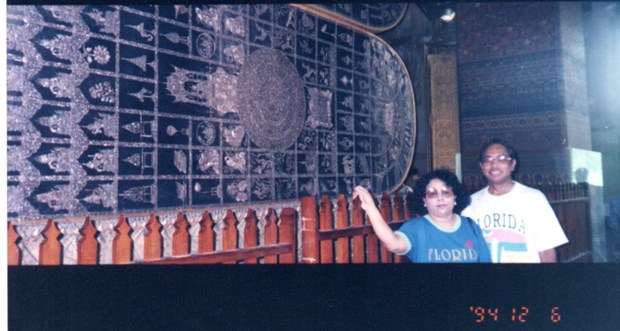 (pics 2, 3) Above and below. At feet of the reclining Budha at Wat Pho. We are at the feet of the reclining golden Buddha, 1-1/4 meter to 1-1/2 meter wide!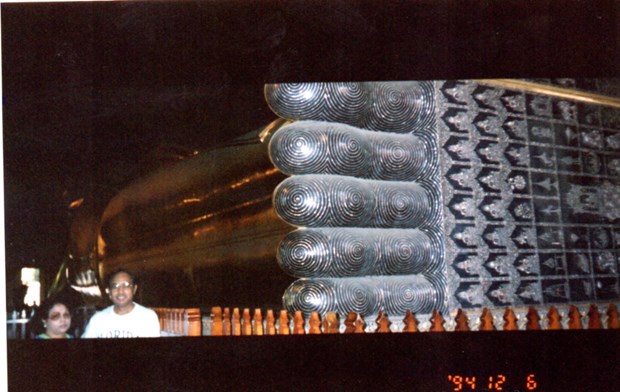 (pic 4) Reclining golden Buddha (44 meter long) downloaded from the Net. I could not capture this view from my tiny camera as there is hardly any standing room by the golden Budha fully enclosed by iron gates all around. This picture must have been specially organised (with photographers on a highrise platform during President Obama's trip to Thailand.) President is eyeing all the gold there! The reclining Budha (possibly made in wood or masonry, not sure on that…) has thick gold paint. Must have cost the then government hundreds of crores in 'Thai Baht; currency, to create this magnificent reclining Buddha. The artwork on walls is exotic.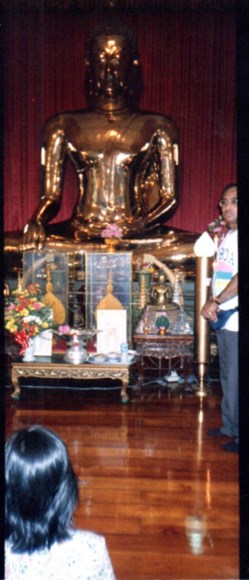 (pic-5) Golden Budha in sitting posture (I am trying to pose at right!)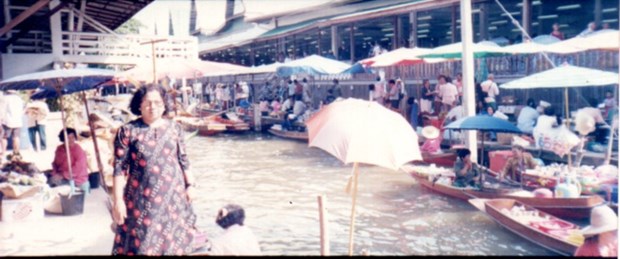 (Pic-6) Amphawa Floating Market (shops On Boats) along a canal. My wife shopped for curios there.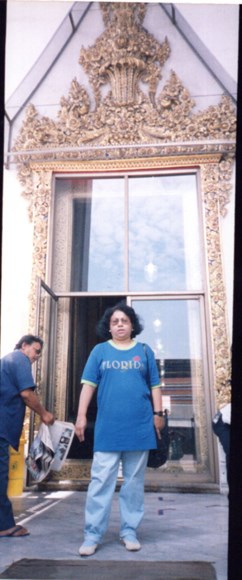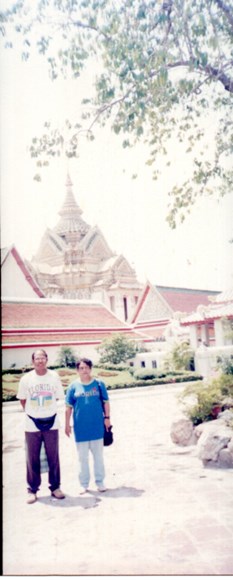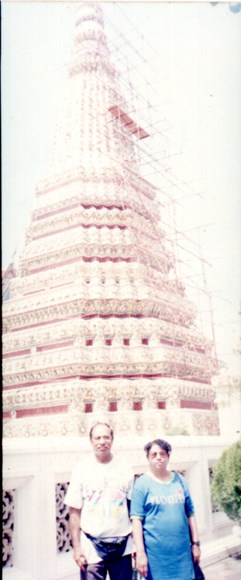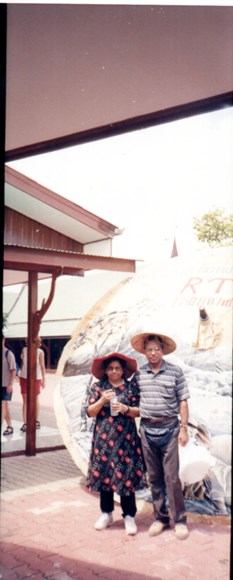 (pics, 7,8,9,10) Visit to 'Rama-1 Temple', a  Pagoda and a Thai Market. Sorry the pics have faded; the pictures had been stored away in my photo album for over 20yrs!
By mid day our tour guide took us to a crocodile taming and feeding pit. The reptile trainer showed his bravery by putting his head inside the mouth of a large crock, believe it or not! But the crock was not hungry, we were, as it was past mid-day.
(pic-11) This pic is a download from the net… my own snap shot of  'crock feeding event' in my album has faded, not worth publishing!)
The only catch with the 'Thai tourism deal was we had to attend a lecture for about 2-hrs (with free lunch included,) by Thai Tourism and The Thai Gems and Jewels Factory, owned by Thailand government. Thai Tourism deparment was taking tourists there to admire Thai gemstone jewelry and coax them to buy gold jewelry set in precious red and white gems mined in Thailand.  Free lunch (glass of champagne included) lured us to go on that trip too on one of the 3-days we stayed at Bangkok. The jewelry designs were very similar to what one could see in Indian jewelry shops. After inspecting Thai style necklaces, ear rings, bangles… "designs are unique, but prices are 1-1/2 to 2-times more compared to similar gemstones-set-jewelry in 14 carat gold available in USA," my wife pronounced; thank god I could keep my credit card back in my wallet! (By the way, she does not like 14 carat gold jewelry; thank you Bangkok; I can bring her to your jewelry factory any time in the future too!)
One evening during our 3-day stay, we attended a staged classical play by a Thai troupe. The theme of the staged play was selected episodes from Ramakien, Ramayana narrated in the Thai tradition.
Ramakien is Thailand's national epic, derived from the Buddhist Dasharatha Jataka.  Thais believe that Rama(s) of Thailand and the Rama of Valmiki Ramayana, the Indian epic, had connections in ancient times. King Rama VI was the person who shed the light first on Valmiki Ramayana studies in Thailand, by tracing sources of Ramakien, with narratives somewhat similar to Valmiki Ramayana of India.
The staged Ramakien play was in dance form.  I could not understand the play as the narratives  were all set in the Thai language of the day, sometimes referred to as ancient Siamese. I could link up some episodes to various episodes in Valmiki Ramayana of India. One Thai Professor who was trying to help me understand the play said Rama and Sita are depicted as brother and sister in Ramakien (!) This aspect was a revelation to me!
Posting some pictures I took with my Kodak 110 Camera. Sorry for the poor resolution-quality;  the pictures had faded even before I digitised them from my photo-album of 1994.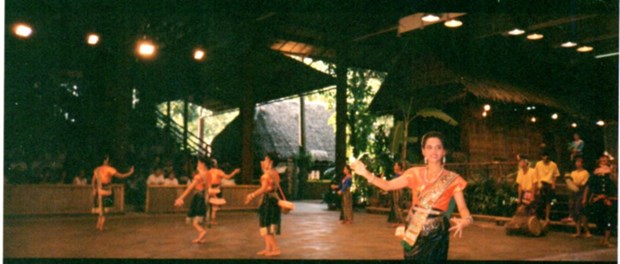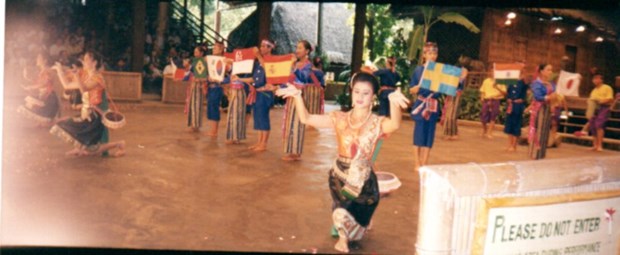 (pics 12, 13, 14)  Dancers who staged the play, greeting the audience, from several countries of east & west, before the play. 
On another day of our trip to Thailand, we went to see a staged mock war with rival groups on elephants.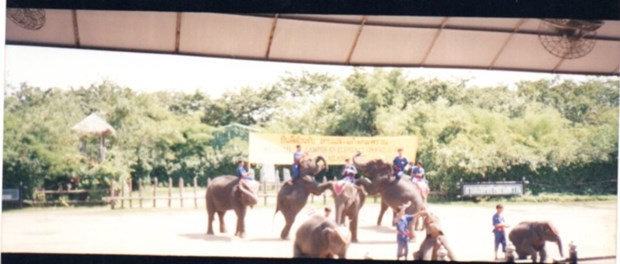 (pic 15)
Thai artists dressed in colorful traditional Thai Lungis, button less tops & head gear riding elephants staged the mock warfare. They carried spears and swords in the mock warfare between the good guys and the bad guys.
In the climax scene the victors set fire to a fort where the bad guys were hiding. I noticed a Hanuman like character setting fire to the bad guys fort with his tail in flames?

(pic 16)
Bangkok is also a shopping paradise if you are looking for merchandise, ready made clothing in particular. Best deals at Bangkok market place, are in ready made clothing; well tailored jean pants and shirts, fancy silk jackets and suits, silk ties, ready made silk shirts, gowns, tapestries, decorative wall hangings, table tops, sofa spreads etc, etc. We bought some, but not a whole lot; we were down to our last penny as this trip came at the tail-end of our Singapore trip in the prior week.
Our trip to Thailand is one of the best foreign trips I have made from from USA. Images are still green in my memory.
---
KINGDOM OF THAILAND HAS LINKS TO ANCIENT SIAM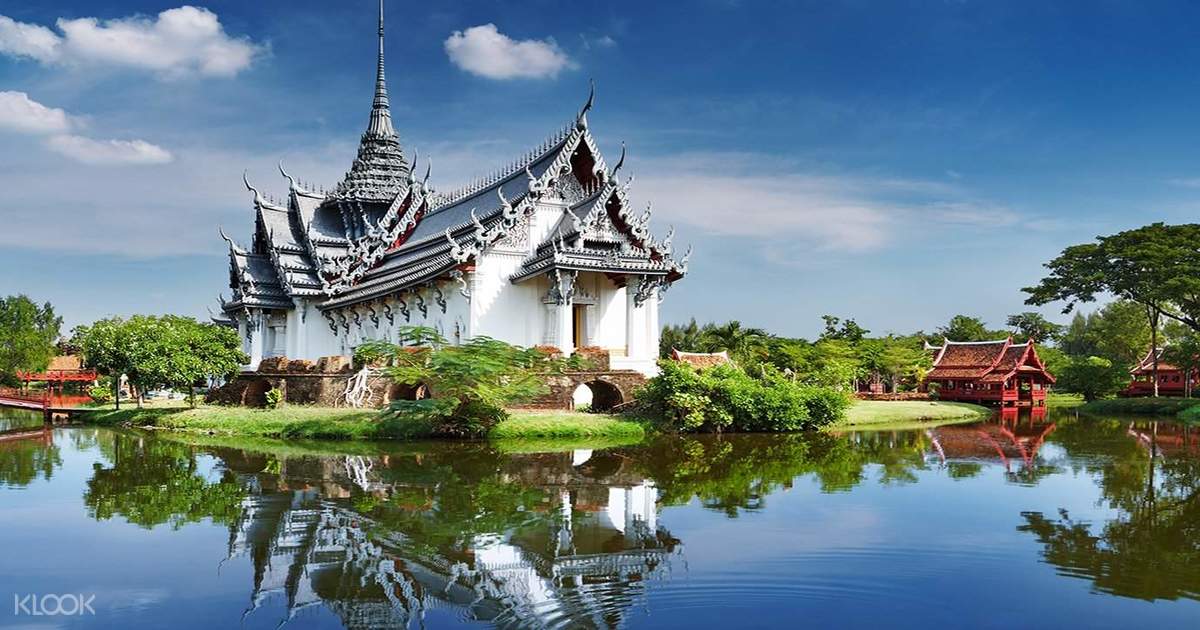 Ancient Siam (also known as Ancient City, Thai: เมืองโบราณ, Mueang Boran) is a museum park constructed by Lek Viriyaphant and occupying over 200 acres (0.81 km2) in the shape of Thailand.
We did not have time to visit the theme park and museum 'Ancient City'. Ancient Siam is dubbed as the world's largest outdoor museum.
Close to the Crocodile Farm in Samut Prakan Province, the 320-hectare "city" features 116 structures of Thailand's famous monuments and architectural attractions.
The grounds of Ancient Siam correspond roughly to the shape of the kingdom, with the monuments lying at their correct places geographically.
Some of the buildings are life-size replicas of existing or former sites, while others are scaled down.
========================================================================
DISCLAIMER
A version of 'Our trip to Bangkok' has been previously published by the author, a few years back, at www.Sulekha.com/blogs
Thewriterfriends.com is an experiment to bring the creative people together on one platform. It is a free platform for creativity. While there are hundreds, perhaps thousands of platforms that provide space for expression around the world, the feeling of being a part of fraternity is often lacking. If you have a creative urge, then this is the right place for you. You are welcome here to be one of us.
     NEWS Excerpts from  mid-day.com  16 September, 2020 21:01 IST | Rajendra B Aklekar | Mumbai   The bullet train from Mumbai moved ahead on Tuesday with the National High-Speed Railway Corporation extending the Mumbai-Ahmedabad bullet train all the way to Delhi and also adding seven new corridors, including two from Mumbai – one…
Read More