The protagonist in this story has asked me not to mention any real names when I told him I am going to write about him… make him famous!  Since every story must have names for characters, I will give alternate names or occupational titles, etc etc. Don't ask me who are etc, etc… my lips are sealed on that issue, alright!?
The main character of this story is 'Surya', short for 'Surya Narayana Venkatachalapati Raju'. He had been born, brought up, and schooled from primary school to post-graduate college all in southern India. Surya had graduated at the top of his class with an M Tech degree with high scores in Chemistry at the young age of 23, from a University located at Ananthpur in Rayalaseema region of Andhra Pradesh.
'Rayala-seema' is arid rock and rubble region with hillocks around and with wild shrubbery growing everywhere. 'Rayala-seema' was not considered cultivable land. It was full of small boulders with no lakes or streams nearby to grow rice or ragi, the staple food for the people of Andhra.
Most made their livelihood there engaging in trade and commerce type of activities. The region also boasted a few temples, churches, and mosques. Surya had been picked for a challenging assignment at a research laboratory located near Dehradun in northern India. His appointment letter was a telegram that said,
'Join duty as soon as possible, preferably this week. You have been given two advanced increments in your salary scale; all your colleagues are also joining this week at Dehradun. You and your team have to go through orientation and security clearance for this quasi-central government job. (signed) Deputy Director, Petroleum  Science and Technology Department, Government of India.'
But Surya could barely follow Hindi, Urdu, Garhwali, Punjabi, Nepali… the spoken languages of people he had to work with in his first work assignment. Moreover, the month he had to join was October and all his friends and family had told him that October to March was quite cold with intermittent rains in Dehradun for someone born and brought up all his/her life in Andhra Pradesh state that too in the hot 'Rayala Seema (rocks and rubble region) of Andhra. But the pay and perks in the grade-1 class-1, quasi-government post with the title: Senior Scientific Officer (SSO) were quite attractive. SSO base pay itself was 2-1/2 times more than the Fellowship he had also secured at the Indian Institute of Science, Bangalore, to pursue a Ph.D. program in Chemical Engineering-Technology in the early 60s.
The anecdotes posted here are about the ordeals faced by Surya mainly because of his lack of working knowledge of northern Indian languages and culture. He was not comfortable communicating his needs in a new place in the first few months of his work at Dehradun, located at the foothills of the Himalayas.
Doon Valley is situated in the western ranges of the Garhwal hills that make up the lower Himalayan range. The pristine Doon Valley lies between two sacred rivers of India- Ganga, and Yamuna.
~~~~~~~~~~~~~~~~~~~~~~~~~~~~~~~~~~~~~~~~~~~~~~~~~~~~~~~~~~~~~~~
SURYA ORDEAL TO FIND A TEMPORARY HOUSE AT DEHRADUN
Surya had not been assigned government accommodation in Dehradun because his actual work was to begin at a hamlet known as 'Moh.kam.pur', where residential quarters for officers and staff were still under construction. They would be ready in a month.
Residential quarters would be within walking distance of Labs coming up at Moh.kam.pur village located 10 kilometers away from Dehradun on the road to 'Sahasra-dhara' (thousand-streams,) that flowed majestically on shining rocks and pebbles over a sandy river bed with clear and cool water rivulets inside a forest area, practically all round the year.
The entire Sahasra-Dhaara was inside a forest area well maintained by the Forest Research Institute (FRI,) also located in the Dehradun suburbs.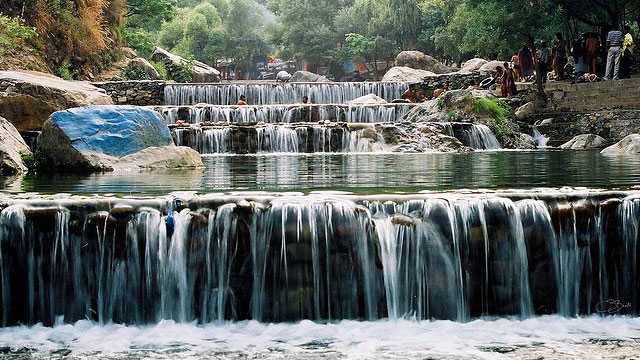 (pic-1) Sahasra-dhaara (thousand streams) through forest area of Mussoorie hills
Sahasra-Dhara (thousand-streams) river with many rivulets flowed down from Mussoorie hill that stood 2006 meters (6,500 ft) high from sea level.  Mussoorie is the queen of hill stations hardly 25 km away from Dehradun city. Other famous places in or near Dehradun are the mammoth headquarters building and the residential campus of the Oil and Natural Gas Commission (ONGC,) the 'Doon Public School' at Mussoorie (actually, a private school for rich kids… nothing public about it,) the Indian Military Academy (IMA) also at Mussoorie from where Indian Military Officers train and graduate to join armed forces of India.
Surya had nick-named 'Moh.kam.pur' as 'passion.work.town', since the work he had to do there was his passion and the name of that town could be just that, when translated into English! In the 60s, 'Mohkampur' was a laid-back village, hidden inside acres and acres of well-maintained tea plantations.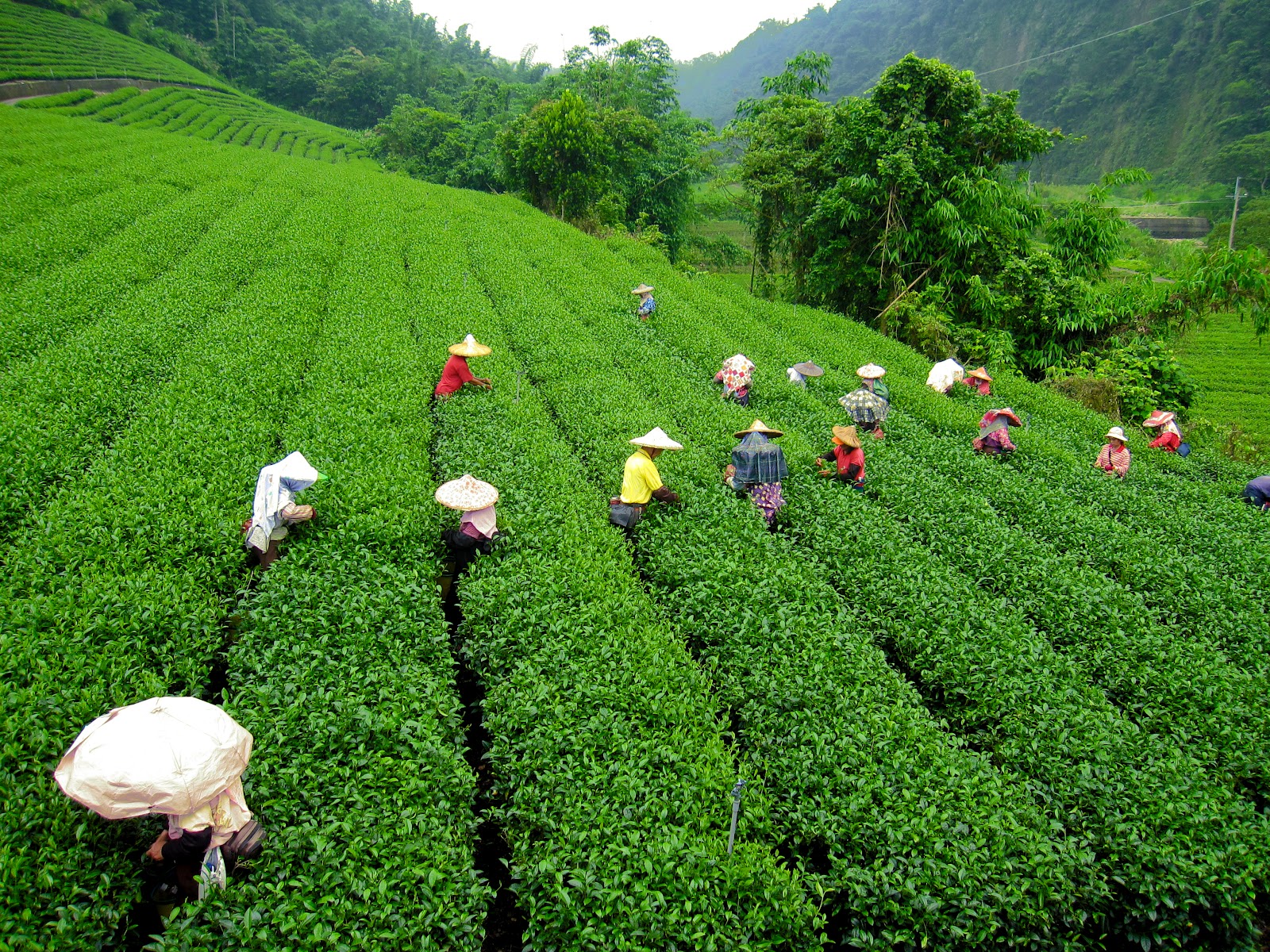 (pic-2) Tea Plantation at Mohkampur, close to the Petroleum Research Insititute
Upon arrival in Dehradun, Surya had to rent a room in a shabby downtown area in a small hotel near 'Ghanta Ghar' (Clock Tower) as the staff quarters at Mohkampur were still under construction. Since it was only for 1-month Surya was not worried. The hotel owner at Dehradun had said he would assign 'Bahadur', a good cook from the Gharwal area who would work every day in a kitchen attached to the hotel to cook food for people like Surya and take care of all their needs.
A mofussil bus with cackling chicken, vegetable sellers with their baskets and other domestic odds and ends would take Surya to Mohkampur every morning; a freighting ordeal for a research scholar going to work!  However,  this was a temporary arrangement made by the Research Institute that was coming up at Mohkampur. The bus service was a public service transport that many people used to go to Mohkampur village and the nearby tea plantation by a rural route from Dehradun to Sahasradhara.
(pic-3a) Typical Mofussil bus & passengers (picture is representative, a download from net)
  (pic-3b) Ghanta Ghar, Dehradun City.
~~~~~~~~~~~~~~~~~~~~~~~~~~~~~~~~~~~~~~~~~~~~~~~~~~~~~~~~~~~~~~~~~~
SURYA ORDEAL BEGINS WITH BAHADUR
"Saab aap madrasi hein na?" (Sir, are not you a madrasi?) asked Bahadur at their first meeting. Surya nodded although he was not from Madras; he knew that Bahadur did not know any place name other than Madras in southern India.
"Saab ham aap ko kush rakhenge… khana pakayenge… dekhbal karenge…" ("Sir, we will keep you happy, cook a meal for you, take care of you"…) reassured Bahadur. Surya liked the words 'kush rakhenge', he smiled.
"Aap kya pasand karte saab?" ("What do you like the most Sir?") began Bahadur in right earnest to know his master better.
"Pahle hame Makhan chahiye" ("First we need Makhan…") said Surya.
Surya was not happy about living in a one-room hotel in a shabby downtown area. What he wanted to say was that he needed a house for rent immediately, since he had been assured that the Institute and organization he was going to work for, would give a house rent allowance if he stayed outside the work spot.
Surya did not like living in one room in a dingy hotel. But he did not know the difference between Hindi words 'Makhan' and 'Makaan (मकान.)
"Makhan?" asked Bahadur just to make sure he heard Surya right. "Teek hai Saab… kal layenge…  aap fikar math kariye" (alright Sir… will bring it tomorrow… you don't worry…) reassured Bahadur.
The next morning Bahadur brought a bowl full of butter cubes from the hotel. All such extras would be charged to Surya's hotel bill.
"Saab, aap ko double roti banadu… ande bhi laya hoo" (Sir, shall I make a double roti… I have brought eggs too…) said Bahadur. Surya nodded.
This routine went on for two days; Surya had to leave early around 7.30 in the morning to catch the bus from Ghanta Ghar to Sahasradhara with a stop at Mohkampur village.
Many traders and villagers also used that bus service and it would take nearly an hour & half to travel to Mohkampur… what with all the stops to load and unload bundles of stuff villagers brought with them and with the pickup of passengers between Dehradun and Mohkampur at every unscheduled point en route to Sahasradhaara.
There was also a small stream with rocks and pebbles through which all vehicles had to move. During heavy rains, the stream would be flowing full… traffic at both banks of the stream would stop for hours. It rained quite a bit even in October month at Dehradun;  the skies were always full of dark clouds, and lightning and thunderstorms were frequent because of greenhouse emissions from the surrounding forests.
On the third day, Surya thought he would again talk about his need for a house to live in, although temporarily for a month, in Dehradun city.
"Bahadur… yaad hai maine kya bolata… mujhe makhan chahiye." ("Bahadur… remember what I had mentioned, I need a makhan.")
Bahadur got worried because he was bringing butter cubes every morning for making double roti and ande ki burji.
Next day, Bahadur brought more butter cubes, milk, and honey from the hotel to cook breakfast before Surya rushed to catch the bus.
"Butter bahut laye ho" (brought too much butter) said Surya. Bahadur was concerned again, he thought his 'Saab' (Master) was not happy with his work or cooking.
"Makhan doond rahe ho kya? " (are not you looking for Makhan?) asked Surya again. Bahadur smiled this time and nodded his head.
That evening when Surya returned to the hotel from work he found Bahadur with a young and fair Gharwali maiden dressed in all her finery. Surya was stunned.
(pic-4) Gharwali girl all dressed up like a bride
~~~~~~~~~~~~~~~~~~~~~~~~~~~~~~~~~~~~~~~~~~~~~~~~~~~~~~~~~~~~~~~
PICKLE BOMB PARCEL AT MOHKAMPUR
Surya's confinement at the dingy city hotel at Dehradun city was over. The tedious commute problem in city buses from Dehradun to Mohkampur ended too. Everything was looking good for Surya. The officers quarters, Lab building, some staff quarters all got built in record time where old tea bushes had dried up; there was plenty of tea estate still fresh and green around the Labs and residential quarters area. Tea plucking women all around the Institute building in the 1960s were a great sight to see for the new residents at Mohkampur.

2020 photo (a download from the net) of the front lobby of Indian Institute of Petroleum (IIP) at Mohkampur Dehradun. 
Surya had written a letter to his mom back home at Rayalu-seema that he could not find good lemon pickles (Aachar) at Dehradun city.
Lemon pickles were one thing his cook and confidant Bahadur could not make. So when Surya made a plea to his mom back home a glass bottle full of lemon pickles was sent by parcel mail to Surya's full name and job title (SSO) mentioned… the parcel wrapped in a gunny sack came to the new post office that also came up at 'Mohkampur' to cater to the needs of nearly 700 men, women, admin-staff, research scholars, watch and ward of the Research Labs that sprung up overlooking the scenic Mussoorie hill at a distance of about 25 kilometers.
Surya moved to assigned government quarters at Moh.kam.pur, 10 kilometers away from Dehradun City, within four weeks as planned. Bahadur also moved in with Surya as his personal cook and confidant; the two of them became buddies; Bahadur's efficient caretaking (deckbaal), his daal, roti, chawal, sabzi cooking skills, plus Hindi coaching skills all impressed Surya and he allowed Bahadur to move-in with him to his assigned quarters at 'Mohkampur'.
The government quarters assigned to Surya had 2 bedrooms, a kitchen, 1- L shaped drawing plus dining room, 2 baths with attached toilets & a good open balcony at the back overlooking tea gardens for Bahadur to establish his firm presence as cook and confidant for Surya.
Surya had telephone connection only at his Labs where he had a small office too for himself.
The telephone rang on a Friday afternoon… after Surya started work at the Labs.
"Hello, Hello" said the voice at the caller's end.
"Hello, who is calling" asked Surya picking up the phone call.
"Hello Hello, Aap SSO, Surya Na-ra-ya-na Ven-kat-achal-apatti-raaju bol rahe ho kya?"
"Hha! (Yes!)… what can I do for you," asked Surya.
"Saab, mai mohkampur Post Master bol raha hu… apko yaha turanth aana padega" (Sir, I am Mohkampur Post Master speaking, you have to come here as soon as possible")
"Kyo? (Why?)"
"Saab, ek toota huva parcel hai aapke naam… southse aaya hai… packing gunny bag se kiya huva hai, label madrasi bhasa me hai…khadva tel bhi nikal ta hai usmese!" (Sir, one broken parcel package has come in your name… from the south… packing is in a gunny bag… label is in madrasi language… bitter oil is coming out of it!)
"Kya! Tel nikalta hai!? (What! oil comes out!?) asked Surya excited. His main task at the Lab was to test all kinds of rock samples and fossils for traces of Oil.
"Hha Saab, swaad bhi acchi hai" ("Yes Sir, smells good too")
(pic-5) pickles bottle before it was packed in a gunny sack for parcel-mail sent by Surya's mother.
"Swaad bhi acchi hai!?" ("Smell is good too!?)
"Hha Saab, ham log taste bhi kardiya… Achar lagta hai… khatta-meeta taste hai. Lekin Gilas bottle tooti huvi hai Saab!" (Yes Sir, we have tasted it too, Looks like pickles… sweet and sour in taste. But the Glass bottle is broken!")
"Ooh! I understand now… I will come to pick up the parcel during lunch break" said Surya; he then disconnected the phone.
Surya went to the post office during lunch break; took delivery of the parcel and carried home the oil-soaking broken bottle parcel.
~~~~~~~~~~~~~~~~~~~~~~~~~~~~~~~~~~~~~~~~~~~~~~~~~~~~~~~~~~~~~~~
SOUTHERN GIRL JOINS SURYA'S LAB
Surya got a call from the Human Resources (HR) Department early in the morning that a new recruit would come to his Lab before 12 noon and that the Director of the Research Institute had suggested that Surya should not only interview her for but also take her out for lunch after the interview.
He was informed that two other heads of labs with independent charge would have interviewed her in the morning and that he would be her third interviewer. She would be offered a Senior Technical Assistant (STA) position if any of them found her fit for an STA position in the Institute.
Surya did not know there was an open position for STA in his lab! But he was happy that within 3 months of his joining, the Head and Director of the Institute had visualized that his lab was one of a few labs in the Institute that had the potential for expansion with more recruits working under his guidance. Two other STAs, 3 Junior Tech Assistants (JTAs), and two lab attendants were already working at his lab under his supervision. All were men.
The new potential recruit was brought to Surya's lab around 11.30 am. Surya was concluding some microscopy work he was doing in the lab on a project he was working on. The project was coming up well and he was thinking of publishing his work in a good technical journal with pictures of samples he was looking at through the microscope.
The first snowfall of the season had already hit Mussoorie hills. Hilltop covered in snow could be seen from Mohkampur. Many locals had nicknamed Mussoorie as "man soorie (mind-blowing.)"
(pics, 6&7 ) First snowfall of the season at Mussoorie.
"Saab, Ek ladki aayi hai; ham ne usko office room me bitaya hai," (Sir, one girl has come; we have seated her in the office room" ) said one of his Lab assistants.
"Ladki!? Oh ab Yaad aaya… teek hai, teek hai, ham aarahe hai" (Girl!? Oh I remember now, alright I am coming out of the Lab…) responded Surya closing up his work in the microscope lab.
In the morning Suya had felt a bit uneasy that he had to interview someone for a position. The day was Saturday, a 'half-day' at the Institute. Surya had plans to go to the hilltop, and stay back in a hotel at the hilltop through Sunday evening. He had not found time to visit Mussoorie in the past 3 months after coming to Dehradun; his work had been hectic.
Surya was wearing a white Lab coat… it was a bit dirty, his hair was disheveled, eyes were moist from work as he had been looking through the Microscope eyepiece and taking pictures of rock specimens he was examining.
The girl got up seeing Surya enter the small office adjacent to the Lab. There were only 2 chairs in the office, one for Surya and one for a visitor.
"Bhaitiye, Bhaitiye; Aaap…" (Sitdown, Sitdown; you are…) Surya tried to remember the name sent to him in the morning by the HR department; HR had already made a file on her; the file was resting on Surya's office desk.
"Aaiesha Banu," said the girl; she was shy and felt nervous in Surya's presence as he walked past her to go to his chair in that small office.
"I understand you want to work in the labs… where are you from originally?" asked Surya.
"I am from Hyderabad, can speak, read and write in English, Hindi, Urdu, Telugu, Kannada…" said Aaiesha.
"Good. Looks like you have already visited two other Labs here… would you like to see my Lab?" asked Surya.
Aaiesha nodded.
"Actually, I would like you to join me for Lunch today at the canteen here but it will be closing in half-hour because today is a half day. And, I have plans to visit Mussoorie this afternoon to see my first snow!"
"Two other colleagues from the Lab will join us to go to Mussoorie; we have booked a taxi from here; would you like to go to Mussoorie for a visit? We will return by late evening; It will take only an hour by Taxi… we all can eat at a restaurant in Mussoorie; the Director of the Institute will foot the bill."
"What about the Lab walk through…" asked Aaiesha
"Don't worry about that today; I have seen your resume, we have plenty of work here and at the other two Labs you have already visited in the morning," said Surya. "You can choose any of the Labs that you like to work for…"
"Am I selected for the STA post?" asked Aaiesha.
"Yes, yes… you are in; you will get the appointment letter on Monday…" said Surya.
"Thank you, Sir…, I will call my mother who has come all the way from Hyderabad and staying now at a Dehradun hotel; she will be thrilled to learn I got the job!"
"Sure, you can use the Lab phone to call her…" said Surya.
Surya got rid of his Lab coat and was ready to close the Lab for the day.
Aaiesha Banu called her mom at Dehradun hotel. Mom was thrilled to hear that Aaiesha secured the position at the Institute.
Aaiesha told mom she was heading for Mussoorie with her Lab colleagues and would be back by late evening at the hotel.
Aaiesha's mom gave her consent.
~~~~~~~~~~~~~~~~~~~~~~~~~~~~~~~~~~~~~~~~~~~~~~~~~~~~~~~~~~~~~~~
SURYA AND STAFF HAVE A NICE TIME AT MUSSOORIE
The pre-arranged taxi came to Mohkampur Institute front lobby from Dehradun city by 12 noon.  Surya, Sanju, Sham and Aaiesha got into the taxi to go to Mussoorie.
Snowfall had stopped; snow on the roads and trees started melting, January sun was shining bright like in one of those Ruskin Bond novels!
The taxi took an hour and a half to go up the slippery 25 km mountain road; they could see snow all over the mountain landscape en route. Taxis, cars, and vans, all had to stop at a bus station some 60 ft away from Mall Road. 
Everyone had to get down at the last stop and make it to the Mall Road of Mussoorie hills by foot.
(pics, 8.9.10.11) 22Km hilly road all the way to Mussoorie mall road had been snowed in, slippery.
Surya had previously booked a room for himself at 'Whispering Windows' Hotel as planned for his Saturday night stay. He needed to relax after hectic work for the past 3-months.
There was a nice restaurant at the hotel. The restaurant served breakfast, lunch, and dinner. However, the hotel was at least a kilometer away by foot from the taxi and bus station which was the last stop for all vehicles.
Surya, Sham, and Sanju were wearing good ankle-high shoes fit for walking in the snow. Sham and Sanju the two other STAs, had joined the Institute in October of the prior year along with Surya. They had plans to return home by bus or taxi late in the evening.
They all suddenly noticed that Aaiesha had not come prepared for this trip to the hills; she did not have the proper footwear to walk the snow-covered roads. That morning she had come prepared for the interview only from Dehradun city wearing fancy sandals over leggie socks under her shimmering salwar-kameez dress. She had a sweater in her handbag to wear if it got too cold.
Resourceful Sanju remembered that there was a Gorkha shop just near the Taxi and Bus station that stocked all kinds of military apparel, usually discarded by the military folk… when they received new stock. The Gorkha shop would sell warm jackets and ankle-high shoes to tourists who come to Mussoorie during the snow season.
Sanju asked the other three to wait in the taxi; he took one of Aaiesha's sandals for size and ran up to the Gorkha store to buy a good pair of ankle-high ladies' snow boots suitable for walking in the snow.
Aaiesha was grateful to Sanju for this favor; she did not even have the money to pay for such shoes. Sanju had 300 rupees in his pocket (probably his salary for the prior week at the Institute) but he paid for snow boots telling Aaiesha not to worry; "consider it a gift" he said.
Within the next 15 minutes, Aaiesha got into proper snow boots to walk on the snow-covered Mall Road.
It was 2.30 pm by then. They were all hungry… they headed straight to the restaurant at Whispering Windows singing 'what a jolly good fellow' in praise of the resourceful Sanju.
Surya carried his backpack as he had booked a room at the same hotel… he was going to stay there that night. The restaurant was crowded. There were several parties going on inside. Surya could spot some of his colleagues from the Institute.
The hotel owner gave Surya his room keys. He spotted a corner table on the back porch where the four of them could be seated comfortably for lunch.
Since the snow had stopped they had no difficulty sitting outside on the sunny porch; the view outside the Whispering Windows was breathtaking. Each of them could pick what they wanted for lunch from the menu. Surya assured them he would pick up the bill and present it to the Director's office for reimbursement.
Surya was happy that his two STAs and Aaiesha the new STA, were all bonding together. In the morning when he had interviewed Aaiesha he was a bit concerned about how Sham and Sanju would react if he assigned some of their work to Aaiesha. He himself did not want any assistance for the work he was doing. His own project was coming out well and it needed his personal attention.
After lunch, they started roaming about on Mall Road from the Picture Palace at its eastern end to the Public Library at its western end.
While roaming about on Mall Road they saw a ramshackle movie theater on top of the village shops with a poster of the movie- "Baat Ek Raat Ki" starring Dev Anand and Waheeda Rehman.
(pic 12) Hindi movie poster at ramshackle movie hall on mall road.
Surya made a mental note to visit the movie theater to see any movie that would be screened there at 9 pm.
The four of them could spot 'Lal Tibba', Camelback mountain range, as they headed for the Gun hill, the highest point on Mukssoorie… where a field gun had been placed during the British rule of the area that would fire at 12 noon, every day, to mark the time of the day.
The view from Gun hill was breathtaking.
(pic-13) View of 'Lal Tibba' and cloud cover over the Doon Valley.
They also spotted new buildings being built hurriedly to house the Central Tibetan Administration of the 14th Dalai Lama after his escape from Tibet during the 1959 Tibetan Rebellion.
They spotted the first Tibetan school that was established in Mussoorie in 1960 for children of families who followed the Dalai Lama. Tibetans first migrated to Mussoorie; some 5,000 Tibetans still live in Mussoorie even after the majority of them moved to Dharmsala in Himachal Pradesh.
It was nearing 6.30 pm. Surya decided they should all return to the taxi stand to send Aaiesha, Sham, and Sanju back to Dehradun. Surya made sure the three of them got a taxi to head back to Dehradun city.
Fortunately, it was the same taxi and Sardar Kartar Singh was the driver; he had picked them up from Mohakampur Institute in the morning. The Sardar driver had all details of Surya and his Lab.
Aaiesha thanked Surya for the excellent interview day she had spent. She was grateful to Sanju for the snow boots and everyone for the trip to Mussoorie. Sanju and Aaiesha became good friends from day 1
~~~~~~~~~~~~~~~~~~~~~~~~~~~~~~~~~~~~~~~~~~~~~~~~~~~~~~~~~~~~~~~
ROADBLOCKS, MORE SNOW, TURMOIL
Sham, Sanju, Aaiesha traveled a kilometer on their return journey to Dehradun when their taxi driven by Sardar Kartar Singh had to stop at a roadblock.
It had started snowing again after 7 pm; a tree had fallen on their side of the road covering all traffic going downhill. Only the road uphill was open with hardly any traffic going back to Mussoorie hill station so late in the evening.
The taxi just behind theirs' started honking. Sardar Kartar Singh, got down to find out what the matter was. The taxi driver who was honking also got down… told the burly Sardar Kartar Singh… that passengers in his taxi wanted to talk to passengers in Sardar's taxi.
Two men got down from the taxi that honked, came down to Sardar's taxi, and started talking to Sham who was in the front seat.  They told him that they were residents of Mohkampur and their taxi would take a deviation coming up within a few yards downhill to go straight to Mohkampur without going to Dehradun City. They had spotted Sham. They suggested that if Sham and the other residents preferred they could go in their taxi straight to 'Mohkampur' instead of going first to Dehradun city and getting stuck there at night as there was no proper transportation at night between Dehradun and Mohkampur.
This appealed to Sham and Sanju as they had their homes at the staff quarters provided by the Research Institute at Mohkampur, 10 km away from Dehradun city on the road from Dehradun city to Saharadhara.
Sham and Sanju quickly consulted with Aaiesha if she was comfortable going alone to Dehradun city. Sardar Kartar Singh, the driver of their taxi, assured her that his taxi was a registered taxi… had a regular license to commute between Dehradun and Mussoorie and she had nothing to fear. He also told her that Surya and the Research Institute at Mohkampur had details of his taxi service; he had visited the Institute from Dehradun city, many times before.
Aaiesha agreed with this change of plan; she knew that her colleagues would get stuck at Dehradun during the night with no bus or transport late at night to reach Mohkampur, 10 kilometers away from Dehradun city.
Sham and Sanju switched to the taxi going straight to Mohkampur via Sahasradhara road; the deviation was about to come just a couple of yards down the road.  Aaiesha remained alone in the back seat; she rolled up the window, wore her sweater, and started shivering as it was getting colder with heavy snow falling outside.
The taxi behind them took the deviation to head straight to Mohkampur with Sanju and Sham. The lineup of traffic towards Deharadun moved for another kilometer and stopped again. Aaiesha's taxi stopped at another roadblock.
A private car in front of Kartar Singh taxi with Aaisha in it was trying to make a U-turn to return to Mussoorie. Sardar Kartar Singh, driver got down again to find out what was happening. Owner driver of the private car in front said that he heard on the radio that more tree branches had fallen on the road downhill and it might take 3 hours to reach Dehradun city as several fallen branches had to be cleared downhill. He and his family had decided to return to Mussoorie where they had a place to stay back for the night; they would return to Dehradun city in the morning.
Aaiesha had rolled the glass window down to find out what was happening. A giant squirrel jumped on the back seat through the open window on seeing a basket full of walnuts that Aaiesha had placed in the backseat to take to her mother waiting at a hotel near Ghanta Ghar in Dehradun. She tried to hide the basket full of nuts from the Squirrel.
Aaiesha screamed when the giant squirrel jumped on her person… the nasty squirrel scratched her hands and torso. The squirrel picked a nut from the basket; scratched her more and jumped out from the open glass window.  Aaiesha started bleeding from the Squirrel attack; She panicked and lost consciousness.
(pic-14) A squirrel from a tree jumped through open car windows on Aaiesha
Taxi driver Sardar Kartar Singh noticed her bleeding on the back seat. He decided to make the U-turn to take her back to Mussoorie as she needed medical attention. He was not ready to proceed downhill; he was afraid the police would confront him when they reached Dehradun city. Sardar's taxi with Aaiesha unconscious in the back seat made a U-turn following the private car; headed uphill to return to Mussoorie.
On reaching the last stop near Mall Road, the private car owner, a doctor, advised Sardar to take his passenger straight to the emergency room when he noticed Aaiesha lying unconscious on the back seat. Burly Sardar carried Aaiesha to the hospital emergency room. The duty doctor at the emergency room noticed that the patient was bleeding from scratch wounds. He confronted Sardar Kartar Singh. Sardar told what had happened.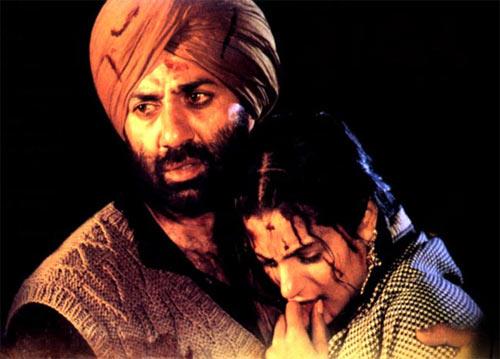 (pic-15) Taxi driver Kartar Singh brings Aaiesha to the emergency room at Mussoorie
The duty doctor wanted someone of authority to come to the emergency room to admit Aaiesha as it could become a police case otherwise.
Taxi driver Sardar Kartar Singh remembered that Surya had mentioned he was staying back at Whispering Windows. He mentioned that to the duty doctor. The duty doctor asked the hospital operator to call Whispering Windows hotel to inform Surya that he should come down to the emergency room immediately.
Surya hurried to the emergency room on hearing that someone he knew was at the emergency room. Duty doctor said Aaiesha would gain consciousness in a few minutes as he had given her a pain killer shot. The duty doctor bandaged Aaiesha's wounds; told Surya that she would be alright by the morning.
The duty doctor said Aaiesha could not stay in the emergency room for long when she woke up as there were no beds there, all they had was a hospital bench to make patients lie flat; it was only an emergency room to give first aid; all they did was dress up wounds of accident patients. A police ambulance had to be called to take serious patients to a bigger hospital where hospital beds were available. The big hospital was near the Library at the far end of Mall Road.
Surya remained with Aaiesha till she woke up. He told her what had happened. Aaiesha started crying; she requested Surya to call her Mom in Dehradun city to inform her. Surya took the Dehradun city hotel number and called Aaiesha's Mom. He spoke to her on phone mentioning who he was.
Aaiesha gained her composure and spoke to her Mom. She mentioned that there was nothing to worry about except that she could not return to Dehradun that night because of roadblocks. Mom had heard about the inclement weather from a radio broadcast; asked Aaiesha to take all help from Surya… stay back that night at Mussoorie and return in the morning.
Surya walked Aaiesha to Whispering Windows hotel. Surya had to cancel his program to see the movie 'Bath Ek Raat Ki' although he had purchased a ticket to see the 9 pm show at the ramshackle cinema hall on Mall Road.
Surya tried to book another room for Aaiesha as he had only a single bed in his room. The hotel desk said there was only one other honeymoon suit but that was reserved and… the couple who had booked it was in Mussoorie wandering about on Mall Road and their rooms could not be opened for Aaiesha.
Surya quickly prepared the bed for Aaiesha; got pajamas from his backpack and asked her to rest on his bed. He told her he was going to sleep on lounge chairs outside the room.
Aaiesha thanked Surya for all he was doing for her. She had tears in her eyes as she took the pajamas Surya gave from his backpack; closed the room door to rest for the night.
~~~~~~~~~~~~~~~~~~~~~~~~~~~~~~~~~~~~~~~~~~~~~~~~~~~~~~~~~~~~~~~
SUNDAY  MORNING… PEACE AND SUNSHINE AT MUSSOORIE
(pic-16) Sun Shine over Mussoorie hills 
After the hectic Saturday, the morning of Sunday turned out to be peaceful. Sun was shining on Mussoorie hills.
Surya woke up early from those lounge chairs he was sleeping on. Aaiesha had good rest too in the room he had put her in.
They both freshened up. Went down to the restaurant to have a good breakfast. Surya took Aaiesha again to the emergency room to get the bandages removed. The scratch wounds she had on her hands were healing up well. The scratch wounds hid inside the full arm Kameez Aaiesha was wearing. She wore and buttoned up her sweater to cover up the few blood spots she had on the Kameez.
She had a smile on her lips when she wore the ankle-high snow-boots Sanju had gifted her on Saturday. Surya was happy she was smiling again.
Surya engaged Kartar Singh taxi again. He told Aaiesha that he would make sure she reached Dehradun safely before noon. Aaiesha also remembered that she and her mom had train bookings for Sunday night to return to Hyderabad via Delhi.
The morning drive to Dehradun city was quick and fast as there was no traffic downhill on Sunday morning; they reached the Ghanta Ghar hotel around 11 am. Mom was happy to see Surya bringing back Aaiesha.
As Surya and Mom conversed briefly Aaiesha excused herself and went to her room in the hotel to make a quick dress change. She packed the Salwar and Kameez, the one that had a few blood stains, in a laundry bag the hotel had provided in their closet. She did not want Mom to see that blood-stained dress. She hid that on the top shelf.
Surya assured Mom that Aaiesha Banu appointment letter would be typed up on Monday morning. If Aaiesha preferred it could be delivered on Monday afternoon at the hotel they were staying.
Mom mentioned that the two had already booked their tickets back to Hyderabad via Delhi for a journey beginning Sunday night. Mom requested Surya to send the appointment letter to their Hyderabad address. Surya said that was a good decision too since she would also get full train fare again to come from Hyderabad whenever she decides to join the Institute. He said he would also make sure Aaiesha would be reimbursed for all expenses to come for the interview including Dehradun hotel charges; taxi fare to Institute and back.
Mom said since Aaiesha would be making a life-changing decision to come down north to work at the Institute… she would want that her daughter spent at least a week with her family back home before she moved to Dehradun with all her personal clothing, books, and belongings. This was the first time Aaiesha was going to work away from home… Mom said.
Surya said he will also try to get staff quarters allotted for Aaiesha at Mohkampur as there were a few still vacant. He mentioned that all his STAs and JTAs were already staying close to the Institute enjoying government quarters as it was more convenient to work at the sprawling and beautiful Mohkampur location of the Research Institute.
After Surya took leave of them to catch the afternoon bus back to Mohkampur… Aaiesha went to the hotel office to settle the hotel bill; she carried that small laundry bag with her, unnoticed by Mom, and asked the hotel desk to send it to a good dry cleaning shop saying she would collect it in a week. She gave the Lab address and phone number so the dry cleaning shop could give her a call when it was ready for pickup.
~~~~~~~~~~~~~~~~~~~~~~~~~~~~~~~~~~~~~~~~~~~~~~~~~~~~~~~~~~~~~~~
SURYA GETS A WEDDING CALL FROM THEIR PARENTS AT ANANTHPUR
Surya got busy with his work after the memorable trip to Mussoorie the prior weekend. He worked with HR department and made sure an appointment letter was sent to new recruit Aaiesha at her Hyderabad Address.
He did not mention to Sham or Sanju the ordeal Aaiesha had to go through on Saturday night on her way to Dehradun or her return to Mussoorie the same night for medical attention and staying back at his hotel room at Whispering Windows.
Another week passed by; Surya got a call from his mother that he should visit Ananthpur in Andhra, as early as possible, to see and approve the bride they had selected for him.
Surya applied for a week's vacation to go to his native place; it was sanctioned after he mentioned the reason for visit to native place. His superiors had been pleased with his work and all that he was doing, including interviewing new hires, to expand the Lab activities.
He informed Sanju Khan, his STA, that he would be in charge of the Labs during his vacation and trip to Ananthpur, Andhra.
~~~~~~~~~~~~~~~~~~~~~~~~~~~~~~~~~~~~~~~~~~~~~~~~~~~~~~~~~~~~~~~
SANJU PICKS UP A PHONE CALL  AT  THE  RESEARCH LABS
The Lab phone rang, and Sanju picked up a call from Dehradun city… he said Hello.
'Aaiesha?' asked the caller.
"No, this is Sanju Khan, can I help you?" asked Sanju.
"Saab, ham Dehradun Drycleaners se bol rahe hai… kya ham Aaiesha se baath kar sakte?" (Sir, we are calling from Dehradun Drycleaners… can we speak with Aaiesha?)
"Aaiesha madam abhi nahi hai yaha… message ho to ham lenge." (Aaiesha madam is not here yet… if there is a message (for her) we will take it.)
"Saab, aap une boldijiye ke dress ready hai… lekin blood stains nahi nikla…" (Sir, you tell her that the dress is ready but blood stains could not be removed)
"Blood stains?"
"Hha,  Kameez pe blood stains that… abhi hai… usko nikaal na mushkil hai" ("Yes, there were blood stains on Shirt, they are still there, to remove them is difficult"…)
"Accha teek hai; mai Aaiesha madam ko message bhijvadoonga…" ("It is alright, I will send a message to Aaiesha madam"…) said Sanju; he then disconnected the phone.
Sanju got curious! He and She had talked a lot during their Mussoorie weekend retreat with Sham and Surya. She was bubbly and talkative; was very happy with the snow boots he had presented to her. Sanju had visions of proposing to Aaiesha when she joined the Institute!
Why has Aaiesha left a dress with blood stains at Dehradun Drycleaners? He wondered! The last time he saw her was when he and Sham left her alone in the taxi of Kartar Singh who assured them she would be safe in his taxi the previous Saturday night!
He received another phone call later in the day. This was from Surya calling from Ananthpur in Andhra. Surya mentioned that Aaiesha would take another week to join the Labs but he would return soon.
Sanju's mind went into overdrive. He knew Dehradun city quite well; decided to visit the hotel near Ghanta Ghar where Aaiesha and her mom had stayed the previous week, and have a chat with the hotel manager.
The hotel Manager was friendly. He told all about how Surya and Aaiesha returned from Mussoorie by Kartar Singh taxi on Sunday around 12 noon.
He also mentioned how Mom and daughter were talking intimately with Surya. The Hotel manager also mentioned about Aaeisha giving him a laundry bag with a Salwar Kameez dress to be sent to Dehradun Drycleaners.
Sanju Khan's curiosity and suspicions increased; more so because he had plans to propose to Aaiehsha after she joined duty at Mohkampur.
The next day Sanju mentioned to Sham, his best friend at the Labs, what all had happened in the prior week when they both thought Aaiesha returned safely to Dehradun in Kartar Singh taxi after they both switched to another taxi on Saturday evening to return home to Mohkampur by direct route via Sahasradhara, without going to Dehradun.
"Daal mein kutch kaala hai!" said Sham. Sanju was in turmoil now.
They both decided to visit Mussoorie on the weekend again to make inquiries at Whispering Windows where they thought Surya had stayed alone on the previous Saturday night.
Their suspicions increased when they met the Manager of Whispering Windows. The manager there confirmed that Aaiesha had returned to Mussoorie on Saturday night and stayed in the room assigned to Surya.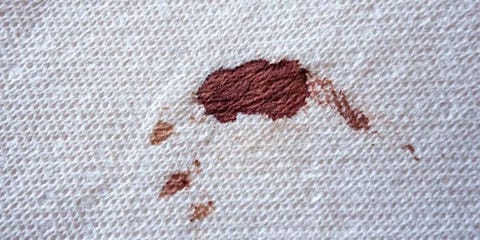 (pic-17) Blood Stains remained on Kameez even after dry cleaning
Sanju Khan was furious. He went to Mussoorie Police Station and registered an FIR against Surya, his boss, at the Research Institute.
The FIR requested police to make investigations on why Aaiesha returned to Mussoorie to spend a night with Surya on Saturday night at Whispering Windows.
Sanju Khan told the police that this was part of mandatory security clearance especially since their Lab did classified research on rare minerals and oils in the area and that he was in charge of the Lab in Surya's absence. He also mentioned that he and his colleague Sham had put Aaiesha in Kartar Singh taxi nearly 2 kilometers downhill on Saturday night.
The FIR also mentioned the blood-stained Kameez of Aaiesha that was now with Dehradun Drycleaners.
~~~~~~~~~~~~~~~~~~~~~~~~~~~~~~~~~~~~~~~~~~~~~~~~~~~~~~~~~~~~~~~
MUSSOORIE POLICE VISIT MOHKAMPUR RESEARCH INSTITUTE
On Tuesday after Sanju registered the FIR against Surya, Inspector Arjun Singh of Mussoorie Police Station visited Mohkampur Research Institute. He had a brief conversation with the Director of the Institute, his PA, and administrative staff. He also visited Surya's home in the officers' quarters area and chatted with Bahadur, the cook.
Bahadur said he had just received a packet of wedding cards from Surya over courier mail from Ananthpur for distribution to colleagues at his Lab regarding the marriage fixed for Thursday of the week between Surya and Sujata at a wedding hall in Ananthpur in Andhra Pradesh.
Inspector Arjun Singh opened the packet and took one card with him. He noticed that Sujata, the bride had an MBBS degree, it had been mentioned in the wedding card that she was a DNB intern at Mussoorie General Hospital. After Surya's name his M Tech degree had been mentioned, also his job title, Senior Scientific Officer, Institute of Petroleum Science and Research, Government of India.
Bahadur had information that Surya and his bride would arrive at Dehradun train station on Sunday evening. Bahadur had instructions to keep the house clean to receive the newly married bride and groom.  Inspector Arjun Singh made a note in his diary that he should meet Surya and Sujata after their arrival at Dehradun.
THE BRIDE AND GROOM ARRIVE AT DEHRADUN
A sizeable crowd from Mohkampur Research Institute had gathered at Dehradun Railway station to receive Surya and Sujata on Sunday evening. They had flower garlands with them to greet Surya and Sujata. Kartar Singh taxi and four other taxis had been booked to bring the newly married couple to Mohkampur.
There was rejoicing and garlanding of bride and groom when they arrived. Bahadur opened boxes of laddus and distributed them to all who had come to receive Surya and Sujata at the Railway Station. Sham, Sanju, and Kartar Singh were among those who garlanded the couple.
Surprisingly, Aaiesha Banu also arrived on the same train and joined in the rejoicing at the Dehradun Railway station.
Inspector Arjun Singh was there too! He had a brief conversation with Surya and Sujata at the Dehradun Railway station. He informed them that he would be in touch with them again, the following week, as he had some formalities to complete regarding an FIR.
THE DISTRICT MAGISTRATE AT MUSSOORIE CLOSES THE FIR AGAINST SURYA
Surya, Sujata, Sanju, Aaiesha, Sham, Kartar Singh, Inspector Arjun Singh, Duty doctor of the Emergency room, Manager of Whispering Windows, and cook Bahadur had all been summoned to appear before the District Magistrate court.
Surya narrated to Magistrate what all happened on Saturday night at the Emergency room after Kartar Singh brought back Aaiesha to Mussoorie for medical attention.
Sujata mentioned that she was there that night in the medical emergency room on clinical rotation, as part of her DNB program, when Aaiesha was given first aid and also the pain killer by the Duty doctor.
Sujata also mentioned how she was surprised to see her former high school classmate, Surya, at the emergency room assisting the injured and unconscious Aaiesha. She remembered calling her parents that night at Ananthpur mentioning how matured and handsome Surya had looked that night at Mussoorie. But Surya did not recognize her and briefed Sujata at the Magistrate inquiry.
Taxi driver Kartar Singh deposed before the Magistrate that Aaiesha had been attacked by a squirrel in his taxi; that is the reason for her swoon and loss of consciousness. She was bleeding from the scratches on her body made by the vicious squirrel; that is why he brought her back to Mussoorie's emergency room. His taxi had moved hardly 2 kilometers downhill towards Dehradun city when he made the U-turn to come back.
District Magistrate ordered Sanju Khan to withdraw the FIR lodged by him at Mussoorie Police Station as there was no mischief, foul play, or illegality by Surya, Aaiesha, or Kartar Singh under the circumstances.
Sanju said he would abide by the court's direction.
Sanju and Aaiesha were looking at each other fondly, holding hands, all through the proceedings at the Magistrate court.
It was rain and shine outside the District Magistrate's court at Mussoorie.
The manager of Whispering Windows announced that the Honeymoon suite was vacant if anyone wanted!
(pic-18) A rainbow appeared over the Magistrate court.
~~~~~~~~~~~~~~~~~~~~~~~~~~~~~~~~~~~~~~~~~~~~~~~~~~~~~~~~~~~~~~~
SANJU AND  AAIESHA ANNOUNCE  THEIR  ENGAGEMENT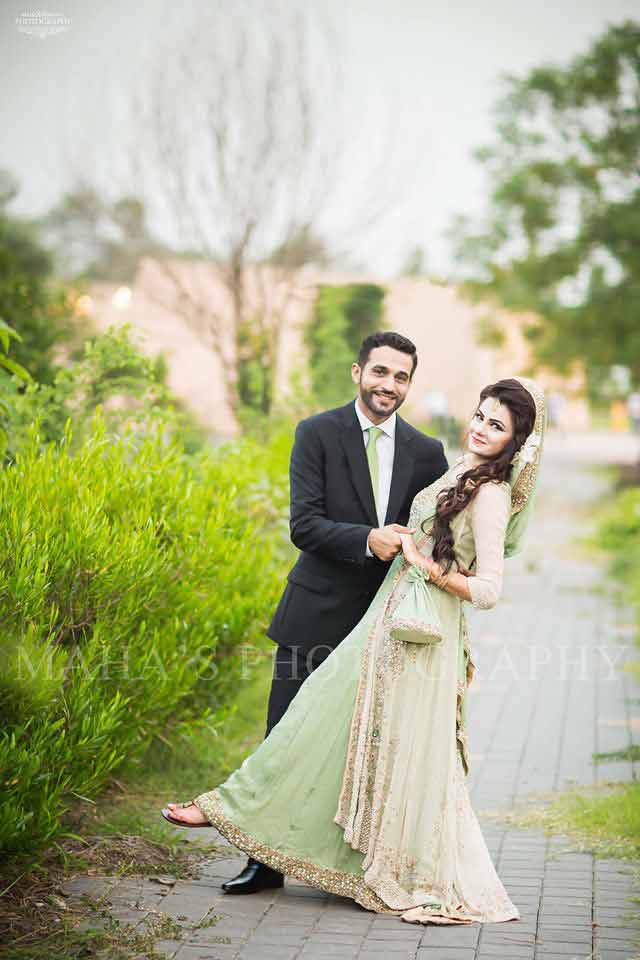 (picture deleted)
~~~~~~~~~~~~~~~~~~~~~~~~~~~~~~~~~ THE END ~~~~~~~~~~~~~~~~~~~~~~~~~~~~~~
Disclaimer:
The author has published this story before as a series of connected blogs  at www. Sulekha.com 
The narrative here is all in one place, for a convenient read, from start to finish. 
Thewriterfriends.com is an experiment to bring the creative people together on one platform. It is a free platform for creativity. While there are hundreds, perhaps thousands of platforms that provide space for expression around the world, the feeling of being a part of fraternity is often lacking. If you have a creative urge, then this is the right place for you. You are welcome here to be one of us.
TIPS FOR USING THE WEBSITE After Signing Up and Logging In, you are left at the Home Page, where you can see the following Buttons Home, About Us, Creative, Poetry & Fiction, Magazine, Mariners World, Forum and Contact us. On the right top corner, there are three options to choose from, namely Dashboard/Add Post/Logout and…
Read More