Winter is around once again. Every time when someone asks me about what I write, I start making some effort of compiling my writings, lost in the oblivion. Those that I can access easily are my blog posts. For more than fifteen years, I kept posting them fairly regularly at Sulekha.com. Yesterday when my wife's niece asked her about how to access those, I said, that I will send her the links for reaching them because they are like scattered here and there. Then I realized that I don't even have all the links saved at one place. So, I set about doing that, but it is a tedious task to put together the links to nearly eight hundred of them. Let's see how long can I do that. While copying the links down, I came across this blog "When Winter Comes" posted maybe in 2015. Our elder son had gone to Japan for doing and MBA and I and my wife were China. The winter was setting in. It is setting again, so I thought of bringing this blog over to this new platform which is my own.
My son had gone to see the autumn beauty of TakaoSan on 19th November. Mid November is said to be the best time for seeing the splendour of autumn beauty and after seeing all the pictures that I have posted we can't deny that, but before I thought of posting some blogs based on the pictures he had sent, thick dark clouds gathered here at Gaogang on 22nd  November and snow as was predicted, started falling. Tokyo is 1800 Kms from here and 7 degrees further up North and climatically similar.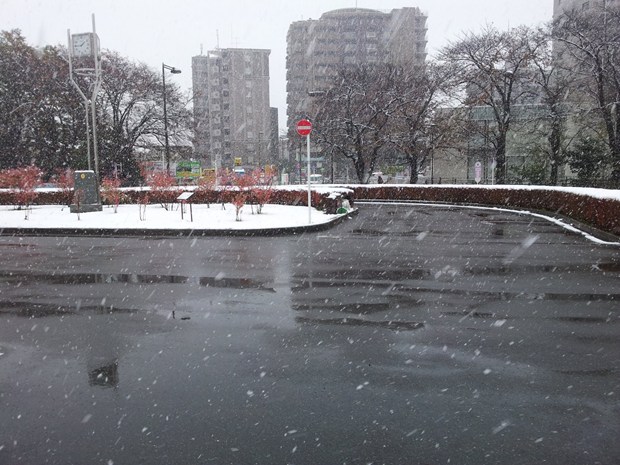 On a global scale these distances are minor and when dark clouds laden with snow come, they can wrap large swathes of earth in blankets of white snow. It snowed here and on 23rd November it snowed in Tokyo too. Because it snowed in Tokyo after fifty years in November, it made an international headline news. So, he sent pictures of snow in Tokyo too.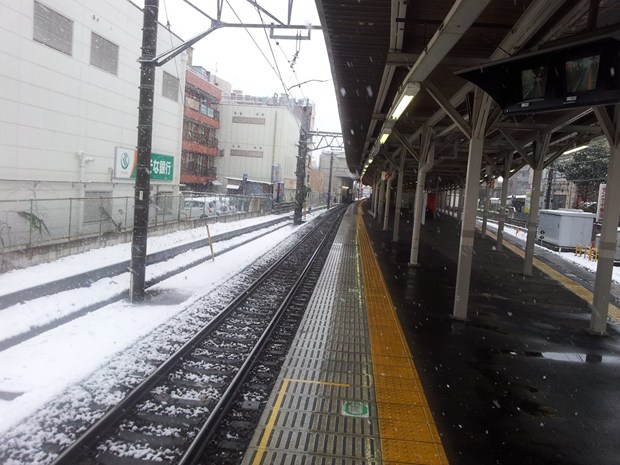 The day I started posting this series, I had decided that I would write the last blog about the sudden onset of winter, but no thought of writing a Hindi poem had occurred to me.  My thoughts have mind of their own, when the flood gates are opened, they gush out like a raging river. A hindi poem started trickling out and then it became a flood. I had not thought that I would reflect on little reported pain of some people who lay down their lives so that we may sleep peacefully, but as I have said that I have no control over the flow of my thoughts, they decide their own course.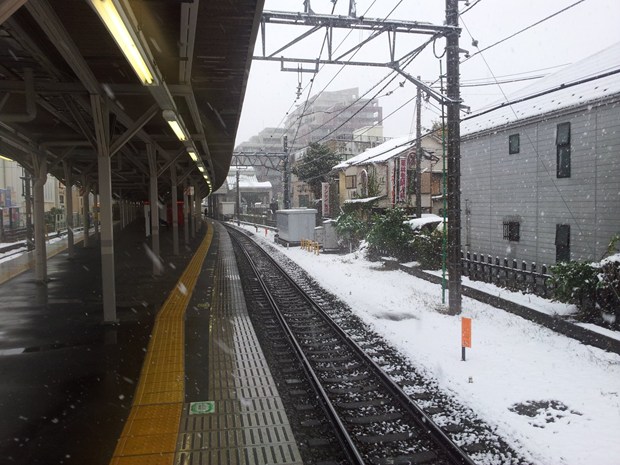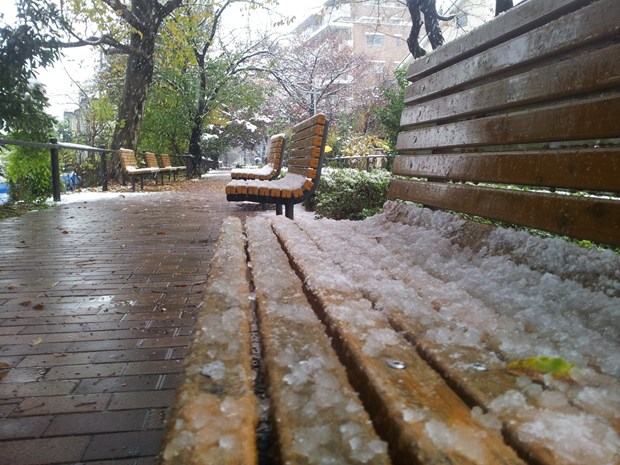 That day my thoughts made me cry a lot as I wrote this poem-  The thoughts came to me on seeing this surprised flower caught unawares by snow in Autumn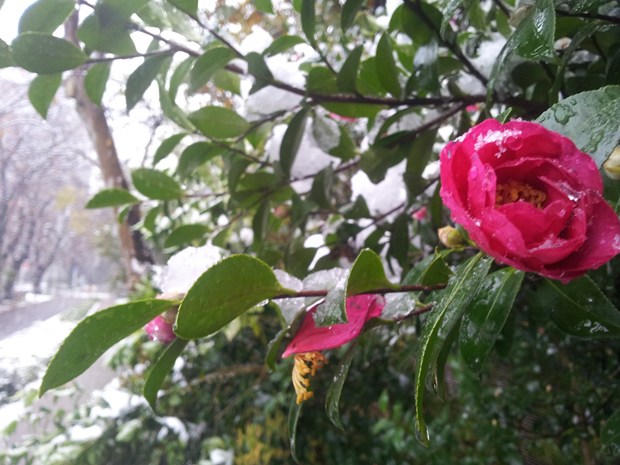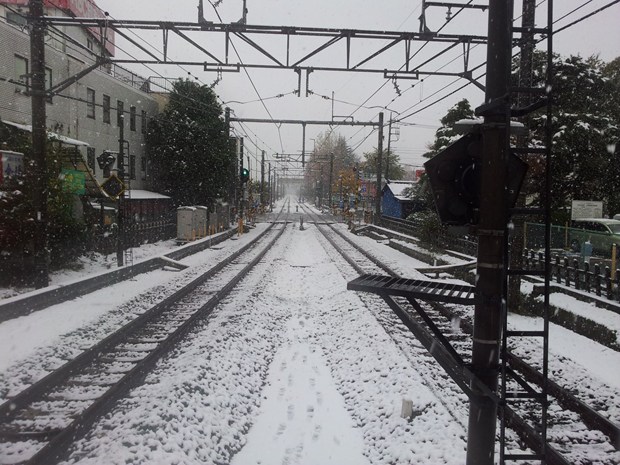 I don't know why my son sent the pictures of the train track but for me it is symbolic. Life indeed is a journey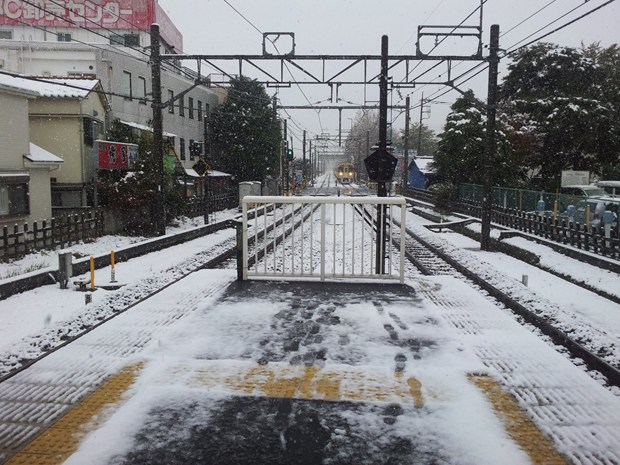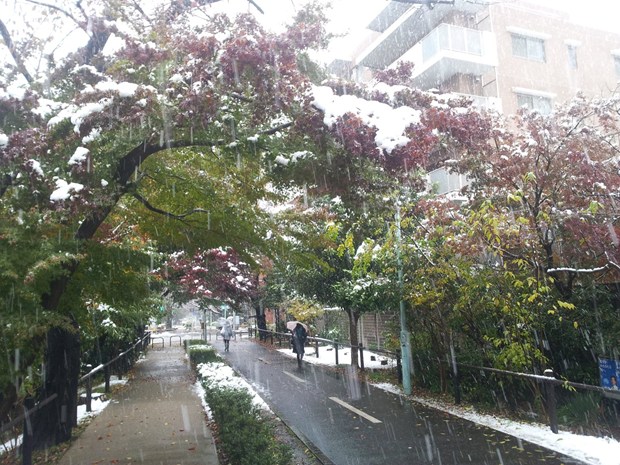 And now the poem that made me cry
When Winter Comes Suddenly
Lo aa gayi sardi
लो आ गई सर्दी
Khule bakse purane
(When I was a child the winter clothes were packed in steel trunks and kept away and to save them from moths, phenyl balls were put between the layers. When the clothes were taken out, some balls which were not fully spent would roll out. May be in lower middle class homes even now perhaps that's how the winter clothes are kept and taken out every winter)
खुले बक्से पुराने
Nikale coat or sweater
निकले कोट और स्वैटर
Ludakti phenyl  gi goliyan Jinmen se
लुड़कती फ़िनायल की गोलियां जिनमें से
Aur kisi jeb se bhoola hua sikka mila
और किसी जेब से भूला हुआ सिक्का मिला
Yad aya koyi bhula hua silsila
याद आया कोई भूला-बिसरा सिलसिला
Tang do dhoop mein inhein, hain baki inmein
टाँग दो धूप में इन्हें, हैं बाकि इनमें
Bachi kuchh, ya bhooli yadon ki mehaken purani
बची कुछ, या भूली यादों की महकें पुरानी
De ayein inhein dryclean karwayein
दे आएं इन्हें ड्राई-क्लीन करवाएँ
Ya dho dalein inhein ghar par hi
या धो डालें इन्हें घर पर ही
jaise taise Purani gandhon ko nikaalein
जैसे-तैसे पुरानी गन्धों को निकालें
Magar kya purani mahakein
मगर क्या पुरानी महकें
Yoon hi saralta se lupt hojaati hain ?
यूँ ही सरलता से लुप्त हो जाती हैं?
Dho dene se ya dhoop mein daalne bhar se
धो देने से या धूप में डालने भर से
Kya un se sati purani yadein bhi sab gayab ho jati hain
क्या उन से सटी पुरानी यादें भी सब गायब हो जाती हैं?
Yadon mein khone ka samay nahin hai
यादों में खोने का समय नहीं है
Bichhudon par rone ka samay nahin hai
बिछुडों पर रोने का समय नहीं है
Milna aur bichhudna, daur hai zindagi ka
मिलना और बिछुड़ना, दौर है ज़िन्दगी का
Zindagi ka sach to yahi hai
ज़िंदगी का सच तो यही है
Ek ek kar nikal rahe hain kapade purane
एक-एक कर निकल रहे हैं कपड़े पुराने
Bahut si yaadein ho aayi hain taza isi bahane
बहुत सी यादें हो आई हैं ताज़ा इसी बहाने
Kitna utsukta hai, chhotu mein, utsaah hai
कितनी उत्सुकता है छोटू में, कितना उत्साह है
badon ke kapade pahen kar muskra raha hai
बड़ों के कपड़े पहन कर मुस्कुरा रहा है
Kitni jaldi bada ho gaya hai,
कितनी जल्दी बड़ा हो गया है
Aur bada hota ja raha hai
और बड़ा होता जा रहा है
Ek ek kar, sab kapade nikale maa ne par
एक एक कर सब कपड़े निकाले माँ ने
Nahin nikale topi aur muffler
नहीं निकाले टोपी और मफ़लर
Khamosh dekhta hoon main
खामोश देखता हूँ मैं
we waise hi pade wahin hain
वह वैसे ही पड़े वहीँ हैं
Ek ansu girta hai aankh se meri, papa ke liye bhi
एक आँसू गिरता है आँख से मेरी, पापा के लिए
Jo ab is duniya mein nahin hain
जो अब इस दुनिया में नहीं हैं
Maa main bhi bada ho kar fauj mein bharti ho jaoon ga
माँ मैं भी बड़ा होकर फ़ौज में भर्ती हो जाऊँगा
Kaha chhotu ne garv se taan kar seena hai
कहा छोटू ने गर्व से तान कर सीना है
Maaroonga un aatankvadiyon ko
मारूँगा उन आतंकवादियों को
Jinhone mere papa ko mujh se chhena hai
जिन्होंने मेरे पापा को मुझ से छीना है
Kaisi nishthur hai yeh jang, kaisi kroor ye ladayi hai
कैसा निष्ठुर है यह जंग, कैसी क्रूर यह लड़ाई है
utth chali gayi hai maa, chhup kar kahin rone
उठ चली गई है माँ, छुप कर कहीं रोने
apane ansu rok nahin payi hai
अपने आँसू रोक नहीं पाई है
Marmik hai viyog, kitna ashney dhand hai
मार्मिक है वियोग, कितना असहनीय दंड है
Kyon nahin samajhta dushman, kyon itna nirdayi aur uddhand hai
क्यों नहीं समझता दुश्मन, क्यों इतना उद्दंड है?
Bahut teevr hai dhara samay ki, veg bahut prachand hai
बहुत तीव्र है धारा समय की, वेग बहुत प्रचंड है
Kuchh hi dinon ki garmi yahaan par, aur kuchh dinon ki tthand hai
कुछ ही दिनों की गर्मी यहाँ पर, और कुछ दिनों की ठण्ड है
In kuchh kshnaon ki mohlat, ka kyon ham shukr nahin manaate
इन कुछ क्षणों की मोहलत का क्यों हम शुक्र नहीं मनाते
Kis zameen ke liye ladate hain ham
किस ज़मीन के लिए लड़ते हैं हम
Rahi hain ham aate jaate
राही हैं हम, आते-जाते
Pal do pal ka saath hamara
पल दो पल का साथ है सारा
Kyon itna bhi samajh nahin paate
क्यों इतना भी समझ नहीं पाते
Kya seemayein, kya vivad, kaisi azadi
क्या सीमाएं, क्या विवाद, कैसी आज़ादी
Pal bhar main nikal padate hain ham aagey
पल भर में निकल पड़ते हैं हम आगे
Mukt ho sab bandhanon se,
मुक्त हो सब बंधनों से
chhod peechhe apnon ke toote sapane, hasartein aadhi
छोड़ पीछे अपनों के टूटे सपनें, हसरतें आधी
Bheegi palkon ko ponchta hoon utthti hai nazar
भीगी पलकों को पोंछता हूँ, उठती है नज़र
Padtai hai papa ki tasveer par, khade hain pahane vardi
पड़ती है पापा की तस्वीर पर, खड़े हैं पहने वर्दी
Chauda seena, damakta chehra, door tiki nazar
चौड़ा सीना, दमकता चेहरा, दूर टिकी नज़र
Nazar mein chamak, chamak mein spane
नज़र में चमक, चमक में सपने
Kuchh apne, kuchh apnon ke sapne
कुछ अपने, कुछ अपनों के सपने
Ek thirkati muskan rukti badati, tham si gayi hai
एक थिरकती मुस्कान रूकती, बड़ती, थम सी गई है
kampe hain onth, aur nikla girte padate swar
कांपे हैं ओंठ, और निकला गिरते पड़ते स्वर
Jai Hind Papa- Phir AA gayi hai sardee
जय हिन्द, पापा- फिर आ गई है सर्दी
Bahut tthandi si lagati rajai abki bar-
बहुत ठंडी लगती है रज़ाई अबकी बार
aap use garm karane jo nahi aaye
आप उसे गर्म करने जो नहीं आए
Dua hai meri prabhu se itni hi bas ki
दुआ है मेरी प्रभु से इतनी बस की
manushya ko manushya sang jeene ka tareeka aa jaye
मनुष्य को मनुष्य संग जीने का तरीका आ जाए
Taki sarhad pe vyarth ladayee ladate ladate
ताकि सरहद पर व्यर्थ लड़ाई लड़ते लड़ते
Mann mein iraadhe liye, khyalon mein vaade liye
मन में इराधे लिए, ख्यालों में वादे लिए
Kisi ki shard ritu, basant mein na aaye
किसी की शरद ऋतु बसंत में न आए
Thewriterfriends.com is an experiment to bring the creative people together on one platform. It is a free platform for creativity. While there are hundreds, perhaps thousands of platforms that provide space for expression around the world, the feeling of being a part of fraternity is often lacking. If you have a creative urge, then this is the right place for you. You are welcome here to be one of us.
(pic-1) Steve Jobs (picture is a download from the net)  (pic-2) Steve's biological father, Abdul fattah 'John' Jandali, a Syrian born Arab. Picture is a download from the net. From what I read also on the net 'Jandali' came to know that he had a biological son only years later! ================================================ Eve gave the first…
Read More