Folks,
I have visited Kashi in Uttar Pradesh state of India twice. My first visit was in year 1977 with my dad who flew-in from Bengaluru; he came to my house then at Greater Kailash residential area in south Delhi, to go with me to Kashi (in UP state) and ancient Gaya (in Bihar state) where Vishnu set foot in Vamana Avatar. The State government of Bihar developed Buddha-Gaya where Gauthama Budha attained nirvana on the banks of Phalgu (falguni) river, 16 km down stream from ancient Gaya. Budha-Gaya has beautiful Buddha-statues and shrines sponsored by several south-asian countries like Vietnam, SriLanka, Japan and so on. There are many 3 to 4 star hotels for tourists to stay at Buddha-Gaya and visit the place. Budha-Gaya is a developed township.
Ancient Gaya where Hindu pilgrims go to offer shraaddh (pind daan) to their ancestors had been totally neglected by the then Bihar government run by Lallus. I do not think there is even one decent hotel to stay there; there is a gravel road to reach the ancient Vishnupad Mandir there. During our two visits there were no proper drainage in that town for night soil disposal.
My dad was scared to travel all alone from Delhi to Kashi in UP by train (there were no direct flights from Bengaluru to Kashi in those days...) he had just turned eighty years in age; he did not know any northern Indian language. Ancient Gaya was another 2 to 3 hrs from Kashi by train. For someone who had lived all his life in southern India, traveling alone from Delhi to Kashi for 12 to 14 hours in a train was unthinkable. He had also been told that the city of Kashi was full of thugs who would pick his pocket, depriving him of all his travel money! 
I was happy to go with him to Kashi although I was not keen on going on a pilgrimage at my then prime age when I was quite busy with my work at Delhi. However, I did take 3 days off from my work at Delhi made it a 5 day vacation by including Saturday and Sunday. I made train reservations from Delhi to Kashi by the fastest train available then- 'Kashi Vishwanath Express', to go to Kashi from Delhi. We could take that Express train leaving Delhi in the evening to reach Kashi by day break.
All visitors must leave something near and dear to them in Kashi (according to a folklore that prevails in Kashi!) My dad did not know what was dear to him that needed to be left in Kashi! After the 'push and shou' visit to the crowded sanctum santorum at Kashi, he realised that he had lost his wrist watch well strapped to his left arm and a walking stick he had carried into the temple! I got him a new walking stick at Kashi bazaar. (Later on, my dad bought a new wrist watch after return to Bangalore.)
Next day we visited ancient Gaya also. The Phalgu (falguni) river was full of water then. I helped my dad perform whatever rituals he wanted to do in Vishnupad Mandir, where, according to folklore, lord Vishnu set foot first on earth in Vamana Avatar.
We also crossed the Phalgu river (at midstream the river water was clean and chest high…) to reach the opposite bank where folklore says, Sita_ mata performed shraaddh and pinda_daan (using river sand) for her father-in-law, Dasharath Maharaj, before sunset. Folklore says, Ram and Lakshman had gone away in search of rice and a few things they needed to do pinda_daan ritual, but did not return before sunset. According to folklore, Sita_mata heard the voice (asharirvani) of Dasharath maharaj which said that she can do the pind_daan using river sand as Ram and Lakshman were unlikely to return before sun set. In recent times the temple trust has built a sculpture on that bank of the river showing a hand coming out from river to take offerings of Sita_mata.
My second visit to Kashi was in year 2007 with my wife and two sons. Both of them had completed med-school and wanted a summer break. They wanted to travel in northern India for sight-seeing in Kashmir, Darjeeling, Dehradun, Nainital, Delhi, Chandigarh and a few other cities.
I had been living in America since 1978 by then. My sons had no interest in going to pilgrim places like Kashi, Gaya, Hardwar or Mathura then. However, since dad (myself) was footing their travel bills, they also visited Kashi with me and my wife; my boys did not know what their Hindu Aastha (faith) was all about!
In that second visit to Kashi in year 2007, I looked forward to traveling to pilgrim places like Kashi, Hardwar, Rishikesh, Mathura to fulfil our Hindu Aastha (faith.) I made sure I visited ancient Gaya too on that trip to perform shraaddh and pinda_daan to my father and ancestors.
After living the life of a liberal Indian American, particularly during my travels all over America with occassional travel to UK, Japan, Singapore, Malaysia, Thailand (on International work assignments for US companies,) visiting Kashi and ancient Gaya as a pilgrim were a very welcome change for me. 
Like most Hindu men and women working for multi national companies rubbing shoulders with peers who were, in my case, all white anglo-saxons, remaining a vegan and teetotaller in America was not easy to do!
In any case, I had forgotten what my Hindu Aastha (faith) was, the day I had landed in America on a cold November morning in year 1978.
I think I have drifted from the main theme of this write! PM of India, Sri Narendra Modi ji, is doing the inauguration of the state-of-the-art infrastructure surrounding the ancient Kashi Vishwanath Temple on December 13 2021.
I would be interested in a 3rd trip to Kashi if travel and tourism to Kashi is easy to do… to 're-live' my Hindu Aastha (faith).
In both 1977 and 2007 visits, it was very difficult to reach the Kashi Vishwanath Temple by cycle riskhshaw or by walk through lanes and bi-lanes from the then Railway Station at Kashi.
Kashi is a 3000 year old city. Historians say Kashi is THE city most travelled in the world by tourists from all over the world! From ancient times Kashi has been a center for learning Hindu philosophy and sanskrit language.
Let me post some pictures of what Kashi city looked like, particularly around the Kashi Vishwanath temple then, and what it has or becoming now with the new 'Kashi Vishwanath Corridor' being inaugurated today (December 13, 2021) by the Prime Minister of India.
WAY TO KASHI VISHWANATH TEMPLE THEN… by cycle rikshaws or walk through bi-lanes of the city… was not easy as the area around the temple was congested with unauthorised occupation and dilapidated buildings.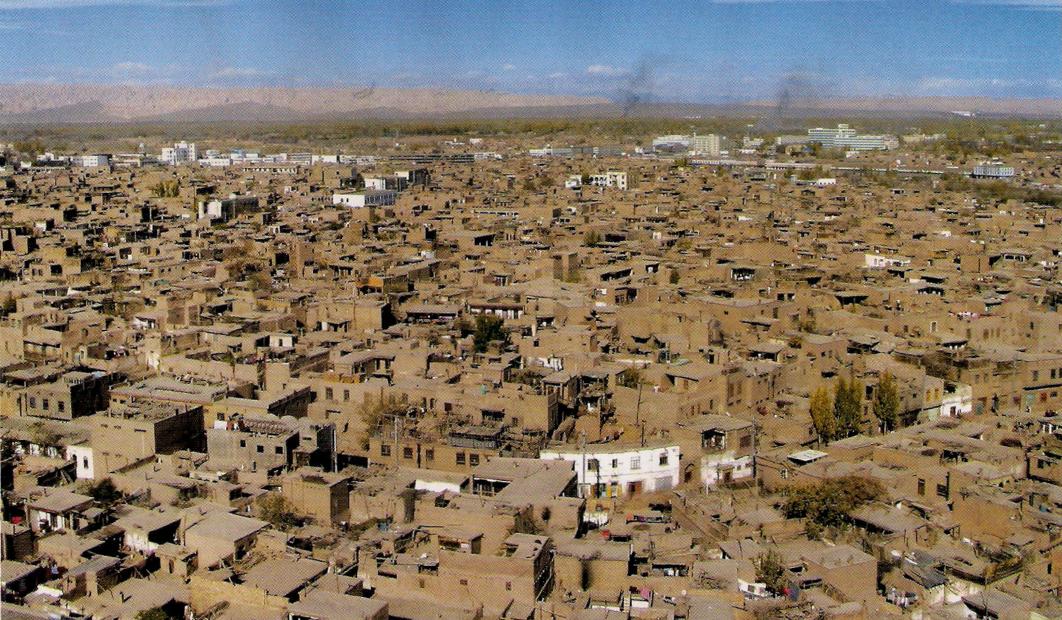 (THEN PICTURE) it was difficult to locate 'Kashi Vishwanath Temple' from the Railway Station in my earlier visits.
NEW KASHI VISHWANATH CORRIDOR
Kashi municipality has now purchased privately owned houses around the ancient temple complex, demolished many of them to make wide roads and 15 meter wide corridors with lots of facilities for future tourists/worshippers.
City has earmarked 50 hectares of area around the 3000 year old temple for such upgrades. A news report says Rs.900 crore was budget for phase-1 developement of this Corridor.
Curious foreign tourists, Indian and foreign Hindu worshippers like the new temple corridors. 
View images/pictures posted below of a few finished and some ongoing modifications to the temple area and the bathing ghats along the river Ganga surrounding the ancient Kashi Vishwanath Temple area.
City administration says visits to the area have increased many fold now; tourism revenue is likely to double and quadrupple once the Ram temple at Ayodhya also comes up in next 2 to 3 years and Mathura temple is also revived.
I am told that a 'Hindu heritage travel corridor' is coming up too (or under consideration,) connecting Ayodhya city to Kashi city to Mathura city with better motorable roads, better public transport, private bus and taxi services to cater to new Hindu heritage tourism in the area.
Muslim and other non-Hindu minorities like what is going on. Many of them living in the vicinity of the temple make their living from tourists. Most of them make temple artifacts (Silver, Bonze/Brass wares) hand worked Z(J)ari tapestries in pure silk; weavers among them make Banarasi saris, Banarasi shawls and Banarasi tapestries and wall hangings.
Some also make incense sticks and various kinds of temple-puja/service materials for the Vishwanath temple.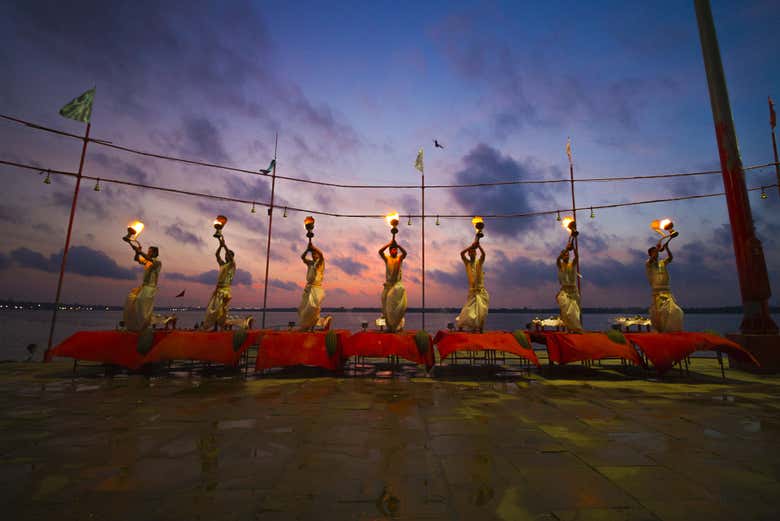 DISCLAIMER:
All pictures/images posted here are from the internet.
Copyrights (if any,) rest with their original photographers and posters, this writer has no claims to any of them.
https://www.facebook.com/amitshahofficial/videos/1611547705853564

Source of this video is INDIA HM's official facebook page; if you have subscribed to it you may be able to view.
In this video, Sri Modi ji talks in HINDI, often switching to AWADHI, spoken by local people in Kashi & Ayodhya.
Sant Tulasidas wrote Ramcharitmanas (Ramayan) in Awadhi language. Legends say ' lord Vishwanath' liked Sant Tulasidas written Ramcharitmanas (Ramayan) best! Legends say that then Kashi pandiths sneered at Ramcharitmanas written in Awadhi script while all other Ramayan books were in Sanskrit script. When Sant Tulasi requested the Kashi pandiths of that time to read his book… pandiths decided to put Tulasi's work at the bottom of a pile of Sanskrit based books and closed the doors of the Kashi Vishwanath temple at night. To their dismay, when they opened the doors of temple the next morning, Tulasi's book was on top of the pile with an open page as though SHIVA (Kashi Vishwanath) was reading Tulasi's work!

To learn about how project termed 'Naari Shakti' (women strength) launched in Prayagraj by Yogi-Modi initiatives… view video clip (dialogue between Modi ji & women entrepreneurs is in Hindi language.) You need access to narendramodi web page at www.facebook.com to access the video that follows at hyperlink below:
'Jai Gange Matha' chants during 'Ganga Aarti' performed every evening at Dashashwamedh ghat, Varanasi (you will need access to yahoo videos to view it) video clip is at hyperlink below:
 OTHER RELATED BLOGS BY ME (Suresh Rao) in Sulekha blogs portal.
http://creative.sulekha.com/tell-me-oh-mighty-ganga-pec22-guest-entry_87150_blog
http://creative.sulekha.com/banaras-or-varanasi-is-most-visited-pilgrim-place-in-the-world_639494_blog
http://creative.sulekha.com/my-suggestion-to-shreeya-singh-rhodes-scholar-at-yale-university-usa_639669_blog
http://creative.sulekha.com/nostalgic-memories-from-trip-to-bangkok-thailand_634480_blog
http://creative.sulekha.com/the-end-of-kaliyuga-in-2025-is-approaching_624298_blog
http://creative.sulekha.com/sri-venkateswara-temple-bridgewater-new-jersey-u-s-a-reviews_629532_blog
https://thewriterfriends.com/did-krshna-give-me-wakeup-call/
http://creative.sulekha.com/motherhood-and-apple-pie_639460_blog?fbclid=IwAR1EWXXtXjOqEum8-EFEGlKEWLu3AfYrjUGth0qEK_ToYsHv2-YhcDIqcU4
http://creative.sulekha.com/computational-linguistics-and-computer-science-at-stanford-university_639682_blog
http://creative.sulekha.com/holland-indian-expats-celebrate-ganapati-festival-and-diwali-also-annual-cricket-day_639509_blog
https://www.facebook.com/sureshnrao/videos/869865430331802
https://www.facebook.com/photo/?fbid=4593259690733624&set=a.414803785245923
https://www.mkgandhi.org/speeches/bhu.htm
http://creative.sulekha.com/ancient-hindu-culture-in-bali-indonasia_639706_blog
http://creative.sulekha.com/the-journey-me-god-world_638229_blog
http://www.hinduwisdom.info/?fbclid=IwAR2tnfFPXhL7zzRllqqfPX6MLQBZWAjbSBSJSxl5aRM2PPtkglee7VxQ3Po
https://www.timesnownews.com/videos/times-now/india/diwali-celebrations-in-full-swing-from-ayodhya-to-kedarnath/113170
---
Thewriterfriends.com is an experiment to bring the creative people together on one platform. It is a free platform for creativity. While there are hundreds, perhaps thousands of platforms that provide space for expression around the world, the feeling of being a part of fraternity is often lacking. If you have a creative urge, then this is the right place for you. You are welcome here to be one of us.
(pic) This NASA handout image obtained on October 21, 2020 shows Nightingale Hazard Map and TAG Location (L-top R) and NASA's robotic arm from spacecraft Osiris-Rex (bottom R) making contact with asteroid Bennu to collect samples. – When NASA's OSIRIS-REX spacecraft touched the surface of an asteroid this Tuesday, after a four year long journey, …
Read More