Exotic Bali islands of Southeast Asia are part of Indonesia and the westernmost of the lesser Sunda Islands. Bali can be located east of Java and west of Lombok; Bali province of Indonesia includes the island of Bali and a few smaller neighbouring islands, notably Nusa Penida, Nusa Lembongan, and Nusa Ceningan. Look for Bali, a tiny island, south of letters D and O, under the label I N D O N E S I A, in map shown below.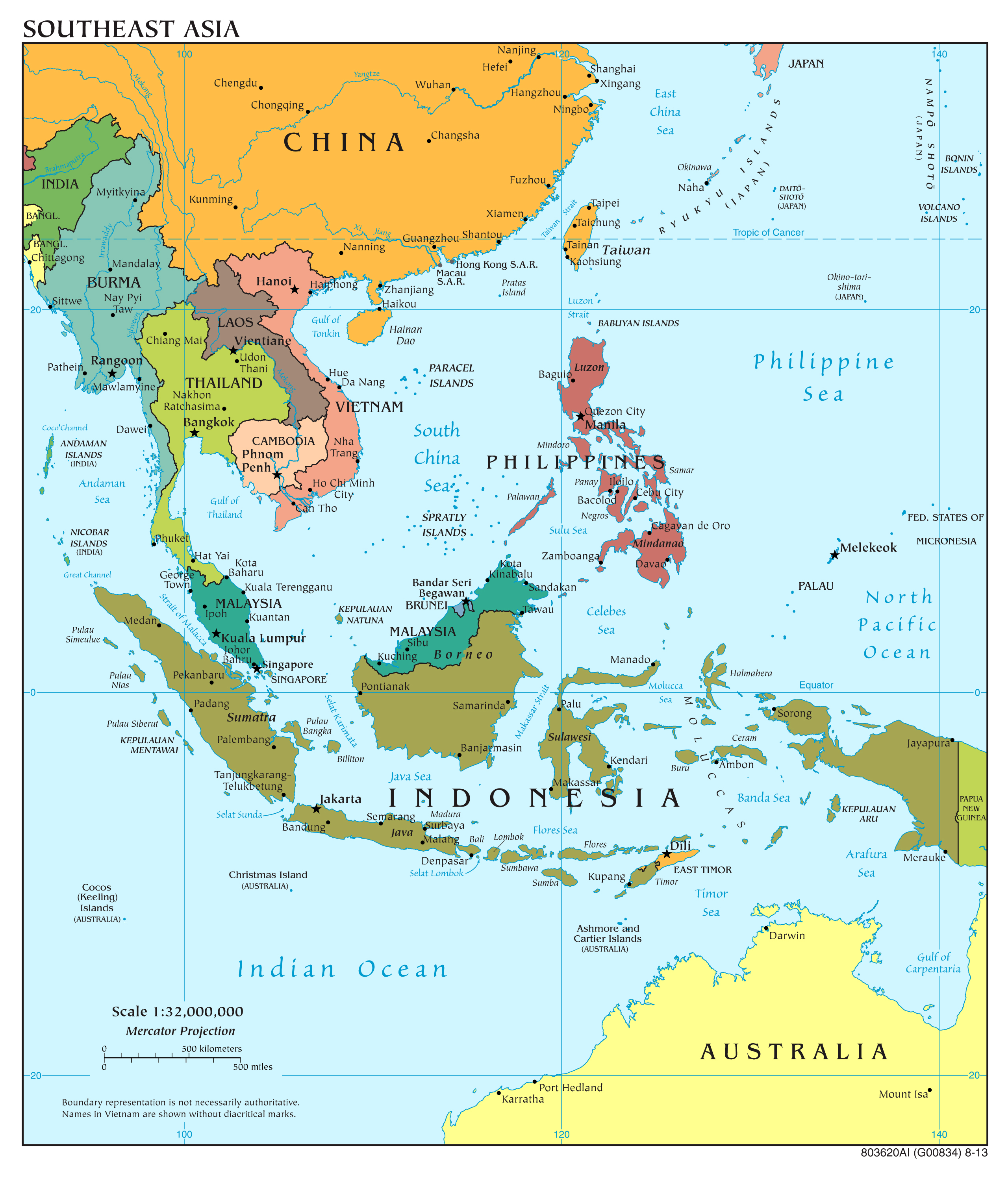 A 'Flores Sea side view' of exotic Bali 
Bali is the only Hindu-majority province in Muslim-majority INDONESIA. 87% of population of Bali adhere to Balinese-Hinduism. Balinese-Hinduism is renowned for its highly developed arts, including traditional and modern dances, music, sculpture, painting, leather crafts, handicrafts and intricate carvings in wood.
Bali's provincial capital, Denpasar, is the most populous city in the lesser Sunda Islands and the second-largest, after Makassar, in Eastern Indonesia. The upland town of Ubud is considered Bali's cultural centre. The province is Indonesia's main tourist destination, with a significant rise in tourism since the 1980s. Tourism-related business makes up 80% of its economy. Bali is part of the Coral Triangle, the area with the highest biodiversity of marine species especially fish and turtles. In this area alone, over 500 reef-building coral species can be found. For comparison, this is about seven times as many as in the entire Caribbean. Bali is the home of the Subak irrigation system, a UNESCO World Heritage Site. Bali is also home to a unified confederation of kingdoms composed of 10 traditional royal Balinese houses, each house ruling a specific geographic area. The confederation is the successor of the Bali Kingdom. The royal houses are not recognised by the government of Indonesia; however, they originated before Dutch colonisation. The Indonesian International Film Festival is held every year in Bali. Other international events held in Bali include the Miss World 2013 and 2018 Annual Meetings of the International Monetary Fund and the World Bank Group. In March 2017, TripAdvisor named Bali as the world's top destination in its Traveller's Choice award, which it also earned in January 2021. Ancient Hinduism episodes are very much alive even today in Bali. Episodes from Hindu puranas like Srimad Bhagavatam and epics like Mahabharata (dating back in time to over 3000 BCE) and Ramayana (dating back to 6000 BCE time frame) are usually portrayed by Balinese-Hindu dancers in colorful stage plays. 
A scene from a Balinese stage play of  'Narasimha and Prahlada ', an episode from Srimad Bhagavatam of Hinduism.  Narasimha (the lion faced god of Hindus,) one of ten  avatars of god Vishnu (principal deity in Hinduism,) rescues the pious child: Prahlada, a staunch believer of Vishnu, by killing his tormenter, the evil minded Asura-king: Hiranyakashipu, who does not believe that Vishnu is a god. The Asura-king is also the pious child's biological father!
en.wikipedia says, Hiranyakashipu (IAST: Hiraṇyakaśipu; also known as Hiranyakashyap) was an Asura and king of the daityas from the Puranic scriptures of Hinduism. His name literally translates to "clothed in gold" (hiranya "gold" kashipu "soft cushion"), and is often interpreted as depicting one who is fond of wealth and sensual comforts. In the Puranas, however, it is also stated the name was derived from a golden throne called 'Hiranyakashipu' the asura sat in or nearby during the Atiratra (Soma) sacrifice.
One can also find sculptures of Hindu gods and goddesses, ancient Hindu kings and queens of those periods, carved in wood and stone at a few temples in Bali. Some episodes that Balinese-Hindu dancers portray in stage plays do have a few variations in theme/narrative from ancient Hindu epics attributed to Vyasa Rishi (author of Mahabharata,) Valmiki Rishi (author of Ramayana) and Srimad Bhagavatam of Hinduism.
God Ganesha, a Balinese sculpture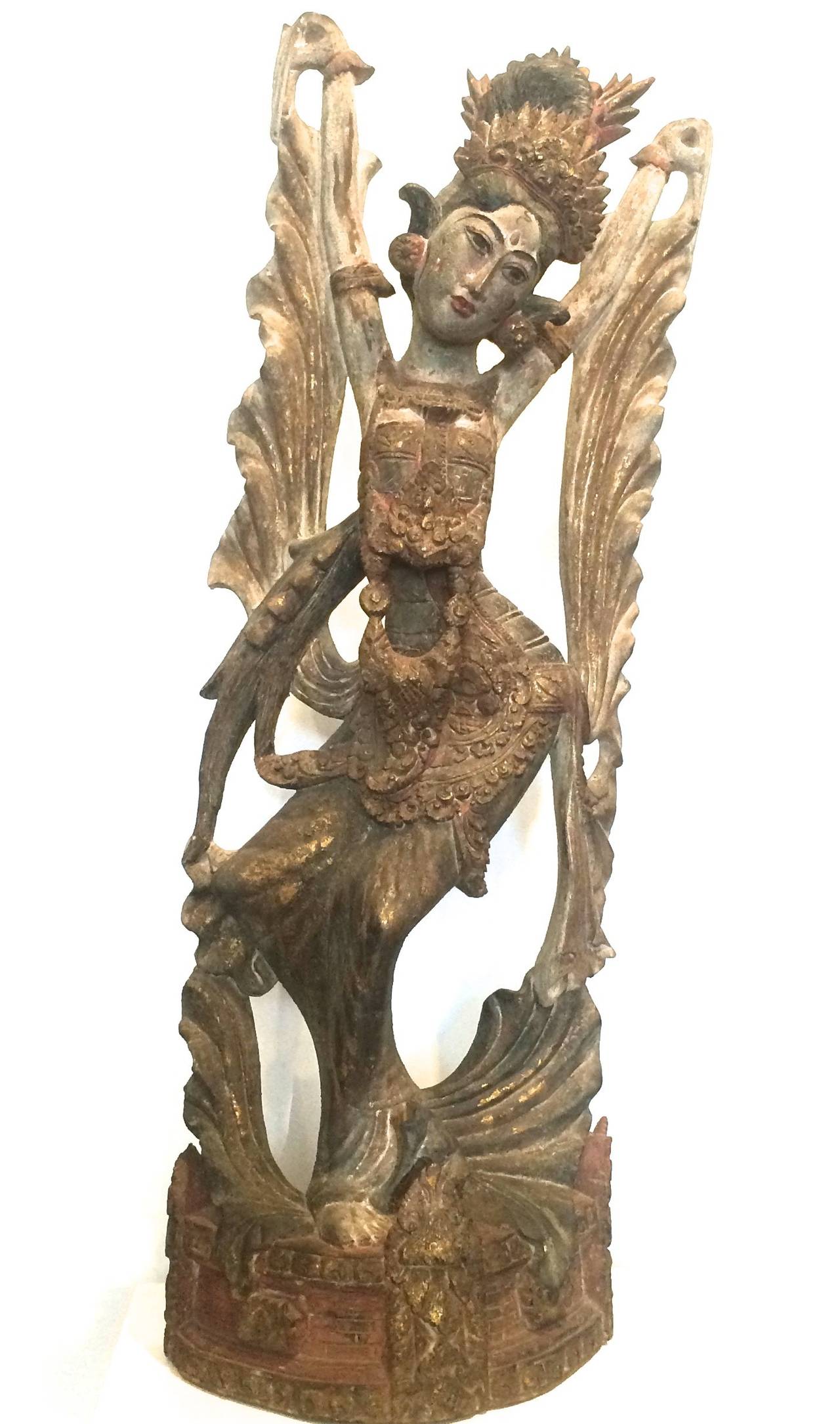 Balinese Dancer, a wooden sculpture from Bali.  
A stone sculpture of Hindu gods brought to Rameshwaram temple of southern India from Bali.
Krishna driving the chariot of Arjuna to the battle field (sculpture in Bali located in a public place.)
ANCIENT HINDUISM IN A FEW CAMBODIAN AND THAILAND REGIONS
Cambodia, officially the Kingdom of Cambodia, is a country located in the southern portion of the Indochinese Peninsula in Southeast Asia. It is 181,035 square kilometers (69,898 square miles) in area, bordered by Thailand to the northwest, Laos to the north, Vietnam to the east and the Gulf of Thailand to the southwest. Phnom Penh is the nation's capital and largest city. Thailand, formerly known as Siam, and officially the Kingdom of Thailand, is a country in Southeast Asia. It is located at the center of the Indochinese Peninsula, spanning 513,120 square kilometers (198,120 sq mi), with a population of over 66 million people. Thailand is bordered to the north by Myanmar and Laos, to the east by Laos and Cambodia, to the south by the Gulf of Thailand and Malaysia, and to the west by the Andaman Sea and the southern extremity of Myanmar. It also shares maritime borders with Vietnam in the Gulf of Thailand to the southeast, and Indonesia and India on the Andaman Sea to the southwest. Bangkok is the nation's capital and largest city. Ancient Hinduism episodes like 'Samudra Manthan' (churning of the ocean by Devas and Asuras) mentioned in 'Bhagavata puranas' and epics: 'Ramayana and Mahabharata' form the spiritual history of Hindus. Hindus all over the world revere and celebrate them.  More recent sculptures depicting episodes of Hindu puranas & epics are being made even today by artisans of Bali and also artisans of Thailand and India.   Angkor wat temple, Cambodia
Angkor wat (Cambodia) depicting Samudra Manthan (Churning of  Ocean) episode from Bhagavat puranas.
Below are some recent sculpture made to celebrate Balinese-Hinduism and attract world tourists to Bali, Cambodia and Thailand.
Arjuna (Balinese-Hindu style) in Bangkok Thailand.
'Samudra Manthan' – Churning of the Ocean (art form) as de

picted in Thailand.

'Samudra Manthan (Churning of Ocean)' theme depicted at Bangkok (Thailand) Airport in recent years.
Buddhism scholars too believe it happened.
——————————————————————————————————————————————————
Dwarkadeesh (Dwarkadish) Temple (for Krishna) at

Dwarka, Gujarat India.
According to one modern school of thought, much of 'Hindu spiritual history' has happened in last 12,000 years.
There is new thinking (visit REFERENCE-2) that postulates that the Hindu 'Yugas', 'Kalpas' and 'Manvantaras' … keep happening cyclically. For example, last known (written about,) 'Treta Yuga (period of Rama of Hindu Ramayana)' to last known (written about,) 'Dwapara Yuga' (period of Krishna of Hindu Mahabharata) and present 'Kaliyuga' (times we live now according to Hinduism,) can be wrapped up in 'Hindu-spiritual-history' of 'Southeast Asia' of last 12,000 years! A mini 'ice age' occurrence of  12000 years ago, due to melting of a glacier in South Pole region, could have churned the oceans (Samudra Manthan in Sanskrit language,) and submerged much of land mass of south China seas leaving behind 'Sunda Islands' (see map) of which today's Bali is a part and parcel. All this could have happened some 12,000 years ago in the history of these geographic regions.  These are not myths! These Hindu philosophical thoughts and understanding of nature and cosmic world around humanity have been labelled as 'myths' by a few uncultured liberal Marxist writers (primarily of European origin,) and fanatical Islamists on rampage from barren Arab lands in west-Asia who are funded by petrodollars and opium dollars to march all over the world (with help from Maoists of China) with the ultimate aim to dominate the material world by aggression and terrorism. If these are 'myths' why would people in exotic tropical regions, located thousands of miles away from the Indian sub-continent, revere and celebrate Hinduism epics and Bhagavata puranas even to this day… even after several thousand years of living history in these regions!?
FOOT NOTES
NOTE: Visit the 3rd reference (listed in bullet list above,) to get a holistic view of Hinduism.
Thewriterfriends.com is an experiment to bring the creative people together on one platform. It is a free platform for creativity. While there are hundreds, perhaps thousands of platforms that provide space for expression around the world, the feeling of being a part of fraternity is often lacking. If you have a creative urge, then this is the right place for you. You are welcome here to be one of us.
लेखक: राजगुरू द. आगरकर अनुवाद: आ. चारुमति रामदास औरों   की   सम्मति   की   राह   न   देखते   हुए   उसने   रियर   एडमिरल   रॉटरे   से   फोन पर सम्पर्क  स्थापित  किया  और  उसके  सामने  सारी  परिस्थिति  का  वर्णन  किया । ''तुम्हारा  निर्णय  उचित  है ।  मैं  दिल्ली  में  एडमिरल  गॉडफ्रे  से  सम्पर्क  करता हूँ  और  उनकी  राय  लेता …
Read More