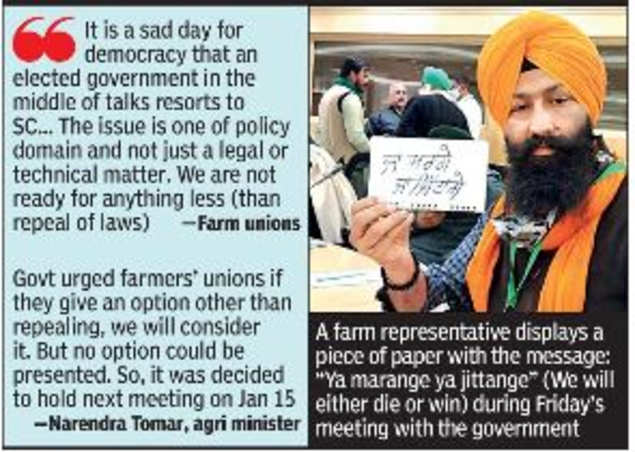 After nearly 1-1/2 months of negotiations with FARM UNIONS,  over 9 prolonged sessions, Government of India (GOI) hardens its stance… "NO REPEAL OF FARM LAWS ALREADY PASSED BY INDIA PARLIAMENT… let SC take a call" says GOI. 
Next meeting with Farm Unions proposed for January 15, unlikely to happen. 
FARM UNIONS are hinting at TRACTOR RALLY in Delhi during (or after) the Republic Day parade on January 26th at New Delhi. 
Hoping SC takes a firm decision next week on these unprecedented protests in Delhi that is causing great inconvenience to commuters to Delhi from neighboring States of Punjab, Haryana, UP… not to mention… daily loss to agricultural-produce trading and commerce, running to hundreds of thousand crore, due to lockdown of borders to Delhi by the FARM UNIONS.
FARM PRODUCE PRICES ARE SKY ROCKETING IN MOST CITIES OF INDIA; TRADERS  ARE HOARDING COMMODITIES; THEY ARE PROFITTING FROM THE FARM UNION PROTESTS… NO WONDER 75% OF PROTESTERS JOINING AND BACKING THESE "FARMER PROTESTS" ARE MIDDLEMEN TRADERS, NOT FARM WORKERS!
Related News Story by Vishwa Mohan & Neel Kamal | @
http://timesofindia.indiatimes.com/articleshow/80180510.cms?utm_source=contentofinterest&utm_medium=text&utm_campaign=cppst 
MY SUGGESTION TO RESOLVE THIS POLITICAL DEAD LOCK is@
https://thewriterfriends.com/change-label-from-farm-laws-to-agri-commodity-trading-laws/
Thewriterfriends.com is an experiment to bring the creative people together on one platform. It is a free platform for creativity. While there are hundreds, perhaps thousands of platforms that provide space for expression around the world, the feeling of being a part of fraternity is often lacking. If you have a creative urge, then this is the right place for you. You are welcome here to be one of us.
I have experienced a lot of pulling and pushing in the suburban trains and stations while in Bombay for five long years. I have had a new saree torn, a slipper that belonged to a new pair lost ..the list is so long that I shudder to think of any Electric Train journey in Bombay.…
Read More