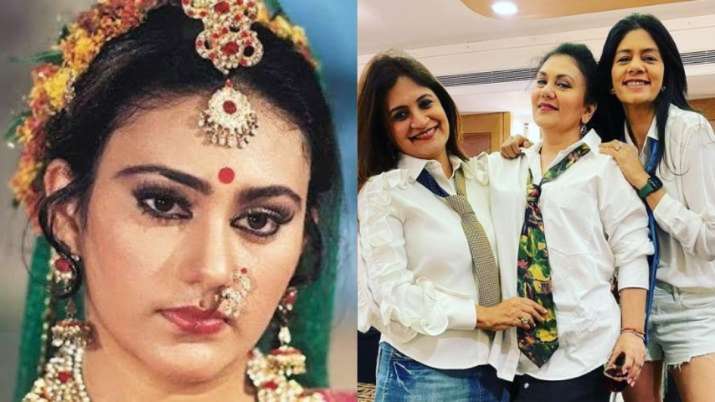 (image) courtesy INDIA TV website 
Edited by: Shriya Bhasin New Delhi Updated on: May 22, 2022 14:35 IST
EXCERPTS FROM INDIA TV Web post, May 22 2022 
Ramayan's Sita aka Dipika Chikhlia happens to be one of the most active celebrities on social media. She is now a mother of two children, happily married to a businessman.  
Taking to the photo-sharing application on Sunday (May 22), Dipika Chikhlia (who played the role of Sita in the legendary RAMAYAN TV series in Hindi language series…) posted a set of pictures with her friends in which she was seen wearing a white shirt, skirt, sneakers and a necktie.
In the 1980s, Ramayan TV series were the most popular entertainment on small screens in India and in many countries around the world. 
Many house holds watched RAMAYAN, a wholesome family entertainment. Entire families (from grand parents to grand children,) would remain home glued to the TV, when Ramayan episodes were broadcast on TV.
These TV serials were directed by Ramanand Sagar, remained the most popular TV drama series for over 1-1/2 years; they were on the small screen in most homes watching HINDI serials from January 25, 1987, to July 31, 1988. 
The TV shows returned during the course of the COVID-19 lockdown and broke many TRP records. The series featured Arun Govil as Bhagwaan Ram, Deepika Chikhalia as Mata Sita and Sunil Lahri as Lakshman, late Dara Singh as Lord Hanuman and late Arvind Trivedi in the role of Ravana.
——————————————————————————————————————–
ONE CAN VIEW ON YOUTUBE, SOME EPISODES OF RAMANAND SAGAR'S 'RAMAYAN' SERIES
Click link below to view some of them.
Episode RAMAYAN RAMANAND SAGAR HINDI Youtube – Bing video
————————————————————————————————————–
Thewriterfriends.com is an experiment to bring the creative people together on one platform. It is a free platform for creativity. While there are hundreds, perhaps thousands of platforms that provide space for expression around the world, the feeling of being a part of fraternity is often lacking. If you have a creative urge, then this is the right place for you. You are welcome here to be one of us.
दुश्मन मरे ते ख़ुशी ना करिये, ओये सजना ने वी मर जाना इस हफ्ते ख़बरों में  सुशांत सिंह का केस ही छाया रहा। मुंबई पुलिस एवं बिहार पुलिस  की खींचतान सुप्रीम कोर्ट पहुंच चुकी है।  बिहार सरकार की इस केस में दिलचस्पी  आने वाले विधानसभा चुनावों  को लेकर हो सकती है, लेकिन मुंबई पुलिस  के…
Read More