NEWS FLASH:
"The Delhi High Court on Friday restrained historian Dr. Audrey Truschke and other persons from publishing any defamatory material against historian Dr VIKRAM SAMPATH (presently, Columnist in India.)"
VIKRAM SAMPATH is a celebrated author of 3 publications now; he was brought up, schooled in Bengaluru (view BIOGRAPHY*); He is an Electronics Engineering graduate, a Masters in Mathematics from BITS Pilani Rajasthan & a Doctorate in ehnicmusicology from Australia.
Audrey Truschke (London) and her companians (labelled 'left wing Marxist Historians in India') tried to malign VIKRAM as a plagiarist (copy cat;) they wrote defamatory articles against VIKRAM with a view to stop him from publishing his latest book: Savarkar- A CONTESTED LEGACY (1924-1966)
Previously, they had tried to stop him from acquiring a Fellowship at the Royal Historical Society (London) without success.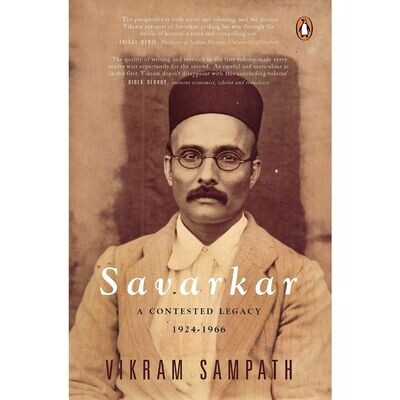 (image) Book cover page,  
(image) VIKRAM SAMPATH, Columnist (this recent picture is a download from Internet)
(image from internet) VIKRAM SAMPATH (extreme right in pic,) being honored by former Vice President: Hamid Ansari for publishing the book: My Name Is Gauhar Jaan: The Life and Times of a Musician
Folks, 
Lately, it has become difficult in India to reverse (correct inaccuracies on…) what has been previously written about freedom fighters of India like: Veer Savarkar.
Todays, left wing historians and marxists try their best to malign young historians of 'today's India' from publishing their research on 'freedom struggle' in India during 'British rule of India'; what a shame!
Thanks to informed courts in India, they will not (read have not) succeed (succeeded)
=====================================================
BRIEF *BIOGRAPHY OF VIKRAM SAMPATH (my source is Wikipedia) 
Born and raised in Bangalore, Vikram completed his schooling in Bangalore at the Sri Aurobindo Memorial School and Bishop Cotton Boys' School. 
He obtained a Bachelors in Engineering in Electronics and a Masters in Mathematics from Birla Institute of Engineering, Pilany Rajasthan (BITS Pilany)
He obtained an MBA in Finance from S P Jain Institue of Mangement and Research Mumbai. 
Vikram Sampath has a doctorate (October 2017) in ethonmusicology from the School of Music at University of Queensland, Australia. 
Vikaram has briefly workd for GE-Finance and Citibank.
CAREER
Sampath is a former senior fellow at the Nehru Memorial Museum and Library, He is also the founder-director of the Bangalore Lit Fest and the Zee Group's ARTH: A Culture Fest.
Published Works
His first book, Splendours of Royal Mysore: The Untold Story of the Wodeyars was a history on Wadiayar Dynasty of Mysore. His second work —My Name Is Gauhar Jaan: The Life and Times of a Musician— is the biography of Guahar Jaan, India's first classical musician to record on the gramophone.
His third book —Voice of the Veena: S. Balachander, A Biography— narrates the story of Veena maestro Dr. S Balachander. 
His fourth work is the biography of Savarkar in two parts – 
Savarkar: Echoes From a Forgotten Past, 1883–1924 and Savarkar: A Contested Legacyh 1924-1966
AWARDS
He was awarded the Sahitya Akademi's Yuva Puraskar in English literature and the ARSC International Award for Excellence in Historical Research in New York for his book on Gauhar Jaan. 
In 2021, he was elected as a Fellow of Royal Historical Society, London.
 ==============================================
REFERENCES
https://www.livelaw.in/news-updates/delhi-high-court-restrain-historian-audrey-truschke-defamation-vikram-sampath-192240
Savarkar: Echoes From A Forgotten Past
Savarkar: A Contested Legacy 1924–1966.
Thewriterfriends.com is an experiment to bring the creative people together on one platform. It is a free platform for creativity. While there are hundreds, perhaps thousands of platforms that provide space for expression around the world, the feeling of being a part of fraternity is often lacking. If you have a creative urge, then this is the right place for you. You are welcome here to be one of us.
                                                                                               *****SHAPING THE IDEAS–PART 3***** Facebook is one of the lousy platform for posting articles. I wonder how it became so popular. I was trying to include here the links to the previous parts but I am sorry to say that doing that just confuses their software which makes garbage of the whole article. So…
Read More