I have experienced a lot of pulling and pushing in the suburban trains and stations while in Bombay for five long years. I have had a new saree torn, a slipper that belonged to a new pair lost ..the list is so long that I shudder to think of any Electric Train journey in Bombay. The mere thought brings in a short circuit and leaves me charred. Ultimately I would end up looking like " something the cat has dragged in" .
I decided then, to take the Konkan Kanya Train to Goa from  Bombay.
Goa…Edwin Fernandes' native place and I was sure the journey would have turned out to be a very enjoyable one.
IT WAS ….
I am talking about his new book ( he has written a few before this ) " Boarding Bandra Central."
I boarded the Konkan Kanya with this book in my hand and by the time I reached Goa- it takes eleven hours forty five minutes – I had read the book( Now don't ask me whether a special train was run for me in this Pandemic Era . Aw!! Poetic License  )
Every patch of view outside the window ( I am referring to every page ) presented a delightful canvas on which Edwin has painted his life's moments with fun and pun and seriousness and morals and anecdotes…to name a few.
Needless to say, it was a whirlwind journey, through the roads in Goa, Assam, Patna, Bombay ( I am more comfortable with the moniker Bombay, as I am with Madras ; old is gold, they say and I am old too ) to name a few places.
We have read a few of the  anecdotes as blogs in Sulekha here, but others are new . But one cannot deny that  it was really lovely reading the old ones too.
Now, let me come to the point.
The best pieces  as far as I am concerned were were four, though every single anecdote was worth reading and enjoying. The first was the one  relating to Amjad Khan directing a play for the young boys including our raconteur here (Gosh ! I can't just imagine   our good  old Edwin  as a college student or more so as a young boy from the Virendra Colony , Bandra , Bombay ) in the intermission in shooting  for Sholay( which he adroitly kept away from the young  boys) during a monsoon break  . How humble and jovial the filmi villain turned  out to be!
The chapter on "Aunta" was very poignant and touching. Of course we have read about her in Sulekha.
Of Prakash( who is running a Veda Paatashaala in Tambaram now) , his culinary skills and Edwin's foray into the Temple visiting moments  in Guwahati and  meeting him at Chembur after years;well,I find the real meaning of "secularism " here.
I did relish the episode with the security who insisted on opening Edwin's backpack and reveal the " pistol " he was carrying …ha ha ha  I can well imagine those " sweaty scary  " moments our good friend here went through  .No , I will not disclose anything here , but leave it to the readers to find out.
The chapters I enjoyed most- well,what can I say ? Can we pinpoint the tastiest side or portion of the sweet we are relishing ?  Every small/ minuscule part  of the candy is sweet.
Every incident etched here is enjoyable. Some of them also trigger  our thought process  and we ponder  and peruse for a long time on that particular issue , ultimately discovering , "how things should be " different from the things " as they are."
I just cannot write about  everything that has been staring at me from the pages here, lest this review becomes too long.
But I  must tell you that I could resonate with Edwin's feelings on cricket and western music
Yes, till the Mani in my name arrived in my life and I was thrown into the whirlpool of domestic activities with in-laws and relatives arriving unannounced in hordes, cricket and music played a passionate  part in my  life. His Virendra Colony cricketing days sent me on a nostalgic sojourn into the days we, a handful of school girls "cut Class" and scaled the walls of the then existing Oceanic Hotel in the Foreshore Estate in Madras to get autographs of our heroes; the inimitable Wednesday nights, when we were glued on to the radio to listen to our selected songs that were played at ten thirty p m in the night…memories were kindled by Edwin's experiences and for a while I was the teenager Usha…the unmellowed and wild ! It was like "living " again ! Durrani, Abbas Ali Baig, Nari Contractor, Ajit Wadekar, Kunderan: and the singing sensations Pat & Shirley Boone, Paul Anka…the list is long.
I better wind up now.
But wait!! I must say something about his wife Sharbari who has selected the title for this book. I learn from this delightful book that she has a penchant for collecting degrees ( genuine). God bless her. A real INTELLECTUAL .
But..imagine my shock when I read about Edwin bragging about her Money Laundering  business . Of all the dingbustedgorblimeys !! Money Laundering by a Banker's wife? Can you imagine ? And he brags about it ! What IS the world coming to. I wonder.
It all started with a few coins. I do not know if they were the  same ones that were flipped before their matches to determine who won the toss in the Author's Virendra Colony days, but I came to know that their laundrette went for a toss or rather, a six  with the coins making a racket inside the machine. A new one had to be bought and the Money Laundering started!
Ha ha ha !! Take it easy folks…
There is a page or two on Edwin's leaving Change in the pockets before it  was gobbled up by the washing machine and how the change  brought a change into crisp currency notes –
all of which Laundered by his best half !! So, Sharbari is "  as pure  as the driven snow ". No doubt about this. No case of the duo doing Money Laundering in the evil sense of the word.  🙂
With this I better stop my ramblings on the episodes and leave you all in  peace to read the rest.
I am getting off the Konkan Kanya Train.  It has been a delightful journey…the Goa experiences, I leave to the readers.
The foreword by  Debshish Mallik ( An Economist ) and Edwin's brother Sam's letter pale my review . I just cannot help it . Hats off to them. While they analysed, I just admired and babbled.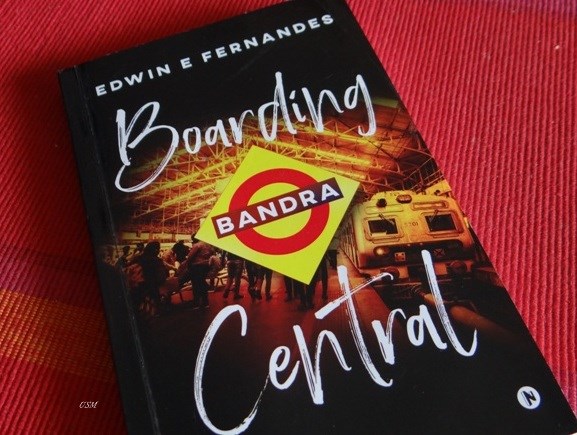 ***************************************************
All those who wish to possess this delectable book , can order directly from Edwin and save on delivery charges.
You can Whatsapp him on 9870336765 
********************************************************************************************
Thewriterfriends.com is an experiment to bring the creative people together on one platform. It is a free platform for creativity. While there are hundreds, perhaps thousands of platforms that provide space for expression around the world, the feeling of being a part of fraternity is often lacking. If you have a creative urge, then this is the right place for you. You are welcome here to be one of us.
Bengaluru Urban's booming economy and cultural tolerance have acted as a magnet for people seeking a better life, with data revealing that the tech hub is the most linguistically diverse district in the country. (image-pic) Representative Image. Credit: DH File Photo, www.deccanherald.com/city Data culled from the 2011 census revealed that the city is home…
Read More