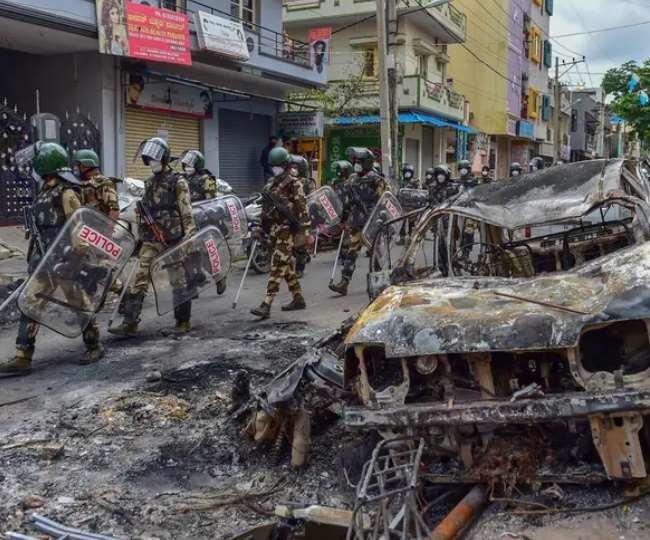 (pic-1) Riot torn KG Halli (a minority stronghold.) Hundreds of vehicles were burnt, 2 police stations and an MLA's house were burnt down too.
Note: 'DH photos' have copyrights on picture above.
(pic-2) Sane residents of area that included educated Muslims,  JD(S) party reps,  other Good Samaritans formed Human Chains to protect Hindu temples in the area.
Note: 'DH photos' have copyrights on picture above.
(pic-3) SDPI activists protesting against building of Ram Mandir in Ayodhya (representational image from ANI)  
As many as 33 government and 109 private vehicles were completely burnt or extensively damaged in KG Halli Riots by miscreants chanting Islamic religion slogans on August 11.
The State government of Karnataka has filed a writ petition on August-12,  before the Karnataka High Court seeking appointment of a claims commissioner for recovery of damages from the arrested miscreants in police custody now. Over 380 rioters have been arrested; leaders who lead the riots and incited rioters are alleged to be members of a political party known as SDPI with links to PFI of Kerala or Tamil nadu. Some of them have been identified over CCTV cameras in area.
What was the reason for this sudden eruption of minority outrage? Allegedly, it was a derogatory post by the nephew of a Congress party MLA, on his (poster's) facebook wall on 'The Prophet' worshipped in Islam religion. The facebook poster is in police custody; he claims he did it in retaliation against a derogatory post by a Muslim youth on Ram Mandir 'being built' in Ayodhya. His facebook post was removed almost immediately by the facebook authorities in India. 
Supreme Court (SC) of India has awarded the Ram Mandir land recently to Hindu outfits for building of a new Ram Mandir there, after the related land dispute went on for over the last 100 years including Ram Janmabhoomi and Babri Masjid destruction in Ayodhya. The Supreme Court (SC) of India has awarded land nearby in Ayodhya as compensation to claims by Muslim land owner(s) at the settled Ram Mandir dispute area for building of a new Masjid. The actual land owner(s) who held title to property in the Ram Mandir area in Ayodhya have accepted the SC verdict without any reservations.
* (Shadows of Charlie Hebdo shooting incident in France, playing in Bengaluru, the high-tech capital of India!)
Karnataka government has called in National Security Agency (NSA) for investigations. Karnataka government says leaders who fueled the violent riots in Bengaluru belong to a political party known as the Social Democratic Party of India (SDPI) which is, allegedly, the political arm of radical PFI party operating in Kerala & a few other States of India.
SDPI  has presence in 6 States of India, also Union territory of Delhi.  SDPI has contested polls at gram panchayat, corporation, assembly and parliamentary levels.
New Delhi | Jagran News Desk:
The investigation into the August 11 Bengaluru riots case has revealed that several accused reportedly have links to accused in Church street blast and other cases of communal attacks in the past. According to a report by the News 18, a total of 40 accused have been found to have links with persons accused in Church Street blast, Malleswaram bomb blast and other cases related to communal attacks. 
At least three people were killed and over 60 police personnel were severely injured in the communal riots in Bengaluru on August 11. Stone pelting, use of petrol bombs and  lethal weapons are likely the reason for police injuries and public property destruction.
Police have arrested 380 people in this connection. Several FIRs filed; however, Police are yet to charge sheet the anarchists and take them to court.
Karnataka government has announced compensation to the 3 persons killed in police firing to control the mob who attacked the  police, burnt 2 police stations and destroyed a lot of public property.
One of the arrested people, Samiuddin, who claims to be a social worker was in touch with the prime accused in the 2016 Rudresh murder.  Rudresh was an RSS worker and was killed in 2016. According to the report, Samiuddin knew the accused in the RSS worker's murder case and even visited him in jail.
Karnataka Police, NSA authorities are continuing the investigations on BENGALURU RIOTS of August-11.
---
*Charlie Hebdo shooting: Series of terrorist attacks that shook France in January 2015, claiming the lives of 17 people, including 11 journalists and security personnel at the Paris offices of Charlie Hebdo, a satiric magazine. The deadly violence focused attention on the threat posed by militant Islam, but the response to the attacks by the French was generally one of solidarity rather than reprisal.
——————————————————————————————————————————
Thewriterfriends.com is an experiment to bring the creative people together on one platform. It is a free platform for creativity. While there are hundreds, perhaps thousands of platforms that provide space for expression around the world, the feeling of being a part of fraternity is often lacking. If you have a creative urge, then this is the right place for you. You are welcome here to be one of us.
Geeta. Aha! what a name! Song of the meaning of life, and so true she was to her name. She was of my age. She was the younger sister of my sister's friend. We met sometimes when I went to fetch my sister home from their house. Their father was a Superintendent of Police (you…
Read More