Folks;
After a lapse of 7-yrs, I picked up my feet to walk on MG Road, Brigade Road and Church Street, all before a visit to Bengaluru Cricket Stadium, to watch Sri Lanka-India 2nd test match, on Day-1. I was in that stadium in year 2015 too, to watch a IPL T20 cricket match. I was gifted a IPL T-shirt with the 'Royal Challengers' insignia because of cheering the local team who were losing the match… may be Virat Kohli had spotted me from the pavilion!
Visit to MG Road and Cricket Stadium after 7years (story in pictures) | Sulekha Creative
=================================================
Disclaimer: All pictures posted are from my mobile camera, except where mentioned otherwise!
======================================================================
RELATED CRICKET BLOGS BY ME:
http://creative.sulekha.com/the-wall-family-man-and-stylish-batsman_88660_blog
WATCH VIDEO HIGHLIGHTS OF AN IPL T20 MATCH ON TV, VIEWED BY ME YEARS BEFORE THIS INDIA-SL TEST MATCH, AT LINK BELOW:-
M39: RCB vs CSK – Match Highlights (iplt20.com)
MANY OF MY OTHER BLOGS are at:
Old Stories Reborn | Sulekha Creative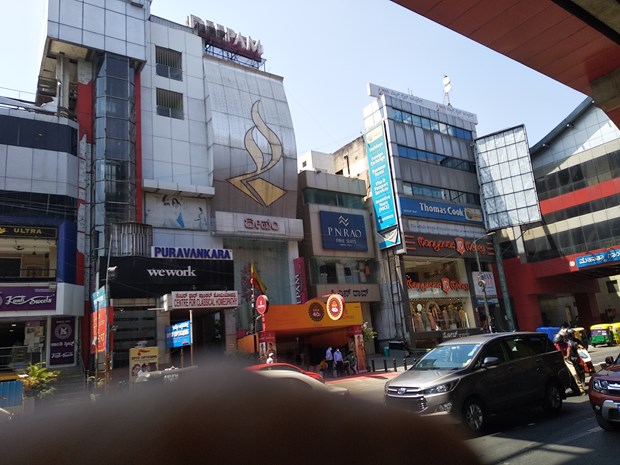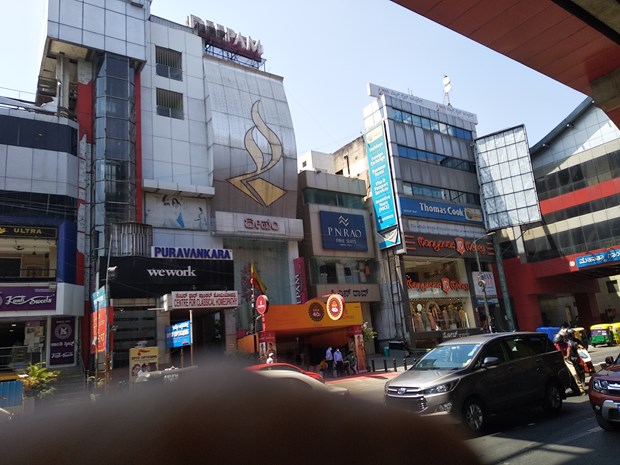 (pic-1) MG Road, near the Metro Station (at right)… P N Rao, the famous men's tailor outfit, is still there!
–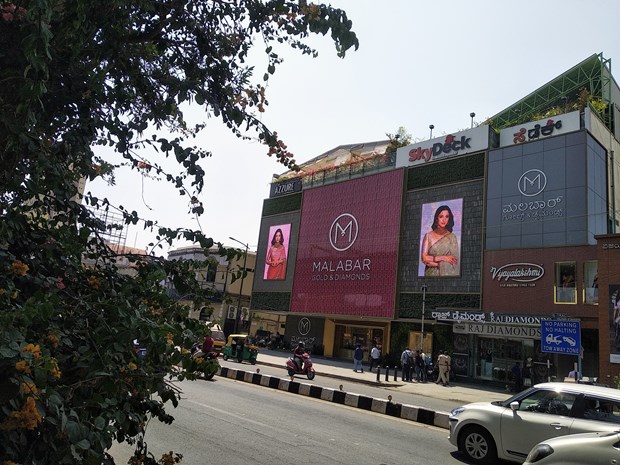 (pic-2) MG Rd… Malabar Gold and Diamonds have a prominent presence on MG Road replacing the famous '3 Aces' restaurant that used to have a band and crooner during fifty's and sixty's.
–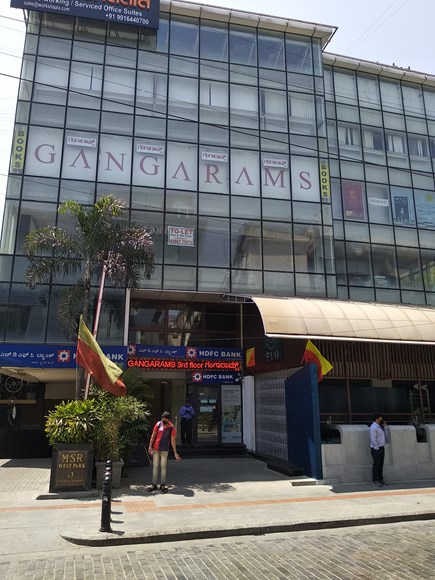 (pic-3) Church street, with cobbled stone top near GANGARAMS. Lots of corporate suites are vacant here… I was told! 
–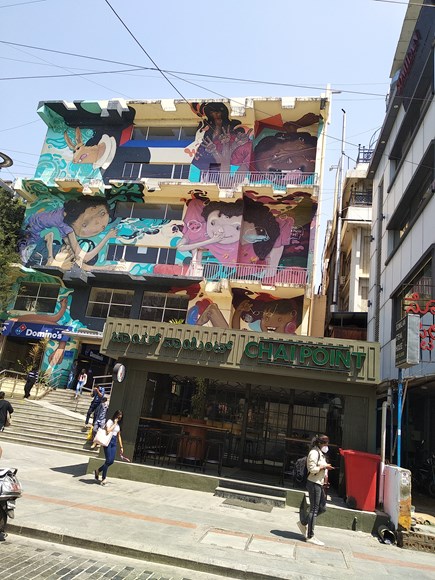 (pic-4) Church Street. CHAI POINT and Dominos Pizza place have a crazy look inside and out! Too many school/college-age kids doing 'Chai pe Charcha' there lately.
–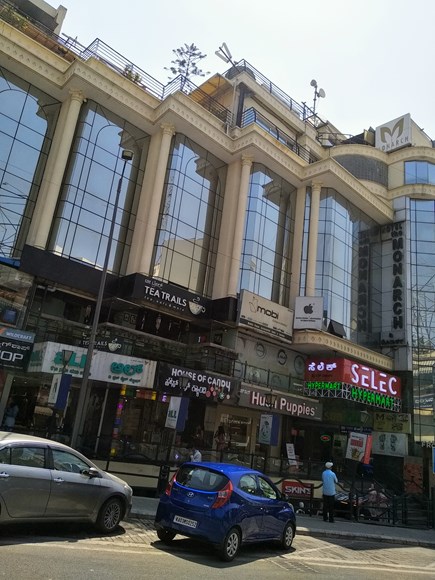 (pic-5) Church Street… HOTEL MONARCH looks deserted; most hotel-suites are vacant there… I was told.
–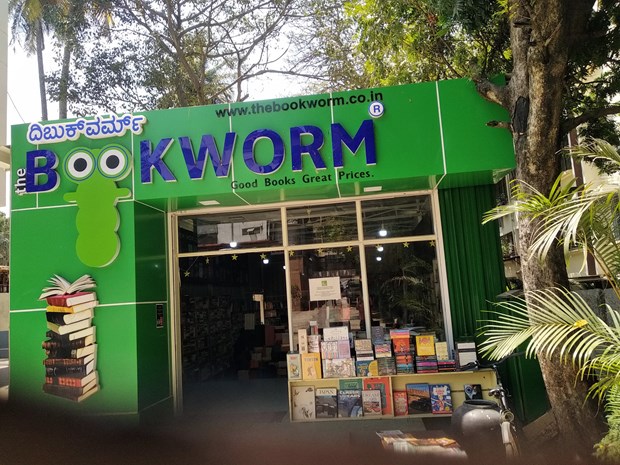 (pic-6) Church Street. THE BOOK WORM on lean times; no one browsing or leafing through books. Did not catch any version of Queen's English either!
–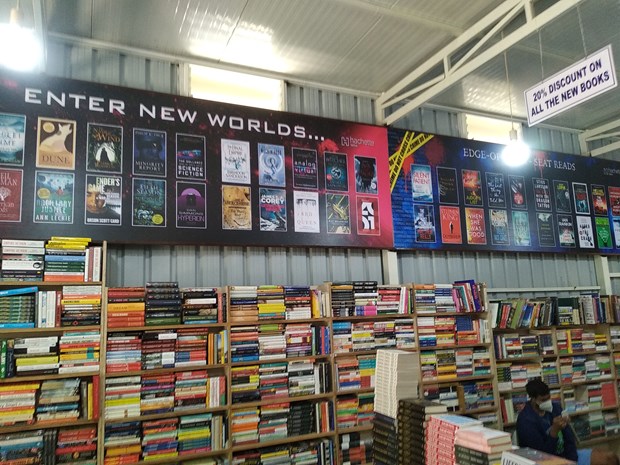 (pic-7) Church Street. INSIDE VIEW OF THE BOOK WORM… I could see stacks and stacks of old books… touched & browsed from cover to cover… by many before me!
————————————————————-
Vehicle parking had been banned all around the Chinnaswamy cricket stadium. The traffic police in area had to control crowds of school/college-age boys and girls headed towards various gates of entry, 1 to 22 in number, to enter the Chinnaswamy Cricket stadium.
I could visualize my cricket icon-'Rahul Dravid' walking up these streets decades ago, to make Cricket his career. I over heard chats of a few boys walking down Church street, they were dreaming big; they wanted to make it too in 'under 19' cricket to start in summer.
————————————————————-
I knew the general direction to walk towards 'Queens Street'… but I decided to ask a police inspector standing ceremonious watching crowds go by, across from 'Cauvery Arts and Crafts Emporium'. 
–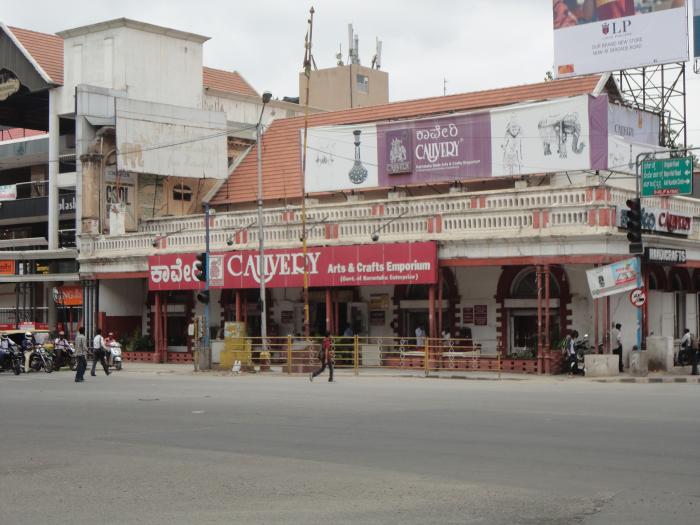 (Pic-8) @corner of Brigade Rd and MG-Rd; (this old pic is from the 'Net';) Cauvery Arts and Crafts Emporium looked abandoned and deserted; it had a dead beat look from the outside. I did not have the heart to take a picture of it!
I wanted to test the police inspector's knowledge and geography of the area! He did give me directions to walk all the way to 'Queens Street' in Cubbon park area but not before giving me a piercing look as I was wearing an old IPL T-shirt with Royal Challengers insignia to watch test cricket! Absconding Mallya's man he must have thought!
I finally found Gate no.13 on 'Queens street' to enter the Cricket Stadium. Afternoon sun was shinning bright over my head covered smartly under a base ball cap brought from the US of A.
Believe it or not, I was an early bird at 2pm. Match was to start from 2.30 pm; it was scheduled to go all the way to 10pm with break time for samosas and chilled beer, break time for High-Tea and break time for Dinner… all to be partaken in food court and lounge behind the Corporate zone. Cost of 'High-tea (@4pm) and Dinner (@8pm) were included with ticket-fee for the Corporate zone ticket holders.
Lately, only school/college-age boys and girls go to the stadium to see a cricket match played from 2pm to 10pm! This time zone is more or less the 'standard time zone' now for all forms of cricket matches… I was told.
With the advent of flood lights that began with IPL-series, most matches are played now from after-noon to 10pm, so most can see the matches over TV, sitting relaxed at home.
I had a good time too watching real cricket played at the stadium… after a long long time… thanks to my nephew who bought me the somewhat pricey ticket to the Corporate zone above the pavilion.
By the way, pavilion entry is only for members of Cricket Association (KSCA); all they have to do now is show their ID badge to enter the pavilion. I used to be a member of KSCA some six decades back; not anymore.
Posting more pictures from my visit to the Cricket stadium…
–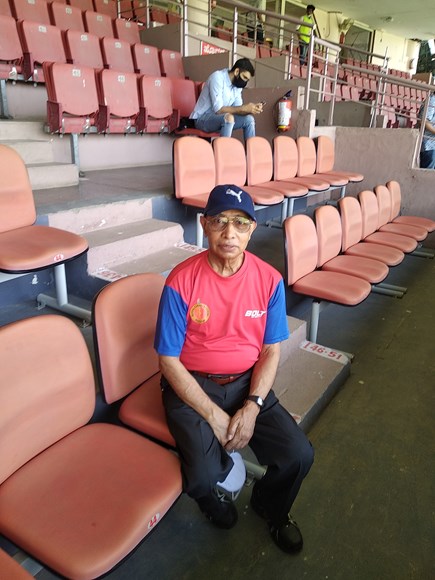 (pic-9) Two early birds at the Corporate box to watch real cricket! The box got filled to 50 percent capacity, by 2.30pm.
–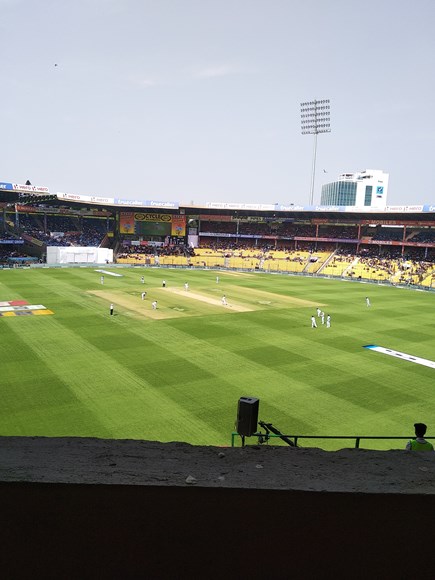 (pic-10) The match did start at 2.30pm with INDIA starting the first innings.
The yellow colored chairs were mostly empty; but the chairs above them had school/college-age boys and girls making all the noise to make the grounds vibrant and bring life back to the Chinnaswamy stadium, like in the good old days!
==================================================================
Disclaimer: All pictures posted are from my mobile camera, except where mentioned otherwise!
===============================================================
RELATED CRICKET BLOGS BY ME…
http://creative.sulekha.com/the-wall-family-man-and-stylish-batsman_88660_blog
Thewriterfriends.com is an experiment to bring the creative people together on one platform. It is a free platform for creativity. While there are hundreds, perhaps thousands of platforms that provide space for expression around the world, the feeling of being a part of fraternity is often lacking. If you have a creative urge, then this is the right place for you. You are welcome here to be one of us.
Regret Plenty and bountiful! Everyone has their own Me, for missing my Blue Label in Mumbai Despite bountiful The shepherd boy On the top of the mud hill Staring at the setting sun Had his own! for not having taken birth in affluent lands! At the middle age many regret After having met a lovely…
Read More