(pic-1) Steve Jobs (picture is a download from the net) 
(pic-2) Steve's biological father, Abdul fattah 'John' Jandali, a Syrian born Arab.
Picture is a download from the net. From what I read also on the net 'Jandali'
came to know that he had a biological son only years later!
================================================
Eve gave the first apple she found in the Garden of Eden to Adam hoping he would bite & stay focused on her.
Adam became disillusioned after that first bite; started exploring the garden of Eden for all kinds of food to satisfy his hunger. Humanity followed Adam and humans became globe trotters instead. Even now young people go away from their secure gardens of home to foreign lands hoping to satisfy their hunger for things they don't know about!
You probably think that the apples that fell on Issac Newton's head brought sense to him! Issac- the math wizard, used to sleep under an apple tree doing nothing useful! After getting 'whammed' on the head by falling apples, Issac started wondering about the physics of the universe! ' Why do things fall down to earth? Why don't they go up in sky like geese instead! ' was the puzzle that confronted Issac often.
Issac wondered whether some apples would fall faster than others and whether their size or shape mattered in how fast or slow they fell free on their own without an unwilling push by the tree as they became heavy & ripe! See what I mean… apples falling on eggheads can make them think!
I do not remember Newton's laws of gravity now but the universal laws of gravity tell us that attraction between objects is directly proportion to their mass and repulsion between objects is inversely proportional to the distance between them. Today it looks crazy to me! Tiny little smart phone in your hand can make you look attractive to people of no known mass appeal and physical distances cannot repel you from someone hundreds of thousands of miles away as long as you have your smart phone or I-Pad in your hand!
Young ones today don't accept the fact that you lose (vibes of) attraction from the object of your adoration because you are not close enough even though Sir Issac Newton said so. They buy I-phones & I-pads to talk lovey dovey to some one far far away making Apple Inc richer than uncle sam's treasury. When a phone call comes they ignore who is at arms length at the dinning table eager to talk to them. They don't even care to eat food on the table the moment they hear their favorite ringtones from their I-phone.
Steve Jobs designed & helped in making some of these mind boggling modern gadgets and touch screen symbols and icons you find today on hand held communication devices by working hours on end at a garage of his adopted parents. He used to walk miles to a Hare Krishna Temple to satisfy his hunger for a meal… he was a hungry kid in those days. At 17 he went to India to learn about 'nirvana' to get fully detached from wants and the riches of the world. He forgot all about 'nirvana' after he met Budhist masters in India who advised him to return to his homeland and make communications easy between youngsters of the globe… to make them happy; he was too young for 'nirvana' according to one Budhist guru he met in India.
Steve returned to US to make the world friendly to youngsters… but, not to go back to the college where he was enrolled at a hefty fee that his adopted parents were ready to foot after his return to their home.
A biographer of Steve says, "Steve's visit to India was meaningful to him because the Zen Budhism Guru's he met taught him how to be 'intuitive' and lead him towards simplicity in anything one must do in life to be happy." Steve is also reported to have told his biographer that all those experiences in India helped him in designing effective user interfaces starting from the MAC & beyond to the last I-Pad's user-interace he came up with in his prime days for Apple Inc that he also lead as CEO from 1995 onwards.
Steve never graduated from college; the closest he came to a bunch of graduating seniors was when he addressed Stanford University class of 2005 as CEO of Apple. His last message to the graduating seniors was "stay hungry and be foolish!"
Steve's biological father Abdulfattah 'John' Jandali a Syrian born Arab, a successful manager of casino workers in Nevada in his prime years, did not know about his biological son when Steve was young and foolish growing up at the home of his adopted parents. 'How can one see eye to eye if one never met face to face' is perhaps the best phrase to describe biological-father-son relationship in Steve's pre-teen days.
See what I mean! An apple a day may not make you healthy. Apple killed Steve at 56. An Apple can make you listen to gibberish ringtones. If you don't lose your mind listening to jingles that once put you to sleep you could get richer than Uncle Sam.
Apple Inc had more cash than Uncle Sam by end of 2012.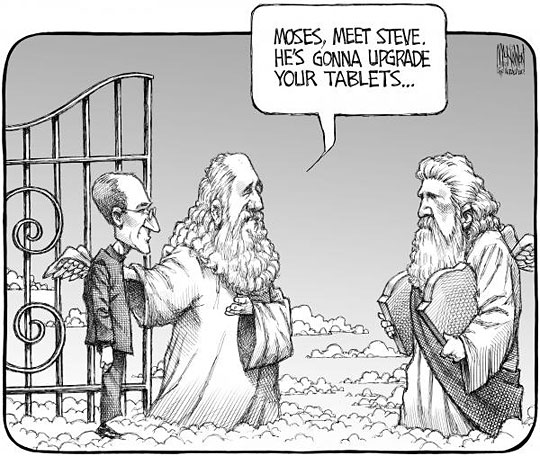 (pic-3) STEVE, YOU HAVE WORK TO DO IN HEAVENS… BE ALERT.
Former Apple co-founder and CEO Steve Jobs was known to be very strict, he insisting on high-standards of conduct and work ethics from his employees; so much so, no one in his company wanted to have a lunch with him!
>>Did Steve and his biological father ever meet? Who was Steve's mother?
Visit for more info:
http://www.nytimes.com/2011/10/12/opinion/prosperos-tempestuous-family.html 
> Some Steve Job Quotes@
https://www.gadgetsnow.com/slideshows/photolist/10257607.cms
Thewriterfriends.com is an experiment to bring the creative people together on one platform. It is a free platform for creativity. While there are hundreds, perhaps thousands of platforms that provide space for expression around the world, the feeling of being a part of fraternity is often lacking. If you have a creative urge, then this is the right place for you. You are welcome here to be one of us.
I recall with great joy, the moments I had spent with my grandmothers as a kid and also as a college girl. I must say that even after my marriage, the bond  between me and my paternal grandma was so strong  and I do remember a few tearful moments when I cribbed and cried in…
Read More