Nutrient-rich millets got a boost with the Union government of India deciding to declare 2018 as the  'national year of millets'.
This decision was taken following a request by the State of Karnataka, which is India's leader in the millet growing sector.
At the inauguration of the three-day international trade fair (Jan 19 through 21st) of organics and millets, Union Statistics and Program Implementation Minister D.V. Sadananda Gowda said the Union Agriculture Ministry has already completed the formalities to promote millets.
Karnataka Agriculture Minister Krishna Byre Gowda mentioned how (and why) it takes 5000 liters of water to bring one kilogram of white polished rice to market (from sowing stage in wet lands through polishing to make white rice) compared with millets that hardly need 50 liters of water!
Millets can be grown in dry lands and arid climates of north-Karnataka.
Given the same government incentives that paddy and wheat cultivation get today starting from agricultural subsidies, water canals, bore wells, pump sets etc to boost paddy cultivation… price of millets in the retail market can be brought at par with white rice.
High demand vs poor supply in the retail market is the reason for millet prices to go sky rocketing.  
According to experts, dedicating a year for millets will not only increase awareness about its health benefits, but also result in higher demand for these drought-resistant varieties, resulting in remunerative prices for poor and marginal farmers.
Addressing the gathering, Karnataka Agriculture minister said that the State will give incentives to promote Millet cultivation 'as we move towards climate-smart agriculture in the wake of frequent droughts'.

He pointed out that the State had witnessed only three normal rainfall years from 2000 to 2017.
The State government has spent ₹200 crore in the last four years publicising the health benefits of Millets among consumers in a bid to trigger an increase in demand.
The State has also appealed to the Centre to include Millets in the mid-day meal scheme for school children and in the Public Distribution System, he said.
2018 Organics and Millets Trade Mela (Palace grounds, Bengaluru)
250 companies had set up stalls at the Organics and Millets trade fair. Around 150 companies participated as buyers. Various research organisations and healthcare companies participated in the International trade mela to highlight the importance of millets in diet-foods especially for growing children and diabetics.
Some images from the Bengaluru Mela (Jan 19 to Jan 21)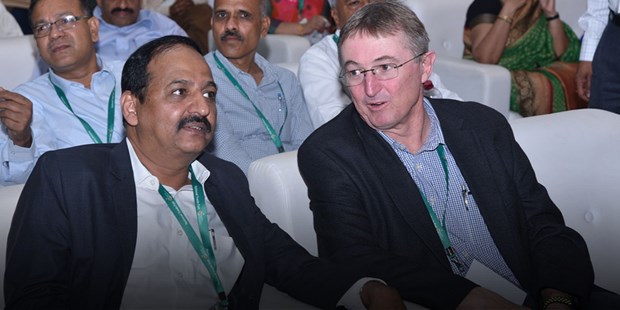 (image-1)
My son, Vinay Rao Bhardwaj (second from left) presently@ www.ensocure.com was one of the panelists at the Organics and Millets trade fair, Palace grounds, Bengaluru.
More pictures at hyperlink: http://creative.sulekha.com/2018-will-be-national-year-of-millets_634000_blog?fbclid=IwAR0rdN6Dz7jexeGY6ly8VHKtbiEQ0rZ3aqRt-tFYEgIW4uVRFiN6fNGz3sQ
—————————————————————
Thewriterfriends.com is an experiment to bring the creative people together on one platform. It is a free platform for creativity. While there are hundreds, perhaps thousands of platforms that provide space for expression around the world, the feeling of being a part of fraternity is often lacking. If you have a creative urge, then this is the right place for you. You are welcome here to be one of us.
*******ARRANGING FOR MILK FOR GOGA*********** Goga was crazy about milk and milk products. Though he was crazy about everything but his craze for milk surpassed all his crazes. All his talk centered around having dhoodh, dahi, lassi, burfee. Once he said " Yar sadi mummy majh kyon nayeen ban jandi (Pal, Why doesn't our mother…
Read More